Okay, so let's get one thing straight right from the off — right now partypoker only operates in New Jersey. Parent company Roar Digital — which is run by GVC Holdings and MGM Resorts International — had their application to operate an online poker room in Pennsylvania approved in November of 2020, but there has been no announcement about a soft launch for partypoker within the state as of yet. 
We expect to see partypoker begin its PA operations in early 2021 and when that happens, we'll update this guide. 
Until then, we're going to take a look at partypoker's current real money online poker offerings in New Jersey. There's a very good chance that their PA operations will be pretty much the exact same. 
But before we get to that, a little history. 
Partypoker's fresh start in NJ
Anyone that knows anything about online poker knows that partypoker is one of the oldest brands in the industry. 
After opening for the first time way back in 2001, the brand became a global success. But when the Unauthorized Internet Gambling Enforcement Act (UIGEA) of 2006 came into force in the USA, the company decided to cease its US operations and focus on other markets. 
As a result, brands such as PokerStars which continued to serve in the US until Black Friday in 2011, became more recognisable to US online poker players. 
However, partypoker's decision to take the UIGEA seriously proved to be something of a masterstroke. When the state's online gambling industry launched in 2013, partypoker was one of the first real money online poker operators in New Jersey.
In 2015, GVC acquired pokerparty as part of the company's plan to become a leading force in the US online gambling industry. The UK gambling giant now manages partypoker through Roar Digital — a company created in partnership with MGM Resorts International. 
In the years since, partypoker has continued to be one of the top real money online poker platforms in New Jersey.
Although GVC has received approval to operate partypoker in Nevada, as with Pennsylvania, there are no clear indications of when this will happen. 
Partypoker's poker room now runs on three sites in New Jersey. These are partypoker NJ, BorgataPoker, and BetMGM. 
So that's enough backstory, let's take a look at how the platform holds up in New Jersey. 
Who can play partypoker in New Jersey?
The good news is that anyone over the age of 21 can join partypoker. 
However, to real money online poker, you'll need to be physically present in the state of New Jersey. 
You don't need to be a resident or citizen of the state to play, just located within its borders. 
Unfortunately, this means that players are limited to playing against opponents in New Jersey but more on that later. 
What games are available?
Players at partypoker can choose to play:
No Limit Hold'em

Fixed Limit Hold'em

Pot Limit Omaha

Omaha Hi-Lo

Stud
Although there are plenty of options available, the action on partypoker is mostly No Limit Hold'em. In fact, try to find a game of stud or Omaha during off peak hours and you'll get nothing but tumbleweeds. 
Games are often at the micro and low-stakes levels. 
Tables are mostly 6-max although there are 9-max tables but most players tend to avoid them due to the low player traffic in off-peak hours. 
Partypoker also has its own version of PokerStars Zoom Poker called Fast-forward poker. As you may have guessed, when you opt to play fast-forward poker you are instantly moved to another table as soon as you fold. The concept is a good one but with little to no action at the fast-forward tables, it doesn't quite work as intended. 
Tournaments 

Like most other poker sites, Sunday is the big day on partypoker
This is where partypoker can be a little odd. Daily tournaments are low buy-ins that attract very few players. However, their Sunday and Tuesday tournaments often attract significant numbers of players that rival the bigger NJ sites such as WSOP and PokerStars. 
Before we talk about the big tournaments, here's a brief rundown of the smaller ones.
Partypoker runs Sit & Go tournaments for No Limit Hold'em and No Limit Omaha. Buy-ins range anywhere from $1 right up to $500. There are both standard and turbo play options but let's be 100% honest here — traffic can be so slow at times that it can take hours just to get the tournament underway. 
We did say it would be brief, right? 
We're not knocking partypoker in any way, but if daily Sit & Go tournaments are your thing, you might be better off looking for games on WSOP NJ or PokerStars NJ. 
So what about those big tournaments?
Daily $10k
On at 7pm every day, this $109 buy-in is a No-Limit Hold'em event. 
Sunday $35k guaranteed 
The $35k runs every Sunday at 5pm. The buy-in is $215 or you can nab a seat for this No-Limit Hold'em event through the daily qualifiers. The qualifiers usually have buy-ins ranging from $5 to $20. 
Mega Tuesday Six-Max 
Another No Limit Hold'em tournament (no surprises there) but this one has a buy-in of $535 with a prize guarantee of $12,000. This takes place every Tuesday at 8pm. You can also get a tournament ticket for this one through daily qualifiers for as little as $5. 
Mega Thursday
A lower buy-in of $320 and a prize pool guarantee of $7,500. This takes place every Thursday at 8pm. Once again, there are daily qualifiers for this tournament for buy-ins ranging from $5 to $20. 
Player traffic
From what we've already mentioned above, you may have already guessed that partypoker is one of the smaller NJ sites in terms of player traffic. 
On a daily basis, this would appear to be true with both WSOP and PokerStars boasting higher volumes of consistent player traffic. At times you may even struggle to find a game on partypoker and some Sit & Go tournaments may even fail to get sufficient numbers to get started at all. 
But when it comes to the larger tournaments that we mentioned earlier, traffic can really pick up and rival PokerStars and WSOP. 
But even with those spikes in player traffic during tournaments, partypoker does have a smaller player pool as a result of only operating within New Jersey. If the brand goes ahead with long-term plans to open a site in Nevada then that player pool could expand thanks to the Multi-State Internet Gaming Agreement (MSIGA). This pool could expand even further should Pennsylvania join the agreement as is expected. 
The average number of players online is usually around the 80 mark but this can drop to as low as 30 or even less during quieter hours. That's why Fast-forward poker doesn't work as well as it should. 
Software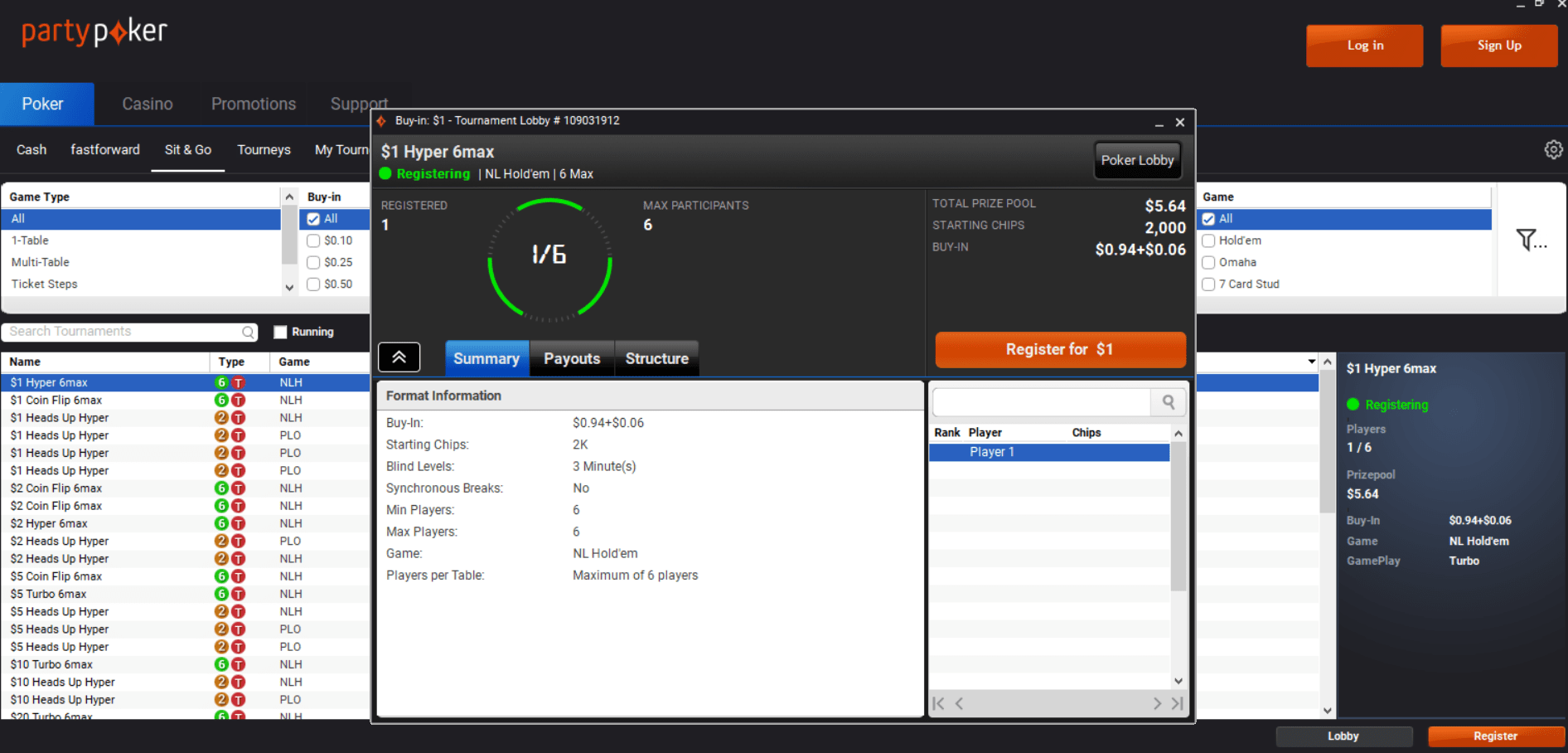 partypoker's client is very simple and straightforward
Partypoker NJ runs on a downloadable client much the same as many other major online poker platforms. The software is pretty good and receives regular updates, the latest of which saw progressive knockout tournaments added to the client. 
It's the standard partypoker client but modified for New Jersey. This means that it's easy to navigate with all games easy to find on specific tabs. 
Unfortunately, you can't customise it much and you're stuck with the partypoker stock avatars. Graphics are perfectly acceptable but could be a little sharper although there are very few glitches. 
Glitches were actually a major concern on partypoker NJ in the past but these seem to have been mostly ironed out. There was even a time when tournaments were cancelled because of technical issues. Thankfully, this is something we've never experienced on the platform. 
The desktop client is available for Windows and Mac while mobile device users can download apps for iOS and Android.
Sign-up bonuses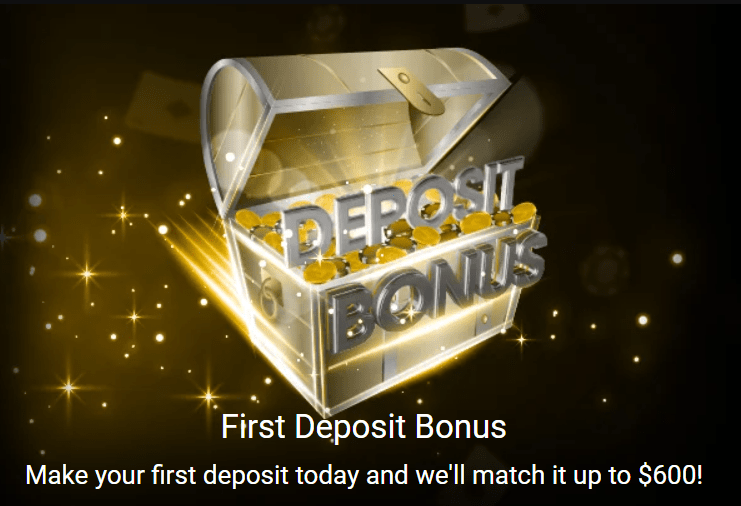 You can join the partypoker poker room through those three sites that we mentioned earlier and each one has a slightly different sign-up bonus. But you will end up playing against the same players in the same room so you can choose your entry point according to the bonus and rewards program that best suits you. 
partypoker NJ
The site offers to match all first-time deposits up to $600. You'll get your $600 credited to your account in 10 installments but it's real money that you can use in the poker room any way you like. 
BorgataPoker
Borgata also offers the same 100% match of first-time deposits up to $600. Again, you'll receive your cash in 10 equal installments. However, Borgata also offers a free $20 bonus on the house. 
BetMGM
This is possibly the best bonus. BetMGM offers a 100% match of first-time deposits of up to $1,000. They also offer a free $20 bonus on the house. 
There was a time when partypoker's bonus was almost the exact same as BetMGM's but we're not sure exactly why they dropped the 100% match bonus down to $600. 
Rewards
As with the sign-up bonuses, your rewards depend on which site you sign up with to enter partypoker's New Jersey online poker room. 
Partypoker NJ
Players must play to earn points. Once you earn enough points you move through the loyalty levels. You must meet these thresholds every month to retain your loyalty level. Higher levels means higher rakeback and better rewards. 
The levels are:
Bronze:     0 points/month
Silver:   50 points/month
Gold:             750 points/month
Palladium:   2,000 points/month
Players earn 2 points for every $1 spent in table fees and tournament charges. 
The top level gives players a chance to receive 30.7% in rakeback once they spend $1,000. That's a pretty good deal if you ask us. 
BorgataPoker
It's the same kind of deal with Borgata. You need to earn points based on how much you play. You then move up the levels according to your activity each month. 
Red Label:                     0 points/month 
Red Label Plus:         150 points/month
Silver Label:              650 points/month  
Black Label:            2,500 points/month 
Black Label Elite:  15,000 points/calendar quarter 
Players earn 2 points for every $1 spent in table fees and tournament charges. 
Top level players can earn a maximum of 5% rakeback which is considerably less than partypoker's top level. 
BetMGM
BetMGM overall rewards scheme matches up somewhat to Borgata's but with regards to poker, here's what you get at MGM.
Sapphire:             0 points/year 
Pearl:           25,000 points/year 
Gold:            75,000 points/year 
Platinum:   200,000 points/year 
Noir:                    invitation only 
Players earn 5.5 points for every $1 spent in table fees and tournament charges. 
Top level players can earn a maximum of 15% rakeback. 
For the poker purists, we'd have to say that partypoker NJ is the best rewards program as it offers the most rakeback. 
If you're into comps that you can use in MGM or Borgata live venues, then joining the partypoker through either BetMGM or BorgataPoker is the option for you. 
Deposits and withdrawals
With there being three options for accessing the partypoker online poker room, we've highlighted which options are available to each. 
eChecks — Available for all three
PayPal — Available for all three
Online banking — Available for all three
Skrill — Available for all three
Cash at Cage — Available for BetMGM and Borgata at Borgata
Visa/Mastercard — Available for all three
PayNearMe — Available for all three
Play+ Card — Available for all three
Discover — Available for all three
Withdrawals are also quite simple and straightforward. 
 eChecks — Available for all three
PayPal — Available for all three
Online banking — Available for all three
Skrill — Available for all three
Cash at Cage — Available for BetMGM and Borgata at Borgata
Play+ Card — Available for all three
Check by mail — Available for all three
Withdrawals can take a while to process but all three should have your process started within 48 hours. However, bear in mind that payment gateways can also add to that withdrawal time with their own internal processes and security checks. 
Customer Support
What we love about partypoker is that no matter which site you opt to access the poker room through, you have a phone number to call for support. 
Live support is something that is sadly lacking in many of the top online poker platforms so this is a real bonus. 
Here are the contact numbers and email support addresses for each site. 
partypoker
E-mail: [email protected]
Phone: 1 (877) 448-5831
Borgata
E-mail: [email protected]
Phone: 1 (877) 448-5833
BetMGM
E-mail: [email protected]
Phone: 609-248-9531
What about HUDs?
Unlike PokerStars who have limited the use of HUDs on their sites, in 2019 partypoker banned the use of all HUDs on their platform. 
As you may already know, HUDs (heads up displays) allow a player to collect information on their opponents game play. This then allows them to make better decisions based on what they believe their opponents will do next. 
There's a lot of debate in the online poker community about their use but the majority of players are in agreement that they give experienced players an unfair advantage over their opponents. 
An outright ban seems only fair and the right thing to do. The last thing partypoker wants is for its NJ poker room to become a haven for sharks and grinders targeting recreational players. 
partypoker New Jersey pros and cons
Pros
Good deposit and withdrawal options

Support for Windows, Mac, and mobile

100% deposit match up to $1,000 depending on your choice of site

Great tournament traffic

Phone support

Ban on HUDs
Cons
Poor traffic during off-peak hours

Non-customizable software

Sit & Go tournaments can be slow to start
What's the final conclusion?
Partypoker has gradually rebuilt its position in the US but it's been slow going so far. With the GVC takeover, and the partnership with MGM and Borgata, thankfully the player pool has grown a little. However, the poker room could really benefit from multi-state liquidity. Hopefully that will come about soon enough if Pennsylvania joins the MSIGA or if GVC decides to make use of their license to operate in Nevada. 
That said, for players looking for real money online poker in New Jersey, then we'd say that partypoker is a good bet especially if you're interested in tournaments. Both the Sunday and Tuesday tournaments bring in decent traffic and are often more popular than their WSOP or PokerStars counterparts. 
Ultimately though, it all boils down to your own personal tastes. So give it a shot and see if it's a good fit. Chances are it will be.