PokerStars was founded by Isai and Mark Scheinberg in San Jose, Costa Rica in 2000 and began operations in 2001. Currently located on the Isle of Man, the company operates globally under licenses from the Isle of Man and Malta Gaming Authorities while it also has separate licenses in the UK, Denmark, France, Italy, Belgium, Spain, Estonia, Italy, Portugal, New Jersey, and Pennsylvania. 
As one of the world's leading online poker brands, PokerStars has garnered a reputation as being the premier real money online poker platform with some of the biggest online tournaments in the industry. 
And with a list of former and current brand ambassadors that includes the likes of Neymar Jr, Cristiano Ronaldo, and Rafael Nadal, it's easy to see why it's such a popular brand. 
There's also a comprehensive poker school with tons of free resources and a massive range of games that has expanded to now include practically any casino game you can imagine. 
PokerStars even their own sportsbook allowing players to bet on sporting events from all around the world.
But aside from brand recognition, some great resources for beginners, all those brand ambassadors, and the chance to bet on sports, we're asking the question — is PokerStars really all that? 
Before we get to our full review of PokerStars, let's take a quick look at a brief overview of pros and cons that we discovered during our time on the platform. 
Pros
Huge database of registered players
Great mobile app
Instant bonus
24/7 consistent player traffic
Extensive range of games at every limit
Regular big money tournaments
Highest number of satellites to WSOP
Fast-fold games (Zoom Poker)
Cons
Rake increased several times in recent years
No live customer support option
Still allows HUDs
Tournament seats fill up too quickly
How PokerStars became top dog
We're sure that you all know the story of the aptly-named Chris Moneymaker who, in 2003, won the WSOP Main Event as a rank outsider. After qualifying through an online satellite, Chris brought the online game to the fore giving credibility to online poker grinders and sparking a boom in the industry. This is commonly referred to as 'the Moneymaker effect' and is generally accepted as the launchpad for the global online poker boom. 
But did you know that the online poker satellite Chris qualified through was hosted by PokerStars? It was a huge stroke of luck for the two-year-old brand that resulted in a massive influx of new players almost overnight. Every casual poker player was inspired by Moneymaker's win and they flocked to PokerStars in their thousands. 
The following year another PokerStars player, Greg "FossilMan" Raymer, won the WSOP Main Event. Then, in 2005, the brand made it a hat-trick of winners associated with the brand when they signed WSOP Main Event winner Joseph Hachem to Team PokerStars. 
The publicity over those three years saw the brand catapulted to the forefront of the industry to become the top-ranked online poker platform in the world.
The brand (alongside Full Tilt Poker which they now own) was one of only two providers that remained active in the USA after The Unlawful Internet Gambling Enforcement Act of 2006 (UIGEA). For the following 5 years PokerStars was able to generate considerable revenue and expand their global reach thanks to their cornering of the US market. 
And by 2011, the brand was in such a strong position that they were able to sponsor the European Poker Tour (EPT) and continue to do so to this day. 
Earlier in 2020, Stars Group (PokerStars parent company) merged with Flutter Entertainment to become one of the largest gaming groups in the world. The group now controls PokerStars, SkyBet, Paddy Power, Full Tilt, Betfair, Sportsbet, FOX Bet, FanDuel, TVG and Adjarabet.
What are the main attractions of PokerStars
Now that we know how the brand became a stalwart of the online poker industry, let's take a closer look at some of those benefits we listed earlier. 
Huge database of players
PokerStars has been the largest real money online poker room since 2007 and now has as many registered players as the other top platforms combined. 
Now, to the seasoned online poker player that means very little as we all know that huge databases of players are worth nothing if they're not playing on the platform regularly. 
Thankfully, that's not the case with PokerStars. There's an estimated 200,000 players in the poker room during busier periods which is a pretty incredible amount of traffic. 
One thing you won't be doing here is waiting around for seats to fill up. 
Interestingly, this can be a bit of a problem when tournaments roll around. With so many players looking to get in on the action, seats can be at a premium. More on that later in the review. 
Great options for deposits and withdrawals
No point in joining a platform if you can't easily deposit cash to play with, right? 
We can see why PokerStars appeals to a global market here as they have included practically every payment option under the sun aside from magic beans. 
Players can even make deposits and withdrawals using cryptocurrencies although this is done through third party gateway Neteller. 
If you'd like a full list of deposit and withdrawal options for your region, you'll need to head to their payment page and choose your country from the drop down menu. 
Massive tournaments 
When it comes to real money online tournaments, PokerStars wins hands down. The closest competitor would be GG Poker who hosted WSOP in summer 2019 and now also have regular million-dollar tournaments. But even at that, GG Poker still comes a distant second to PokerStars.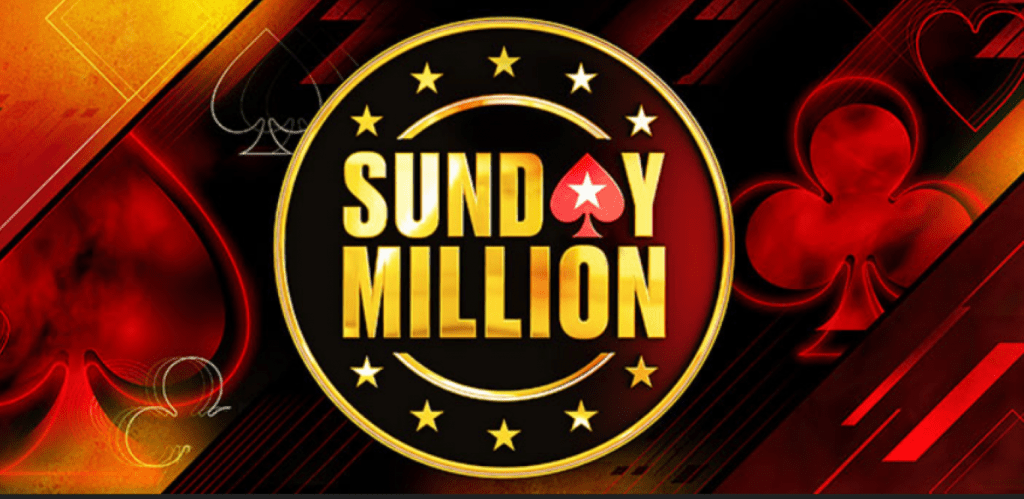 The Sunday Million is the big one with a guaranteed $1 million payout every Sunday. There's also a warm-up tournament on the same day while there's the Sunday Billion which is a play money tournament that is still extremely competitive. 
Add to that the promise of $10,000+ at least once per hour and you can see why PokerStars rules the roost in this regard. 
Buy-ins for the Sunday Million are set at $109, but you can knock this down a bit by playing in weekly qualifying satellites. 
This is also where that site's traffic comes into play. With such huge numbers online consistently throughout the day, you're practically guaranteed to find a tournament with a decent payout for a low investment. Think $10 buy-ins and a $50k prize pool and you're in the right ballpark. 
PokerStars is also the home of the World Championship of Online Poker (WCOOP). Since 2002, the WCOOP has been breaking records as the online equivalent of the WSOP. The 2020 event took place over 25 days with a guaranteed $80 million across 225 tournaments. However, in 2020 WSOP online hosted by GG Poker muscled its way in to become the premier online poker tournament. 
Since 2009, PokerStars has hosted the Spring Championship of Online Poker (SCOOP) and it has now become a staple of the online poker calendar with over $85 million in prize guarantees in 2020. 
For the low rollers, PokerStars runs a bi-annual MicroMillions tournament with prize guarantees of as much as $3.5 million while their Turbo Series that took place in April of 2020 has prize guarantees of $25 million. 
So like we said, when it comes to tournaments, there are very few that can compare to PokerStars.
High-quality software 
Software has been a bit of a bugbear for some providers as they often rely on third-party developers to create and manage their platforms. Not so with PokerStars who have developed all of their apps and software in-house. 
The benefit here is that the software is always being improved and downtime or glitches are rare to non-existent. 
Players can choose to play on their PC or Mac by downloading and installing software or through an app on their Android or iOS device. Although it's not an issue for the majority of people, it's worth noting that there's no app for Windows phones.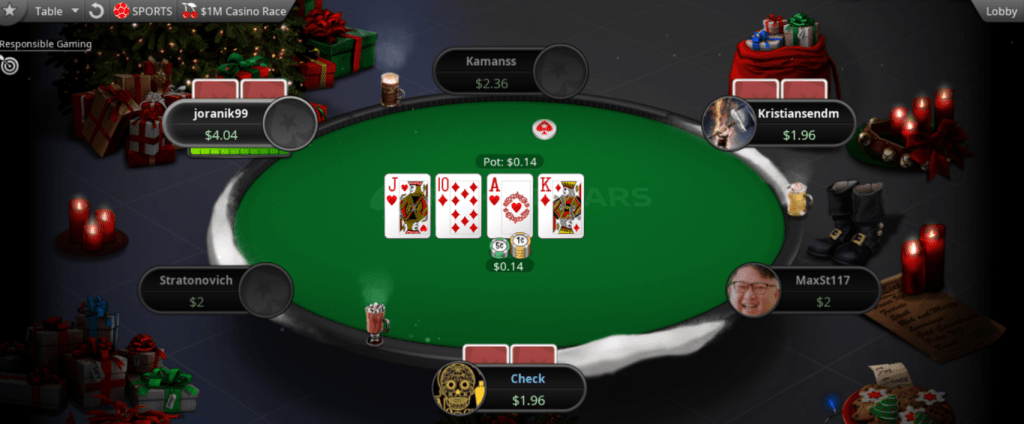 PokerStars desktop client is pretty slick
There's also no instant play option on the PokerStars website which means that you can only play on a computer or mobile device that has the software or app installed. So those Windows phone users are really out of luck. 
However, for those that can use the mobile apps, the software also allows for easy transition between your device and your computer. This means that you can switch between the two even if you're in the middle of a tournament. That's pretty nifty in our opinion. 
Other features that you'll find include the ability to change your avatar to a photo of your own choosing (something that other sites now offer too) and the ability to customize tables. You can also view the hand history in any game which is great for letting you see how your opponents are playing. 
All of this combined makes PokerStars software a legit client and one of, if not the best online poker software we've had the pleasure to review. While it may not be streets ahead of the competition, it is certainly the most robust and easy to use software out there. 
Solid bonuses and rewards
As one of the trailblazers in the industry you'd think that PokerStars would have been the kings with bonus codes raining down on their players. But, believe it or not, the brand was actually quite reserved on this count for a long time. 
However, they have gone some way to bring better bonuses to their players in recent years. Their 100% match deposit bonus is a pretty significant bonus that has a maximum limit of $600. They'll even allow you to claim the full bonus by making up to three qualifying deposits within 60 days. 
New PokerStars players can get that bonus by using the promo code 'STARS600'. You'll hit the gold cashier button in the lobby (top right corner) and enter the code. You'll then receive your bonus which will match your most recent deposit.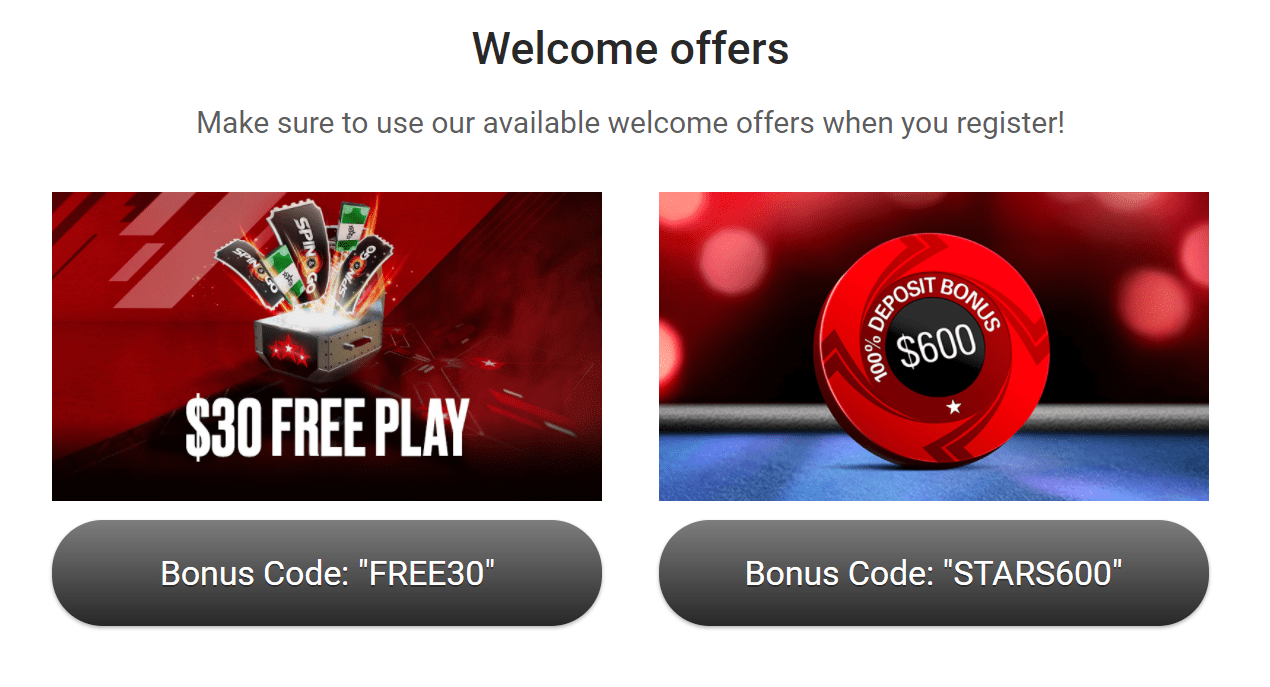 PokerStars' free $30 bonus code and $600 promo code
Like most bonuses, you can't withdraw the bonus money — you must use it to play. However, PokerStars gives you six months to clear the bonus money out of your account whereas other providers only give you a month or two at best. 
They have also introduced a no-strings instant $30 bonus for any new player that deposits $20. This is a really good deal that is obviously designed to appeal to the recreational player, a demographic that the brand has focused on a great deal in recent times, but more on that later. 
You can get that bonus by simply signing up for a free account and following the instructions. Once you make a deposit, you'll get your free $30 bonus credited to your account automatically. 
Up until 2017, players could join the VIP Club but that has since been replaced by the Stars Rewards program which some feel is a better system. The old VIP Club asked players to meet certain requirements each week in order to maintain their VIP status which didn't work out so well for casual players. Although some high volume players weren't too happy with the change, it has been a boon for low stakes players. 
That's because the new rewards program rewards everyone no matter how much time they spend online. For every real money game you play, you earn points. Earn enough points and you can open a chest. Chests contain rewards that are tailored to your play and when you unlock chests you also earn StarsCoin which you can then spend in the rewards store. One thing to note is that you only have 30 days to open a chest before it disappears. 
It's a great rewards system that doesn't place so much importance on continuous play but does exactly what you expect a loyalty program to do. 
There are also quite a few region specific rewards and bonuses that we weren't able to include in our review, so you might want to check what else is available in your country. 
A wide variety of games
And we're not just talking about Texas Hold'em or Omaha. What we're talking about here are the innovative ways that PokerStars have made the game more appealing to both the casual and the skilled player. 
Take Spin & Go for example. What PokerStars did was take the much-loved Sit & Go format and put it on steroids. It's super fast and adds an entirely new level of excitement to the game. 
The prize pool is randomly set before the start of each tournament. The prizes may not be as big as you'd expect but that's what makes this the ideal tournament for beginners and casual players. Fewer sharks in the waters here. 
Believe it or not, although this has been copied by practically every poker provider out there, it was PokerStars that first came up with the idea of a turbo lottery format Sit & Go tournament. 
Another interesting tournament type is the Knockout Poker Tournament. In these tournaments, every player has a bounty on their head and if you knock them out, you win the cumulative bounties collected by that player up until that point. What's so appealing about this type of tournament is that you don't have to finish in the money to win a prize — just eliminate an opponent. 
Zoom Poker is probably their greatest innovation though and like Sit & Go, it's also the one that has been copied to death by competitors. In Zoom Poker, once you fold, you don't have to wait until a hand finishes. In fact, as soon as you fold, you're brought to another table with players from the Zoom pool who have also just folded in their games. 
Of course, these are just a couple of games that caught our attention but there's a ton more to choose from. To be fair, it's hardly surprising that PokerStars have invested so heavily in innovative gaming options given that they have the traffic to experiment with. 
The main drawbacks of playing on PokerStars
As with any major provider, you're always going to have a few drawbacks to playing on their platform. With this in mind, it's important to take into account that many of the downsides to playing on PokerStars can be found on other poker platforms too. 
Overall, PokerStars is a pretty good option for real money online poker. In fact, we had to dig deep to find any flaws in the gameplay and the overall management of the platform. That said, the issues that we did find may affect your decision to register and claim that sign-up bonus, so make sure to read on. 
Rake increases 
Now, this is a rather irksome one as it takes money directly from your pocket. The thing is that PokerStars has form when it comes to rake increases. 
They have a habit of making slight changes to games that increases revenues. And the most common tweak is to increase the rake. 
They have done this on numerous occasions much to the ire of the players on the platform. One of the latest hikes saw them increase the rake for micro stakes games. Hitting the pockets of the small-time casual players seems a little harsh but that's how they chose to go. Unfortunately, this is perfectly legal and PokerStars are within their rights to do so. 
Yet despite the regular increases over the last decade, their online poker room is still the world's largest and they have lost very few players. Read into that what you will, but we imagine that the overall positive experience of playing for real money on PokerStars means that the majority of players are willing to put up with these increases. 
No live support
PokerStars are always front and centre when it comes to innovations in the industry so it's perplexing that they have no live customer support options on the site or through their software. 
They continue to use an outdated direct email contact system that harks back to the early 2000s. Yes, they have a Help Bot named Stella who can guide you through the Help section, but the lack of a live chat function or telephone contact number is confusing to say the least.  
That said, the email service is actually quite good. While you won't get an immediate reply, it usually takes less than an hour for the support team to get back to you. They're also really helpful so any issues you have are usually cleared up as soon as possible. 
While it's not ideal for those with an issue that needs fixing immediately, customer support does function relatively well. 
The HUD dilemma 
Heads-up displays or HUDs have been a serious dilemma in the industry for many years now. HUDs collect information about your opponents giving you an insight into how they usually play their games. It's an unfair advantage especially when you have an experienced player using a HUD against novices. 
The vast majority of online poker platforms have placed an outright ban on the use of HUDs as they rightly feel that no player should gain an edge through the use of third-party software. PokerStars, on the other hand, have not. 
While they have placed a limit on the use of HUDs, players can still use an HUD or any third-party software that makes it onto their list of permitted tools. 
Their reasoning is that beginner players or those looking to improve their skills may use these tools for educational purposes and not necessarily to give themselves an unfair advantage. 
We can certainly understand their point of view, but that still doesn't change the fact that an HUD does give experienced players an edge over their opponents. 
At least PokerStars have taken some action to create a safe and secure environment. However, we still feel that limiting the use of HUDs as opposed to banning them doesn't quite have the intended effect. 
Tournament seats fill up quickly 
There are tons of tournaments taking place throughout any given day on PokerStars. 
There's an incredible number of satellites that offer seats at both live events and their own tournaments. 
All that means that no matter when you hit the poker room, there's a chance that you'll find a tournament about to start or already underway. 
The only problem here is that with the platform being the Number 1 in the world for traffic, limited seat tournaments can fill up quite quickly. 
It's not a major issue as the variety of tournaments on offer means that you'll always have opportunities to play.
So what's it like to play on PokerStars?
Overall, the experience is a pretty good one. The variety of games and tournaments means that you'll rarely have any trouble finding something to suit your tastes, mood, or budget. 
Deposits are easy to make (aren't they always) and the lobby is easy to navigate with your options clearly labeled. 
The games themselves tend to be tighter affairs with a lot of experienced players on the platform. This isn't necessarily a bad thing though. 
If you're lucky and good enough to win, cashing out is a relatively simple process with plenty of safe and secure withdrawal options that even includes cheques in the post. Withdrawal times are similar to most other platforms as these are mostly dictated by the payment gateways and not PokerStars. 
The lack of a live chat function or a number to call may give cause for concern, but the email support is good enough that this shouldn't really be an issue. The only problem we can see here is if you need an immediate solution/answer prior to a tournament and have no time to wait for email replies. 
What's the final conclusion?
If you're looking for an online poker platform with a metric ton of traffic and multiple tournaments every hour of the day, then look no further. 
PokerStars is number 1 in the world for a reason and despite the issues with players using HUDs to gain an advantage over their opponents, and the lack of live support options, we can see why. 
The poker school resources combined with the multitude of micro stakes options makes this a perfect poker room for beginners while more experienced players will appreciate the guaranteed tournaments and game options. 
Of course, no two poker players are the same and so what we love about PokerStars and highlighted in our review may not be to your tastes. Your best bet is to download the software, open an account, and see what it feels like to you.