Poker laws in the state of New Jersey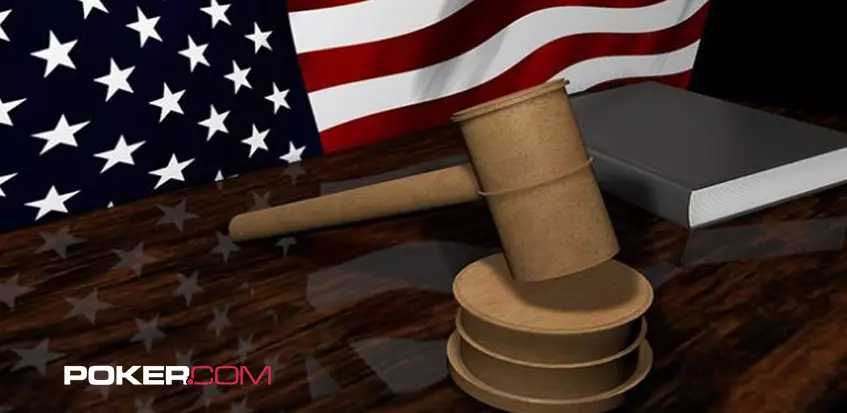 The Garden State is one of the few states with a regulated online poker industry. But does that mean that residents should only play on the state-licensed platforms?
Online poker laws in the state of New Jersey
New Jersey is one of the leading states for online and offline gambling. With this in mind, it makes sense that they have very specific laws relating to unlawful gambling. After all, they want to protect the licensed providers and their tax dollars.
Even though the state has a positively modern attitude towards gambling, the laws are a bit of a mess. This is because there are a lot of old laws that have been amended and updated but that still include archaic language.
All that aside, the majority of the provisions in the legal code are there to deter illicit gambling operators from running games within the state. There are, however, some laws that apply to individual players so let's take a look at those first.
Section 2A:40-1 reads as follows:
All wagers, bets or stakes made to depend upon any race or game, or upon any gaming by lot or chance, or upon any lot, chance, casualty or unknown or contingent event, shall be unlawful.
This is a little unclear as we don't know whether or not poker is included as 'gaming by lot or chance.' The law dates from 1951 and strangely enough, there's no punishment set out for violating the law. We're not sure why it's still there at all.
A more recent code can be found in 2C:37 that goes into a little more detail.
Here we find the following:
"Contest of chance" means any contest, game, pool, gaming scheme or gaming device in which the outcome depends in a material degree upon an element of chance, notwithstanding that skill of the contestants or some other persons may also be a factor therein.
"Gambling" means staking or risking something of value upon the outcome of a contest of chance or a future contingent event not under the actor's control or influence, upon an agreement or understanding that he will receive something of value in the event of a certain outcome.
So placing something of value upon the outcome of a contest of chance counts as gambling. There's an argument that poker is a game of skill, but could the New Jersey courts see it that way? It doesn't really matter.
The truth is that, as we said earlier, the state is more interested in punishing those who promote or run unlawful gambling activities. This is outlined in 2C: 37-2:
Promoting Gambling Defined. A person is guilty of promoting gambling when he knowingly:
(1) Accepts or receives money or other property, pursuant to an agreement or understanding with any person whereby he participates or will participate in the proceeds of gambling activity; or
(2) Engages in conduct, which materially aids any form of gambling activity. Such conduct includes but is not limited to conduct directed toward the creation or establishment of the particular game, contest, scheme, device or activity involved, toward the acquisition or maintenance of premises, paraphernalia, equipment or apparatus therefor, toward the solicitation or inducement of persons to participate therein, toward the actual conduct of the playing phases thereof, toward the arrangement of any of its financial or recording phases, or toward any other phase of its operation.
There then follows a list of various penalties for violations of this law. These are quite severe and fines can reach as high as $35,000 with the possibility of 5 years in jail. For anyone worrying about whether the state might use this law to target an individual player, take a look at the following:
It is a defense to a prosecution under subsection a. that the person participated only as a player. It shall be the burden of the defendant to prove by clear and convincing evidence his status as such player.
We'll say it one more time just to be clear — the state has no interest in individual players so you can play on state-licensed poker sites or offshore poker platforms with no worries at all.
If we refer back to the definitions for this section of the law we find the following:
"Player" means a person who engages in any form of gambling solely as a contestant or bettor, without receiving or becoming entitled to receive any profit therefrom other than personal gambling winnings, and without otherwise rendering any material assistance to the establishment, conduct or operation of the particular gambling activity. A person who gambles at a social game of chance on equal terms with the other participants therein does not thereby render material assistance to the establishment, conduct or operation of such game if he performs, without fee or remuneration, acts directed toward the arrangement or facilitation of the game, such as inviting persons to play, permitting the use of premises therefor or supplying cards or other equipment used therein. A person who engages in "bookmaking" as defined in this section is not a "player."
So running a home game is legal too once you don't take a rake or profit from the running of the game in any way.
Unsurprisingly, New Jersey legislators are eager to protect their regulated industry and so anyone found to be offering online gaming could face a fine of $25,000 and/or as long as 18 months in jail. If it's a company that is offering unlicensed online wagering services, then that fine jumps to around $100,000.
Unlike other states, New Jersey actually tries to enforce their laws and that's why many of the bigger offshore poker companies have left the state. However, there are a few who are still allowing New Jersey residents to play in their online poker rooms.
For the individual player, this has absolutely no effect on their ability to choose between state-licensed poker websites and offshore poker platforms. Whatever their choice, the state authorities really don't care.
The history of gambling in New Jersey
As one of the original 13 colonies, New Jersey was a little unusual in that it didn't have the moralistic, puritan attitude towards gambling that other colonies had. No one really understands why this was the case, but one theory is that the many cultures that settled here made it impossible for religious leaders to have too much power.
During the 18th century, lotteries were the main form of gambling and were often used to fund public building works. One example was the lottery for the building of Queen's College which is now known as Rutgers University.
However, many lotteries were rigged and by 1844, the authorities felt that enough was enough and placed a ban on them. Despite this ban and the fact that the word lottery was often synonymous with gambling, other gambling activities were allowed to continue.
One of the most popular forms of gambling in the 19th century was betting on horse racing. Freehold Raceway, the nation's oldest racetrack was the home of NJ racing and continues to hold races to this very day.
In 1854, Atlantic City was founded and by the end of the 19th century, it had grown to become a sizable city and popular tourist destination. In a surprising turn of events, the state banned all forms of gambling in 1897 which left tourists frustrated that they could no longer play at the gaming tables.
Local businessmen were having none of it and hoteliers such as Louis Kuehnle continued to offer illegal games at his properties. He got away with it due to his political connections but was eventually convicted for corruption. This left the door open for Enoch L. 'Nucky' Johnson who gained a reputation as one of the most corrupt local politicians. During the prohibition era, Nucky even boasted about the illegal booze and gaming that people could find in his city. Nucky himself is said to be the inspiration behind the main protagonist in HBO's Boardwalk Empire which gives a good account of how things were run back in those days.
In 1941, Nucky was convicted for tax evasion and the 'good times' were over. The gambling industry took a massive hit and the city lost a lot of its tourism trade.
In 1939, the state allowed pari-mutuel betting at horse races. Then in 1953, a referendum saw voters approve charitable bingo and raffles. Almost two decades passed before another form of legal gambling was introduced when the state lottery began selling tickets in 1970.
None of these helped the tourism industry and the city still struggled to attract the numbers that it once had in its heyday. So in 1976, a decision was made to legalize casinos and the first modern-day Atlantic City casino opened its doors in 1978. There are now 9 casinos plying their trade in the city.
But as other states allowed casinos to open, Atlantic City lost some of its trade. So another decision was made that changed the industry and that could have long-lasting effects on the nation as a whole. In 2013, the state passed legislation for an online poker industry and there are now four poker networks operating seven websites.
The state now also allows sports betting after a Supreme Court ruling went in their favor in May of 2018.
Will we ever see online poker legislation in New Jersey?
Have you been reading this page at all? Online poker became legal with the passage of Act 2578 in 2013 and the state now has an active online poker industry.
As mentioned previously, there are four online poker networks that manage seven poker websites. These include PokerStars and WSOP.COM.
These poker providers were required to partner with a land-based casino and place their game servers in the casino. This was a clever move by the state that helps to protect the existing gambling operators.
Players must be in the state to play on the platforms, but this changed when an agreement was reached between New Jersey, Delaware, and Nevada to share poker traffic.
The industry hasn't quite lived up to expectations and the revenues generated by online poker aren't as great as many predicted. Nevertheless, it's a legitimate industry that provides locals with another online poker option besides offshore platforms.
What about land-based gambling?
You want it, New Jersey has it. The Garden State has the full range of gambling activities that includes charitable gaming, a state lottery, pari-mutuel betting at the tracks and off-track halls, sports betting, and, of course, commercial casinos.
There are nine commercial casinos that are all located in Atlantic City. These are all in direct competition with each other so there are some great member offers with plenty of tournaments going on each week.
The best cardroom in the city is possibly in the Borgata. This room has 85 tables featuring all the most popular poker variants including NL Hold'em, Pot Limit Omaha, and Seven-Card Stud.
Final thoughts
New Jersey rivals Nevada in that it has everything a gambling enthusiast could want. Its regulated poker industry is well-run and the poker traffic agreement ensures that there are always tables to get a game at.
However, if you prefer to try an offshore poker platform that may have more tournaments or better player pools, there's nothing in the state's legal code that can stop you from doing so.
That said, we'd just like to remind you that the information given or opinions expressed above do not constitute legal advice.