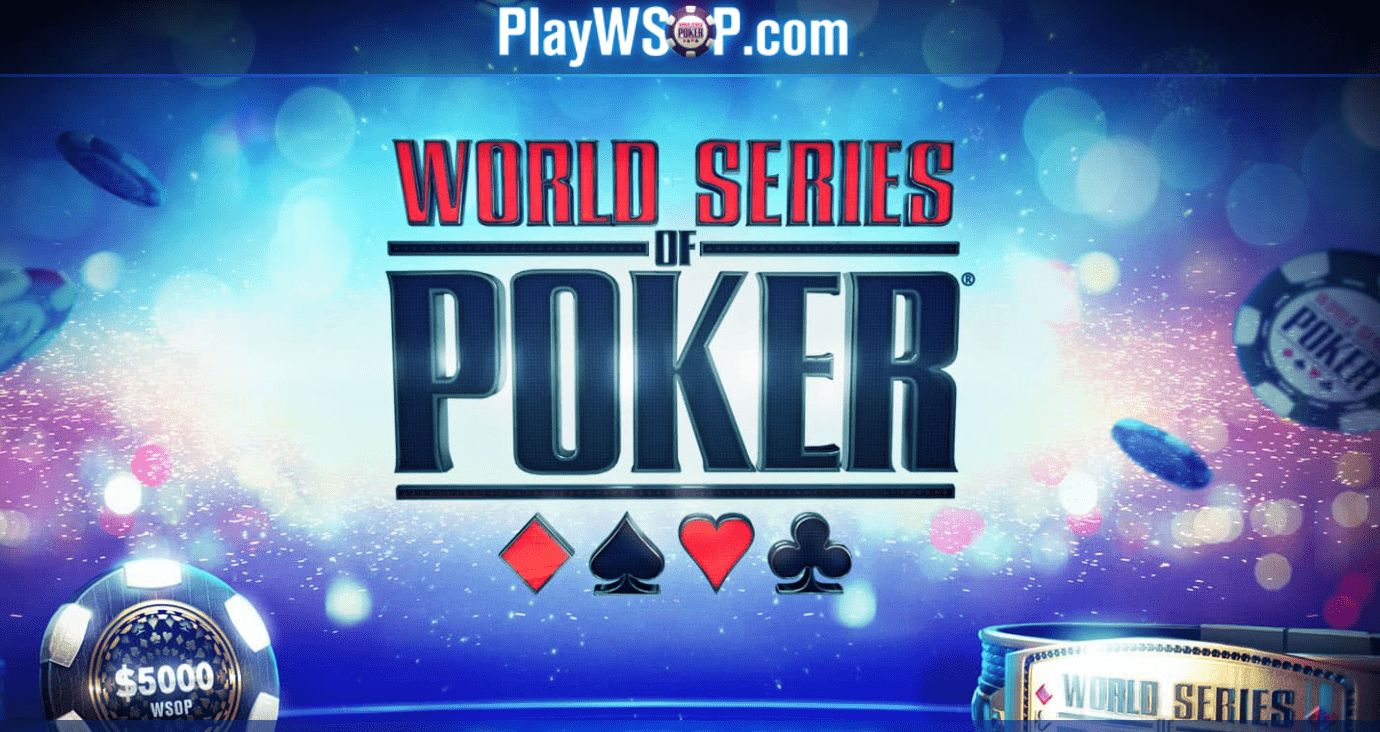 WSOP is without doubt the biggest name in live poker and it was quite surprising that it took Caesars so long to introduce the brand to the online community. Now the largest poker room in the United States thanks to its operations in both New Jersey and Nevada, we're taking a look at just how well this poker giant has adapted to the online world. 
WSOP finally joins the online poker industry 
It was a long time coming but in 2013 WSOP finally joined the world of online poker. The brand's first foray into the US industry came about immediately after NJ Governor Chris Christie signed bill A2578/S1565. The bill authorized licenses for online gaming sites as long as they were partnered with existing land-based Atlantic City casinos. 
WSOP owner Caesars Interactive Entertainment together with their iGaming partner 888poker launched two separate WSOP sites catering for players in both New Jersey and Nevada. 
It was a major development and one that online poker fans in the US were pretty excited about. And while the brand took some time to really get going online, the last two years have seen it take its rightful place as one of the major players in online poker in the USA.
So now we know how it started, let's see what's made WSOP such a popular online poker platform. 
Who can play WSOP in New Jersey and Nevada?
The short answer is anyone. 
However, you must be within either state's borders in order to play and over the age of 21. 
If you are a US citizen you must provide a Social Security Number (SSN) and a physical address in any US state. 
If you are a non-US citizen you must enter your passport number in place of an SSN. 
Players who can provide these details are then given a temporary account which allows them to play for play money. You can do this from anywhere in the world once you provide those details. 
If you want to play for real money, you must upload documentation to verify your identity but remember, you can only play within state lines. 
The verification process requires picture ID so it will have to be a license or passport or something similar. This is required not just to verify your identity but also to allow you to deposit and withdraw money. If you can't provide ID, you're not playing for real money, simple as that. 
Interestingly, once your account is verified, WSOP will allow you to deposit or withdraw cash from your account no matter where you are located in the world. It's only for the games themselves that you must be located in NJ or NV. 
What games are available?
Players at WSOP.com can choose to play:
No Limit Hold'em

Fixed Limit Hold'em

Pot Limit Omaha

Omaha Hi-Lo

Stud
No Limit Hold'em is by far the most popular choice and while Stud is an option, you'll struggle to find many games going on at any time of the day. Pot Limit Omaha is also popular enough but the majority of games and tournaments are No Limit Hold'em. 
There's a good mix of low and mid-stakes tables. Generally speaking, it's low stakes outside peak hours. If you're looking for big money games, you'll need to drop in during those busy times in the evenings or at the weekends which incidentally is when the best tournaments take place. 
And speaking of tournaments…
Tournaments 
Since the player pool expanded when both NJ and NV merged back in 2018, tournaments have started to bring in some great traffic. This means bigger guarantees and bigger prizes and practically all scheduled tournaments now draw enough players to get started. 
One of the most popular tournaments on WSOP is BLAST Sit & Go. This is a 4-handed Texas Hold'em Sit & Go at warp speed. The prize pool draw takes place at the start of the tournament and you could be playing for anywhere between 2 and 10,000 times the buy-in. 
The BLAST timer starts once the tournament is underway and when it runs out, everyone is all-in until there's a single winner. If you've played on 888 before you'll recognize the game because it's the very same one. This is because WSOP runs on 888 software and shares player pools with 888poker. 
Regularly held tournaments are the big draw though and the biggest ones have some pretty impressive guarantees.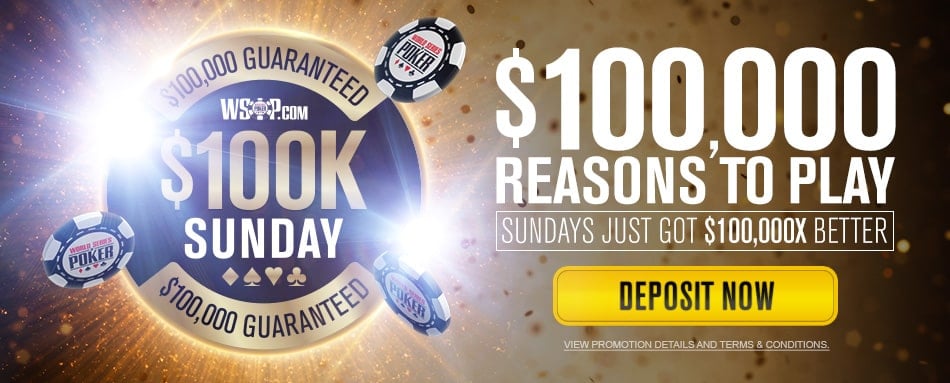 Sunday is funday on WSOP.com
$100k Sunday is the biggest tournament and as you may have guessed from the name, it has a prize pool guarantee of $100,000. It's a $320 buy-in tournament, but there are plenty of qualifier satellites held throughout the week so it's possible to get a seat for much less. 
Sunday is a big day on WSOP with weekly $8k, $10k, and $30k tournaments as warm-ups to the day's main event. 
$25k Tuesday is probably the most popular tournament as there's a low buy-in and the prize pool can climb above the guarantee. 
Over the course of the week, the prize guarantee is $250k which covers the $100k Sunday, $25k Tuesday, and several other $10k and $15k dailies. 
If those tournaments are a little rich for your tastes there are plenty of low-stakes tournaments with buy-ins ranging from $3 up to $22. 
It's worth keeping an eye on the promotions page for announcements for an upcoming series, bigger unscheduled tournaments, and freeroll tournaments. 
But hey, this is WSOP.com and what else would we be looking out for other than WSOP satellites. There are tons of live WSOP events going on all over the US and you'll find satellites for many of them in WSOP's online poker room. And yes, there are qualifying satellites for the big one in Vegas too. 
There's even a chance to win a WSOP bracelet in the WSOP Online Bracelet Tournaments. In 2020 the event ran for the entire month of July and was a massive success. The 2020 Fall Series is also offering a chance to win a WSOP ring. 
Player traffic
When Caesars first launched their WSOP NJ and WSOP NV websites, player traffic was quite poor. While both states had thriving live poker industries, their online poker rooms suffered from a lack of players. 
With populations of only 9 million and just over 3 million respectively, New Jersey and Nevada simply didn't have the numbers to support the many online poker rooms that operated in both states. And although WSOP became the market leader in Nevada, traffic was still poor as far as players were concerned. 
That all changed in 2018 when three states — New Jersey, Delaware, and Nevada — entered into a multi-state player sharing program. This allowed operators in each state to merge their player pools allowing players from New Jersey to play those in Nevada. 
This has resulted in a much more consistent flow of traffic that regularly sees 300-400 players online at peak times. This figure can be considerably higher when big tournaments are on. 
Software
Although WSOP poker rooms are powered by 888 software, it's not what you would call an impressive platform. It's not customizable and doesn't have the features that some other clients may have. But what it lacks in bells and whistles, it makes up for in stability. 
What we mean by that is that it does what it's supposed to do. 
The lobby is easy to navigate and the fact that it's a relatively simple client means that there's very little that can go wrong. Gameplay itself is also perfectly fine and although you can't customize anything, all the controls and buttons are exactly where they should be.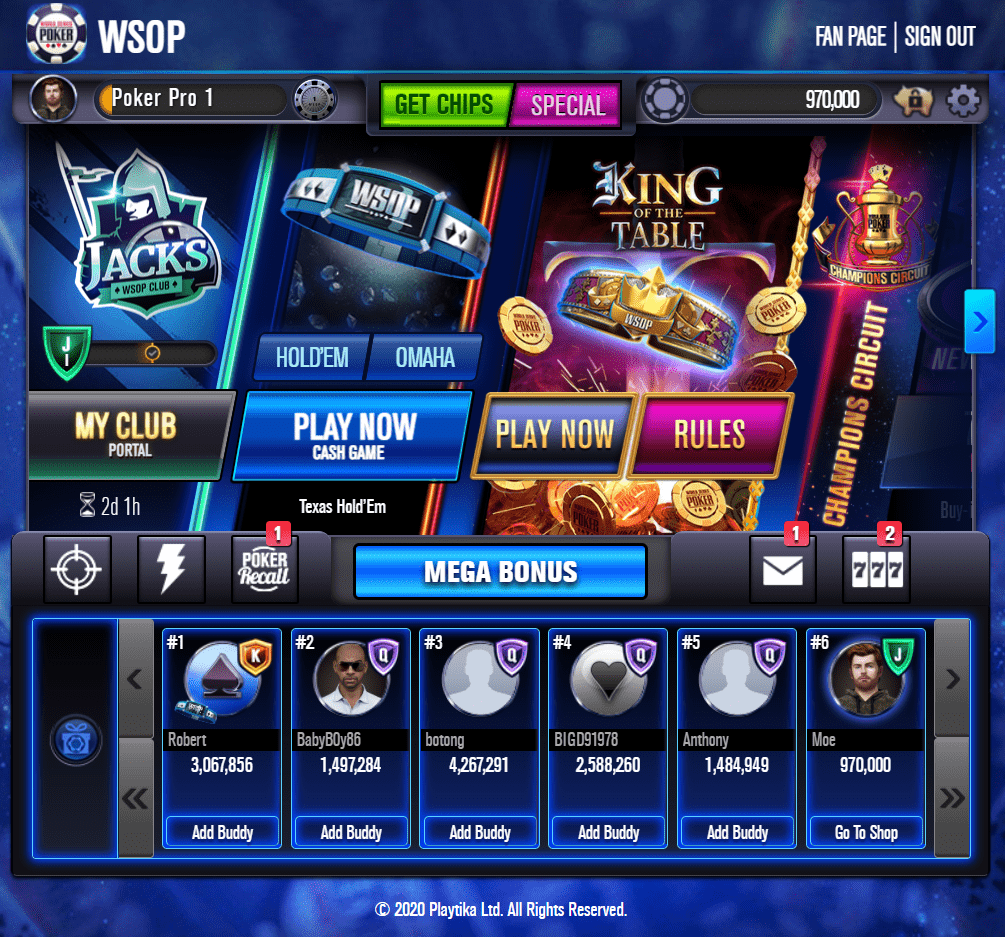 WSOP.com's lobby is a pretty flashy affair
WSOP also has a mobile app for both Android and iOS devices but those who wish to download the iOS app must be located in the US or have an Apple account based in the US. 
The desktop client seems to be the better option though as the mobile apps can be difficult to use and from time to time games that are available on the desktop client don't appear on the mobile apps. 
Overall, the software is nothing to write home about, but like we said, it does the job and you can't really fault it for doing that. 
Sign-up bonuses 
WSOP has a pretty good welcome offer of a 100% deposit match up to $1,000. That's considerably higher than other sites like PokerStars NJ and PA which offers a 100% deposit match up to $600. 
However, while PokerStars will also offer you an instant $30 bonus for making a $20 deposit, WSOP instead offers free tickets to seven $100 freerolls that are exclusively held for new players. These tickets are redeemable once you deposit at least $10. 
It's not a bad welcome offer, but some players would probably prefer a free cash bonus instead that they could choose to spend on whatever games they want. 
Rewards
The WSOP rewards program is super simple. You're automatically enrolled in the program the second you start to play. 
Their reward points are called APPs (Action Player Points) and you earn them every time you play a raked hand. This means that even players who don't win are still rewarded for spending time at the tables. 
There are four levels in the program. These are:
Player — 0-199 APPs per month
Bronze — 200-749 APPs per month
Silver — 750-1499 APPs per month
Elite — 1500+ APPs per month
Once you reach Bronze level, your APPs are converted into WSOP points which you can then redeem for cash. The conversion rate goes up depending on your level. For example at Bronze your APPs are converted at 4X while at Elite level they're converted at 12.5X. 
There's also another level called the Champions Club. To reach this level you must have earned 20,000 APPs in a year. Your Apps are then converted at 16X. 
It's a very simple reward system that gives you a great opportunity to earn back a percentage of your rake even if you don't win very often.  
Deposits and withdrawals
Deposits at WSOP are easy enough to make (aren't they always) and you can do so by any of the following methods:
eChecks or ACH Transfers — these can be verified by a 3rd party processor allowing you to make instant deposits. 
PayPal — Simple and straightforward. 
Cash at Cage — Make cash deposits into your account at Caesars, Paris, Planet Hollywood and Harrah's in Las Vegas or Caesars in Atlantic City.
Neteller — An alternative to PayPal, Neteller also processes cryptocurrency payments which you can convert to US dollars to fund any deposits. 
Visa/Mastercard — Needs no introduction!
PayNearMe — Generate a barcode and make a deposit at a 7-11. 
Caesars Play+ Card — Prepaid account that you can deposit into using a bank card. 
Generally speaking, WSOP prefers you to use the same method for deposit as withdrawals. Obviously though, this isn't always possible.
The most popular withdrawal methods are PayPal and Neteller which you can expect to take between 4-5 business days although some players have said that it can be quicker at times. 
Cash at Cage withdrawals are super quick and can be collected in 36 hours. 
Caesars Play+ Card is possibly one of the best options. This prepaid card is incredibly convenient and once you have withdrawn cash to it or made a deposit, you can then use the card anywhere that accepts Discover. 
Customer Support
Unlike many other online poker providers, WSOP gives you an actual contact number so you can get in touch with their support team. The New Jersey line is open from 8am to 12am while the Nevada line is open from 5.30am to 6.30pm. 
This is a huge benefit for many players who prefer to speak with a real person rather than go through the back and forth of email exchanges. 
If you have an issue outside those hours there's an email address for each site but they only aim to reply within 72 hours which is quite the wait. 
One thing that is missing is a live chat function which seems to be many online poker providers' Achilles Heel so we won't dwell on that too much.
What about HUDs?
If you've spent any time at all in online poker forums, you're bound to have come across some heated discussions on the topic of HUDs (heads up displays). Many feel that they give an unfair advantage to experienced players while some poker grinders love them for obvious reasons. 
An HUD allows a player to collect data on their opponents. This data can then be used to inform their decisions. For example, a player using an HUD may spot that an opponent has certain playing habits. As you can imagine, this can give a player an unfair advantage when they can predict what their opponent may do in a given situation. 
WSOP did allow HUDs for a time on their New Jersey site but when the brand merged player pools with Nevada, it was decided to ban them outright. This is because Nevada gaming regulations prohibit their use. 
WSOP/Caesars NJ & NV pros and cons
Pros
Largest poker room in the USA

Great mobile app with complete range of game options

100% deposit match up to $1,000

Great tournament guarantees

Satellites to WSOP live events

Simple rewards program

Phone support

Ban on HUDs
Cons
No free cash bonus

Non-customizable software
What's the final conclusion?
As you can see from the cons section above, we've struggled to find much wrong with WSOP. It's a simple platform that does everything just about right. 
There are great prize guarantees, a good range of tournaments, and that 100% deposit match is one of the best you'll find anywhere online. 
And thanks to the traffic sharing agreement between Nevada, New Jersey, and Delaware, it's now the biggest online poker room in the USA. It's just a shame that it's only available in two states. 
Hopefully, the brand will expand further as more states pass online poker legislation.