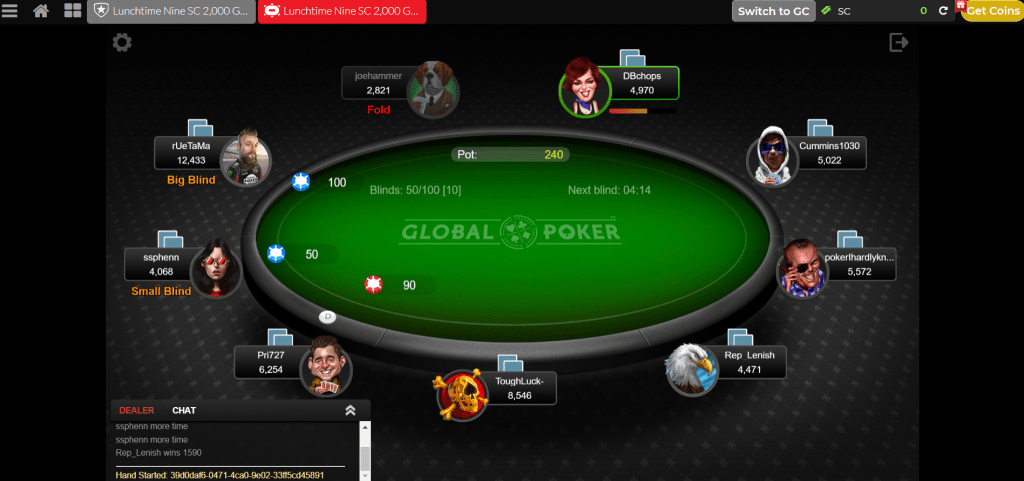 Global Poker is an Australian-based online poker site that serves the USA and Canada. It first opened in February 2016, and is owned by VGW Holdings which is also the owner of Chumba Casino and holds class 1 and class 3 licenses issued by the Malta Gaming Authority. 
Global Poker's main claim to fame is that it's the only online poker provider to offer poker across the majority of the United States. In fact, the brand now operates in every state with Washington being the only exception due to its strict online gambling laws. 
This makes Global Poker an extremely popular choice for US-based poker players and recreational players in particular. 
It's been a bit of a whirlwind for the relative new kids on the block who, thanks to their innovative business model, have grown to become a major player in the US online poker industry. 
So we decided to take a closer look to see what all the fuss is about. 
But before we go any further with our review, here are some of the pros and cons we came across during our time on the platform. 
Pros
Legal across 49 US states
$20 no-strings bonus on sign-up
No redemption (withdrawal) fees
Good option for inexperienced players
Instant access via any browser
No download required
No HUDs
Withdraw money direct to a US bank
Decent number of tournaments available
Cons
Lower traffic than competitors
No live customer support option
No cryptocurrency support
How can Global Poker operate in 49 states?
Global Poker claims to offer 100% legal real money poker in 49 states. However, this isn't quite true. Yes, they operate in 49 states (and Canada) and yes, players can legally play online poker, but not with real money. 
Global Poker is not a real money model but a sweepstakes model. That means that players buy play money and get free bonus Sweeps Coins. They can then redeem the Sweeps Coins and play money for real cash prizes. 
Okay, so perhaps we're being slightly pedantic here, but when you play on Global Poker you're not playing for real money but play money and Sweeps Coins. Still, their claim that they're the only legal poker site operating in 49 states stands up and you certainly do get real money once you've redeemed those Sweeps Coins.
It's a clever approach towards online poker given that there are laws that place strict limits on gambling online in many US states. And the fact that they are licensed in Malta (by a well-respected European gaming authority) gives the brand even more credibility as a legitimate online poker provider. This is because the Malta regulator doesn't actually allow US gambling. As we said, the sweepstakes model is an incredibly clever approach that allows US residents to legally play online poker and Global Poker does it extremely well. 
But with the US online gambling industry an ever changing landscape, we imagine that it's only a matter of time before they face stiff competition. This will no doubt come from larger brands such as PokerStars and 888poker who both operate in several key states in the US Including Pennsylvania in addition to the state of New Jersey, and surely more states are to follow.
What are the main attractions of Global Poker
So now that we know how they operate legally, let's take a look at the positives of playing on the site. 
A great no-strings bonus
Up until very recently, there were no welcome bonuses for new players on Global Poker. 
What? A poker site with no welcome bonus???? Yeah, we thought it was weird too, but they have since seen the error of their ways and introduced a pretty sweet $20 bonus. And that's not even a deposit bonus.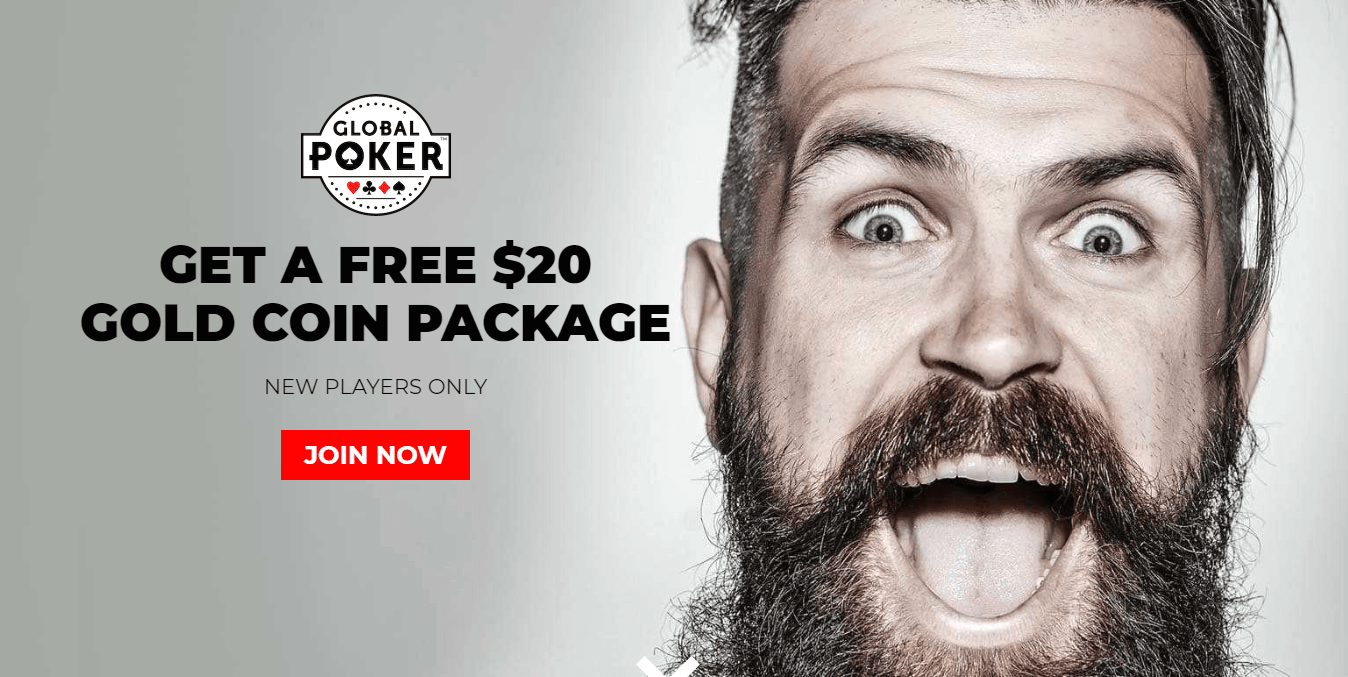 A bonus at long last!
Interestingly, the reason they didn't offer a deposit bonus was supposedly to remain legit in the US. The brand has many state laws to take into account and so perhaps the easiest way to ensure no obscure laws could be used against them was to avoid doing anything that might attract unwanted attention from state legislators. 
Obviously, their legal team feels that this is no longer a major issue which is good news for new players. 
So you might be wondering what's so sweet about a $20 bonus. After all, 888poker and PokerStars give you more than that, right? 
Here's the thing — that $20 bonus is absolutely free. That means all you need to do is open a new account, verify it, and Global Poker will give you 20 Bonus Sweeps Coins and 100,000 Gold Coins. Each Sweeps Coin is worth $1 and you can use your Bonus Sweeps Coins to buy in to any cash game on the site. No deposit required. 
$20 absolutely free. Now that's a sweet deal if ever there was one. 
Excellent banking options
And we really do mean excellent. 
Before we talk about those options you need to know that as Global Poker uses the sweepstake model for online poker, they call your transactions purchasing and redemption. No matter what they're called, let's just say that they're as close to perfect as you can get. 
Purchasing
They use WorldPay to process all credit card payments covering all the major cards such as Amex, Diners Club, Mastercard, Visa, and Discover. 
The reason this is such a big deal is because WorldPay is considered the best of the best when it comes to credit card payment processing. This is particularly important in the US where some banks may refuse to process payments that come from a company in the gambling industry. WorldPay removes that potential roadblock ensuring that no matter who you bank with, your payment will go through. 
And better yet, Global Poker accepts all those credit cards without charging any additional fees. 
Other purchasing options include Skrill (which Global Poker are really pushing on their FAQ page) Instant ACH (through Skrill) and online banking. 
Yes, that's online banking with your own bank. 
When completing a purchase, you simply choose 'online banking' and then find your bank in the drop down list. 
Unfortunately, Global Poker no longer uses PayPal, but since they replaced the payment gateway with WorldPay, it's not an issue at all. In fact, the brand has grown exponentially since dropping PayPal which is certainly not what anyone expected. 
Redemption 
Let's kick off with five magic words — straight to your bank account. 
You really can't get much better than that. This is something that very few poker providers will offer so yes, it's kind of a big deal. 
Global Poker reckons it can take up to seven business days, but most players state that they see the money in their bank account in about 3-5 days. 
That's the only way that you can redeem real cash, but there is also an option called Prizeout which allows you to receive your cash in the form of vouchers. These vouchers are for major retailers such as Walmart, Amazon, and Target. As there's no financial transaction involved, Prizeout redemption is much quicker than bank redemptions. 
No software to download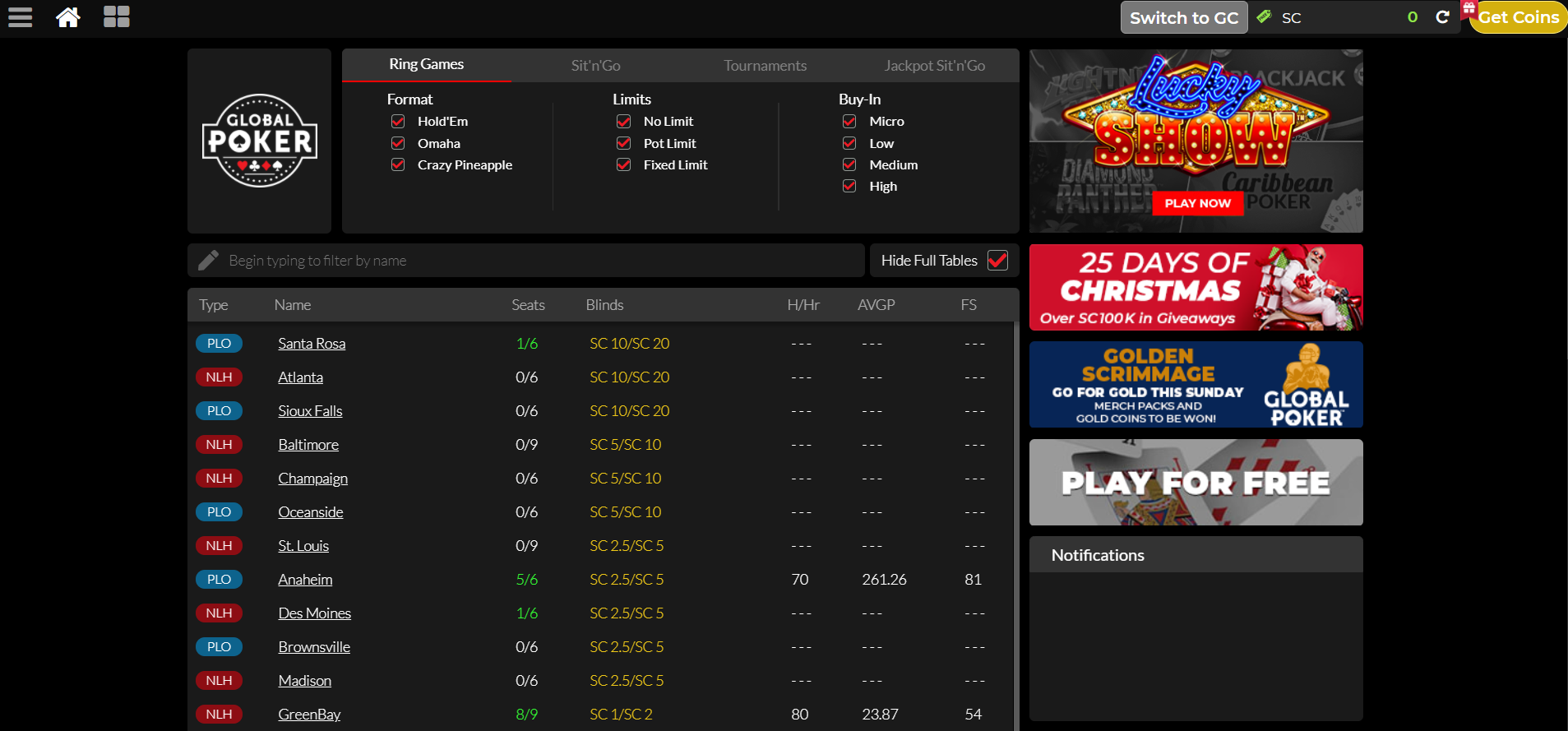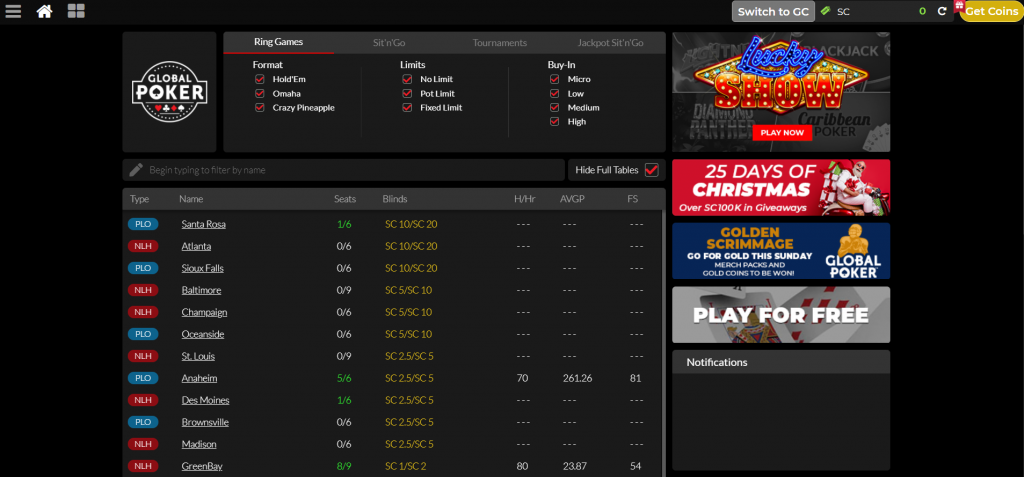 The browser-based client is ridiculously easy to navigate and pretty slick
It's extremely rare to find an online poker provider that allows you to register and play without downloading and installing software to your computer or an app on your phone. 
This is where Global Poker is streets ahead of the competition. It's hands down, the simplest way to play online poker anywhere. Visit their website, register or login, and start playing. 
With everything running through a browser, the software — which was originally developed by Swedish firm Cubeia — is super lightweight and fast. Best of all, there's no interminable waiting for software to update. We've all been there, right?
Yes, it may lack some of the more advanced functions that some other providers include in their software, but if you just want to play poker, then it's absolutely perfect. 
We'd even go so far as to say that it's so perfect, we wonder why other providers haven't taken this approach. 
When writing this review we found gameplay smooth and there were no glitches. It also doesn't seem to matter what browser or device you're using — the site is always fast and responsive. 
You can even play multi-table on a mobile device which is surprising given that it's all done in the browser. 
We'd just like to add at this point that any website that asks you to download a Global Poker app is a scam. There is no app so don't be fooled.
A complete ban on HUDs
Unlike PokerStars, who still allow some select heads-up displays on their platform, Global Poker has placed an outright ban on HUDs. 
HUDs allow a player to gather statistics and information on other players which can then be used to guide their decision making. Some believe that they're a great tool for learning and sharpening your skills, but the truth is that they give an unfair advantage to those that use them. 
The fact that Global Poker is a browser-based poker room makes it practically impossible for players to use HUDs, but even so, the company went ahead and prohibited their use anyway. 
This is perhaps one of the reasons why there are more recreational players on the site as grinders who prefer to use HUDs will play elsewhere. This has also led to softer games making it an ideal option for beginner and intermediate players. 
Plenty of tournaments throughout the day
Although Global Poker has considerably less traffic than the heavyweights in the industry (more on that later), there's still enough traffic that on an average day you'll find around five tournaments taking place each hour. 
Their most popular tournament is the Sunday Scrimmage which has a prize pool of 50,000SC (Sweep Coins.) The buy-in is 218SC but there are satellites throughout the week you can take part in. 
There are also Gold Coin tournaments but it's the SC tournaments that everyone really wants to play. 
Interestingly, in 2019 the company also ran the Kurt Busch Signature Tournament Series. This tournament came about as a result of the brand's sponsorship of Nascar's Chip Ganassi Racing in early 2019. The brand was the first online poker site to have a prominent sponsorship deal with a major American sport. The Kurt Busch Tournament would take place on race days when the Global Poker cra was on the track with winners picking up Sweep Coins and some lucky player getting an actual piece of Kurt Busch's race car! 
However, the biggest Global Poker event of the year is the Rattlesnake Tournament that had a guaranteed prize pool of 1.5 million SC in 2020. 
Although these tournaments may seem like small potatoes when compared to the likes of PokerStars' Sunday Million, it's worth noting that they provide one of the only ways that US residents can get involved in online tournaments. But like we said earlier, the website is really geared towards recreational players and for that demographic, the guaranteed prize pools are more than enough. 
And that leads us to our next and possibly the biggest attraction to playing on Global Poker.
Games are softer
As we keep mentioning, Global Poker is not the haunt of poker grinders and sharks in the way that PokerStars or any other site that allows HUDs is. 
The players you'll find at Global Poker are there to play poker and enjoy themselves. For many, it's not about the money. Okay, so maybe it is a little about the money but you get where we're coming from here. 
The site is packed full of players who are relatively new to the game or who are complete novices. This is in part because a lot of the brand's advertising is done on social media and so you get people dropping in to see how they fare and use up their $20 no-purchase bonus. 
This makes it the perfect platform for players who are looking to either brush up on their skills or have some pure poker fun. 
The main drawbacks of playing on Global Poker
We could write the word nothing and we wouldn't be too far wrong. That's because there genuinely is very little wrong with Global Poker. In truth, the flaws that we did find aren't drawbacks that would deter the average player from signing up at all. 
No cryptocurrency options
Given that Global Poker has pulled out all the stops to make payments as easy as possible, we're quite surprised that they haven't introduced any cryptocurrency options. 
They are currently partnered with Skrill which allows users to trade using cryptocurrencies, but that's not quite the same as playing poker with Bitcoin, is it? 
They did toy with the idea of using BitPay back when they parted ways with PayPal, but the WorldPay deal and online banking option seems to be enough for now. 
No live support 
This is something that we find baffling. Why would a company that provides such a great service scrimp on customer support? There is no live chat option and the support page simply provides an email address with a promise that they will reply as soon as possible. 
In this day and age, a lack of live customer support is a major drawback, but — and it's a pretty big but — the email service is actually top notch. You'll get an answer to your question within about ten minutes which is really quick for an email service. 
So while we're not happy about the lack of a chat service, a ten-minute wait time for a reply is damn good. 
Lower traffic at off-peak times
Global Poker has grown a lot in recent years but even so, there are still times when traffic really slows down and as a result, so too does the action. 
This means that some tournaments may struggle to get players. But if you stick to the peak times during the evening and at the weekends, then the room is a hive of activity. 
That's not to say that you'll ever find it difficult to get a game — there are always players online. It's just not the crazy busy kind of poker room that you'll find on other platforms. 
Listen, we did say that drawbacks were hard enough to find on Global Poker so forgive us for seemingly nitpicking over lower traffic and a lack of crypto payments options. 
So what's it like to play on Global Poker?
It's really fun. 
In our experience it's like playing poker with your buddies who can play but don't take the game too seriously. This is in most part thanks to the high percentage of recreational players on the site that make it a much easier poker room to play in. 
Creating a new account on Global Poker is pretty easy. You can log in via Facebook, log in via Google, or if you're old school like us, you can register using an email address. 
Once you create your login for Global Poker, you'll need to verify your account. You'll be able to play before you do this but there will be limitations on your account. These restrictions include a maximum purchase amount and most importantly, you won't be able to redeem your Sweeps Coins. 
So yep, verification is a crucial step. Once you've done that you can login to Global Poker and redeem those winnings any time you like. Easy peasy.
Deposits or purchases, as Global Poker like to call them, were easy to make and that welcome bonus was a nice touch. 
You can opt to play Texas Hold'em, Omaha, or Caribbean Poker while you can also choose from Jackpot Sit & Go and Bounty tournaments. There may not be the plethora of tournament types and poker variations that you'll find on bigger platforms, but what they do, they do very well. 
The lobby is very easy to navigate and we had no trouble finding games for any budget. We were particularly impressed with how the mobile version of the site stacked up against competitor's apps. We'd even say that in some instances, playing in a mobile browser was actually better than a dedicated app. 
Cashing out is fairly simple too but as we said earlier, it's either straight to your bank or vouchers for major retailers.
What's the final conclusion?
We're not going to say that Global Poker is perfect — the lack of live support lets it down a little — but it does come pretty close. 
Global Poker has achieved what no other provider has done before and cracked the US online poker industry. Their initial struggles with a payment processor looked to have ruined their reputation and sunk the platform, but that deal with WorldPay has proven to be a masterstroke. 
Although they currently only serve the US and Canada, they have plans to become a truly global online poker provider and based on their success in an incredibly tough US market, we can only see good things for them in the future. 
So does this Global Poker review recommend the site for US and Canadian residents? You better believe it. 
The ban on HUDs and their focus on attracting recreational players has made this one of the softest poker rooms you'll find online. And that makes playing there a genuinely enjoyable experience. 
If you're looking for a good place to start your online poker adventure and you live in the US or Canada, then we can think of no better place to start than Global Poker. Even if you're an experienced player that just wants to enjoy some pure poker, this is as good as it gets.