South Dakota Poker Laws & Regulations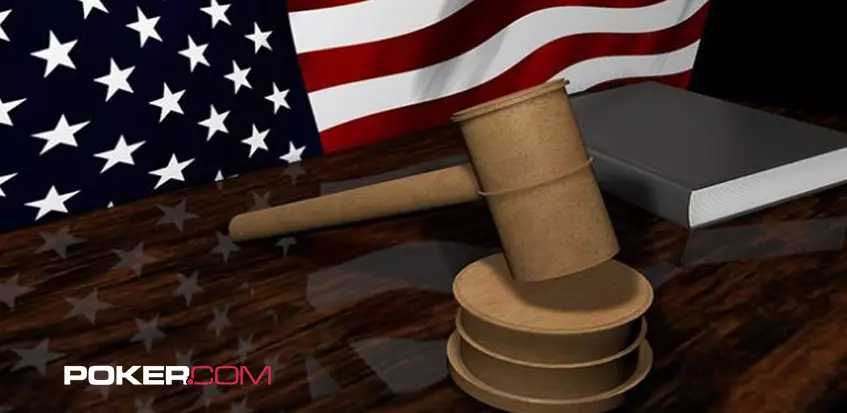 Is online poker legal in South Dakota?
The Mount Rushmore State has a colorful gambling history and the state now has a thriving live gambling industry. But what about the online game? Can South Dakotans legally play online poker? 

Online poker laws in the state of South Dakota
While South Dakota has quite a lot of land-based gambling facilities, there are some quite stiff penalties for accepting wagers online and that includes online poker. It's only a guess, but this could be to help protect the revenues of the existing live operators. 
Whatever the reason, the state codes contain an entire chapter for internet gaming. This is Chapter 22-25A and explains what constitutes online gambling and outlines the penalties for breaking the laws. 
Sounds quite bad, right? That is until you realize that the laws actually address those who run the games and not individual players. 
Those who operate illegal gaming enterprises face the following:
Violation a felony. Any person who violates § 22-25A-7 or § 22-25A-8 is guilty of a felony as follows:
(1) For a first offense, a Class 6 felony;
(2) For a second or subsequent offense, a Class 5 felony.
To understand how the state treats an individual player, we need to take a look at the general gambling laws. These can be found in Chapter 22-25, 'Gambling and Lotteries.' 
Section 22-25-1 reads as follows:
Gambling defined–Keeping gambling establishment–Letting building for gambling–Misdemeanor.
Any person who engages in gambling in any form with cards, dice, or other implements or devices of any kind wherein anything valuable is wagered upon the outcome, or who keeps any establishment, place, equipment, or apparatus for such gambling or any agents or employees for such purpose, or any person who knowingly lets any establishment, structure, place, equipment, or apparatus for such gambling is guilty of a Class 2 misdemeanor.
The wording 'gambling in any form with cards' is a bit of an issue as it could include poker. Having said that, this law is decades old and while it is technically enforceable, it has never been used to arrest or charge a person who plays online poker at home. 
So, in short, if you run an illegal online poker business; you're in trouble. If you play online poker at home; you're in the clear. 

The history of gambling in South Dakota
The first settlers of what was then called Dakota were a mix of trappers, fur traders, and homesteaders. But the
1874 discovery of gold in the Black Hills
changed all of that in an instant. 
There was a rush of prospectors, miners, and all the people of a ming camp, and the region's population grew rapidly. This huge influx of people brought all kinds of businesses to the area, but the most popular were the gambling houses and saloons. Before long, the town of Deadwood sprang up and became a hub for all kinds of debauchery. Poker was king and the town was a popular haunt for some of the most famous and infamous players of the time. 
One such person was James Butler 'Wild Bill' Hickok who came to the town seeking his fortune. Unfortunately, he was shot in the back while playing a game of poker at Nuttal & Mann's Saloon. After he beat a young man named James McCall, he offered him a few coins to buy his dinner. McCall returned the next day and shot Wild Bill in the head. The hand he was playing at the time, a pair of black aces and a pair of black eights, became known as the 'Dead Man's Hand.'  
Another well-known character from this time was 'Poker Alice' Ivers. When her husband died in a mining accident, Alice used the skills her husband had taught her and took to the tables of Deadwood. She worked as a dealer and when not at work could be found playing poker and winning more often than not.
By 1889, after South Dakota became a state, the local authorities decided to clean up the many lawless towns. The new state constitution outlawed any form of gambling. All forms of gambling remained illegal until 1933 when horse racing was introduced and with it pari-mutuel wagering.
In 1986, the state lottery was established and in 1989 the state's first casinos opened for business. 1993 saw more real-money gambling venues added to the list with the signing of the state's tribal compacts. 
While sports betting is currently prohibited, the state's electorate will get to vote on the matter in November 2020. 
Will we ever see online poker legislation in South Dakota?
That seems highly unlikely given that the state has gone to such lengths to define unlawful internet gambling in its legal code. 
There's also the fact that as a sparsely populated state, the demand for the online game may not be enough to justify a state-regulated industry. The only way it would be feasible would be if interstate traffic compacts were signed like the one that brings the Nevada, Delaware, and New Jersey online industries together. 

What about land-based gambling?
There are around 30 casinos in South Dakota with many of them located in or near to Deadwood. There are also several tribal casinos operated by the Sioux and Sisseton Wahpeton Oyate tribes. Many of the casinos offer the complete range of casino games while poker rooms tend to be found mostly at the Deadwood casinos. 
Pari-mutuel wagering is available at the state's two horse tracks while South Dakotans can also play the state lottery and take part in charitable gaming events. 

Final thoughts 
It's clear from the state's legal code that the authorities are more interested in targeting illegal operators than individual players. This means that anyone who wants to play online poker in South Dakota can do so at one of the offshore platforms that services the state without fear of getting into any legal trouble. 
That said, we'd just like to remind you that the information given or opinions expressed above do not constitute legal advice.