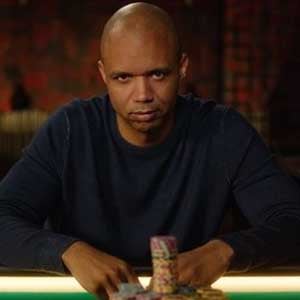 Lifetime Live Winnings
$
30,331,578
World Series Of Poker
10 x
Lifetime Cashes: 71
Cashes Total: $8,089,342
Biggest Cash: $1,404,014
WPT Championships
2 x
Lifetime Cashes: 6
Cashes Total: $1,188,057
Biggest Cash: $656,500
EPT Championships
0 x
Lifetime Cashes: 3
Cashes Total: $588,865
Biggest Cash: $472,297
High Rollers
7 x
Lifetime Cashes: 29
Cashes Total: $17,362,221
Biggest Cash: $3,589,228
| Poker Series | Win | FT | ITM To FT % | ITM | ITM to W% | $ |
| --- | --- | --- | --- | --- | --- | --- |
| WSOP | 10 | 38 | 53.52% | 71 | 14.08% | $8,089,342 |
| WPT | 2 | 5 | 83.33% | 6 | 33.33% | $1,188,057 |
| EPT | 0 | 2 | 66.67% | 3 | 0% | $588,865 |
| AUSSIE MILLIONS | 3 | 5 | 62.50% | 8 | 37.50% | $8,109,163 |
| HIGH ROLLERS | 7 | 27 | 93.10% | 29 | 24.14% | $17,362,221 |
| TRITON | 1 | 2 | 100.00% | 2 | 50.00% | $2,271,837 |
Phil Ivey Biography & Poker Career
Phil Ivey is regarded by many people as being the most talented all-round poker player in the world, the best of the new generation. He was introduced to poker by his grandfather, who'd deal out hands of penny-ante Five-Card Stud to his eight-year-old grandson. This introduction to poker ignited a passion, and by the time he was a teenager he would tell teachers and family that he was going to be a professional gambler. At 16, after sitting in on a poker game hosted by a friend's father and soundly beating everyone, he began looking for opportunities to play more frequently. Armed with a strong competitive streak he developed while making a name for himself in video game circles, Phil set out to take on the world. At 18, he scored a fake ID and started frequenting the poker rooms in Atlantic City casinos, earning himself the nickname "No Home Jerome", taken from the name on his ID Jerome Graham. He lost more than he won in the first few years but he was learning from his mistakes and it was all part of his poker education. Phil won his first World Series of Poker bracelet at age 23, beating Phil Hellmuth, The Devilfish and Amarillo Slim Preston in a $2,500 Pot Limit Omaha event. Soon after, he began playing in high-stakes cash games in Las Vegas and quickly became one of the game's most feared players. Then, in 2002, after moving west to Long Beach, CA, Ivey had a breakthrough year, winning three WSOP bracelets. His wins came in three different games: Seven-Card Stud, Stud Hi/Lo, and SHOE (a rotation of Stud, Hold 'em, Omaha, and Stud Hi/Lo), proving Ivey's all-around mastery. His best WSOP Main Event finish so far is a 10th place in 2003. He is definitley a proficient tournament player, but live cash games are where he really excels. He is widely regarded as an icon of the change in the poker playing demographic from the old timers to the young guns, often referred to as the "Tiger Woods" of poker, a name he is somewhat uncomfortable with.
"Tiger is the best at his game. I'm not there, yet"
says Phil. Howard Lederer says that before his career is over, Ivey may well be considered the best player in poker's history. Erik Seidel describes Ivey as possessing a "searing intelligence." In 2005, while playing a sparse tournament schedule, Ivey made two final tables in World Poker Tour events and two in WSOP Circuit events. Then in June, he won his fifth WSOP bracelet in a $5,000 Pot-Limit Omaha event. After the win, Ivey was asked if he felt he could overtake Brunson and Chan, who have 10 bracelets each. Ever confident, Ivey said,
"I want to win 30."
Phil married his high school sweetheart, Luciaetta, and currently lives with her in Las Vegas, Nevada. A source of strength throughout his career, he has said that without Luciaetta he wouldn't be nearly as successful as he has been. She keeps him grounded, and he has joked about coming home dejected after losing thousands of dollars only to console his wife because of her losses in 5c/10c online poker games.
---
Phil Ivey's Poker Career Highlights
2000 Jack Binion World Poker Open winner - $53,297
2000 WSOP Event 14 $2,500 Pot Limit Omaha winner - $195,000
2002 WSOP Event 5 $1,500 7 Stud winner - $132,000
2002 WSOP Event 16 $2,500 Limit 7 Stud Hi/Lo winner - $118,440
2002 WSOP Event 23 $2,000 Limit S.H.O.E. winner - $107,540
2003 WPT World Poker Finals - 4th - $75,650
2003 WPT World Poker Open - 2nd - $291,030
2003 WPT 5 Star World Poker Classic - 3rd - $253,313
2003 WSOP $10,000 Main Event - 10th - $82,700
2004 Championship Poker at Turning Stone winner - $500,000
2004 Borgata Poker Open - 6th - $105,700
2004 Monte Carlo Millions - 3rd - $100,000
2005 WPT World Poker Challenge - 3rd - $163,908
2005 WPT 5 Star World Poker Classic - 6th - $264,195
2005 Harrahs Lake Tahoe WSOP Circuit Event - 2nd - $299,360
2005 WSOP Event 27 $2,500 Pot Limit Omaha winner - $630,685
2005 WSOP $10,000 Main Event - 20th - $304,680
2005 Monte Carlo Millions winner - $1,000,000
2006 WSOP Event 12 $5,000 Omaha Hi/Lo - 2nd - $219,208
2006 WSOP Event 20 $50,000 No Limit H.O.R.S.E. - 3rd - $617,760
2006 EPT Barcelona - 2nd - $486,240
---
Phil Ivey Quotes
"I had an ID. I was Jerome, Jerome Graham. That was my name. Everybody in Atlantic City knew me as Jerome until I turned 21. When I turned 21, I walked into the Tropicana and found the shift manager. I said, Hey, my name's Phil." She said, "What?" I said, "My name's Phil. I'm sorry. She told me it was OK. She didn't think I was old enough to be in there anyway, but there was nothing they could do then; I was official."
"A lot of people who play professionally don't enjoy what they're doing, and you can tell, and it makes a difference. I love poker. I love everything about it. It's the greatest game in the world. I'm always trying to improve and always thinking about getting better. Some people I play against are just playing because that's their job, and that's a big advantage I have over them."
---