Poker Laws & Regulations in the state of Oklahoma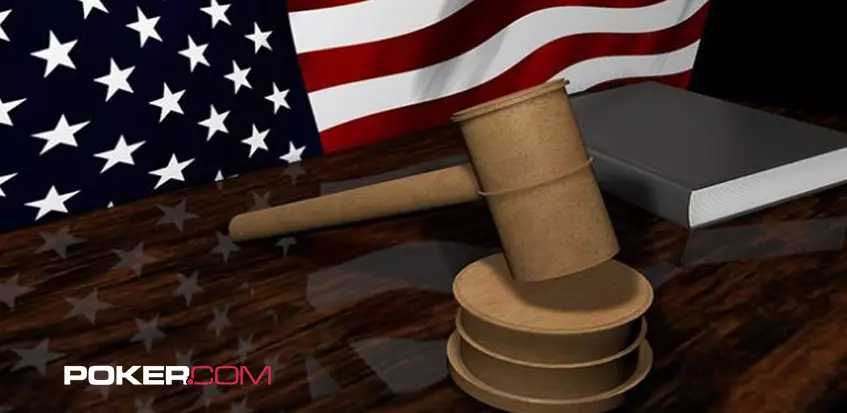 Oklahomans have around 60 land-based casinos to choose from, but what about the online industry? Are there any legal restrictions on gambling online in the Sooner State? Is online poker legal in Oklahoma?
Online poker laws in the state of Oklahoma
Although Oklahoma has allowed more gambling activities in recent years, the Sooner State is still quite strict on real-money gambling. To understand how strict they are, we're going to take a look at Title 21 – Crimes and Punishments, Chapter 38, Gambling.
As you might expect, the law comes down much harder on those who run illegal gambling activities than it does on the individual player as we see in section 21-941:
Except as provided in the Oklahoma Charity Games Act, every person who opens, or causes to be opened, or who conducts, whether for hire or not, or carries on either poker, roulette, craps or any banking or percentage, or any gambling game played with dice, cards or any device, for money, checks, credits, or any representatives of value, or who either as owner or employee, whether for hire or not, deals for those engaged in any such game, shall be guilty of a felony, and upon conviction thereof, shall be punished by a fine of not less than Five Hundred Dollars ($500.00), nor more than Two Thousand Dollars ($2,000.00), and by imprisonment in the State Penitentiary for a term of not less than one (1) year nor more than ten (10) years.
As you can see, poker gets a mention as a game that falls under this law, but this is 100% targeted towards gambling operators. So what about individual players?
Section 21-942 gives us a little more clarity on that:
Any person who bets or plays at any of said prohibited games, or who shall bet or play at any games whatsoever, for money, property, checks, credits or other representatives of value with cards, dice or any other device which may be adapted to or used in playing any game of chance or in which chance is a material element, shall be guilty of a misdemeanor, and upon conviction thereof shall be punished by a fine of not less than Twenty-five Dollars ($25.00), nor more than One Hundred Dollars ($100.00), or by imprisonment in the county jail for a term of not less than one (1) day, nor more than thirty (30) days, or by both such fine and imprisonment.
Before you ask, the prohibited games mentioned reference those from the previous section so that means that poker is definitely included. While there's a fine given for any violations, this is never more than $100 although the possibility of 30 days in jail is a slight worry.
Another statute that could be interpreted as being relative to online poker is in section 21-987 where we read the following:
Dissemination of gambling information is the transmitting or receiving, by means of any communications facilities, information to be used in making or settling bets. Provided that nothing herein shall prohibit a licensed radio or television station or newspaper of general circulation from broadcasting or disseminating to the public reports of odds or results of legally staged sporting events.
Any person found guilty of disseminating gambling information shall be guilty of a felony and shall be punished by imprisonment for not more than five (5) years or a fine of not more than Twenty-five Thousand Dollars ($25,000.00), or by both such fine and imprisonment.
This seems to be targeting illegal sports betting, but it's vague enough that online poker could be included too. Having said that, there are no records of any arrests of individual online poker players in the state of Oklahoma. The authorities really have no interest in the games you play on your PC in the privacy of your own home.
For those who run illegal gambling enterprises, there's a whole slew of charges they could face. These include granting of lease of premises for gambling, setting up a slot machine, dealing three-card monte, permitting gambling on premises, commercial gambling, dealing in gambling devices, using a building for gambling, possessing gambling devices, and betting or letting premises for betting on races.
The majority of these crimes are misdemeanors, but there are a few that are felonies. These can carry prison sentences of up to 10 years and fines of as much as $25,000. Of course, state licensed gambling operators are exempt from these laws.
Even with such seemingly serious punishments for illegal operators, there are quite a few offshore poker platforms that service the Sooner State and nothing has ever been done to prevent them from doing so.
The history of gambling in Oklahoma
Even though both the French and the Spanish claimed the area we now call Oklahoma during the 17th and 18th centuries, there was very little colonization of the region. The land was mostly occupied by the local native tribes such as the Plains Apache.
It was within these tribes that we found the first records of gambling in the area. The Plains Apache, for example, played a game of chance called the awl game. The women of the tribe would sometimes spend entire afternoons playing the game which involved throwing sticks onto an open space to determine how many moves they could take. Their 'piece' was an awl which they would then move about the playing field. The game would continue until one of the players reached a certain target or number of points.
The next records of gambling long after the Louisiana Purchase of 1803. The land was not open for settlement until 1889, but some eager folks hid out in the territory so that when the land rush came, they would have first choice and get themselves the best pieces of land. This is why the state is called the Sooner State, because those early settlers arrived too soon.
Towns like Guthrie saw their population explode from a handful of hardy souls to more than 10,000 settlers. Most of these people lived in tents while they waited for their claims to be processed. Interestingly, this is where the state's first casino was established by the Reeve brothers who served customers in their tent. The tent was soon replaced by a permanent building and the brothers once claimed that the doors had never been closed in 15 years. When it was shut down in 1907, the brothers couldn't even find the key.
Of course, this wasn't the only gaming hall in Guthrie and other towns like Tulsa soon had their own casinos. With most of the early settlers being cowboys and ranchers, the casinos did a roaring trade.
But when the territory was preparing for statehood in 1907, the authorities decided that it was time for a clean up and most gambling houses were closed down. And in 1916, a new state law made gambling illegal.
At this point, Tulsa was known as the Oil Capital of the World. And with so much oil money going around, it was inevitable that gambling would go underground. Gambling remained illegal and pool became the game of choice. Of course, money was exchanged and hustlers made their name, but the police often turned a blind eye to such activities. It's said that the game of 'one pocket' was actually invented in a pool hall in Oklahoma.
Pool halls often hosted illegal poker games and there are many stories of some of the biggest names on the underground poker scene in Texas coming to the Sooner State to try their luck. But with Las Vegas becoming more and more popular as the years went by, the pool halls began to lose a lot of their custom. Fortunately, legalized gambling was on its way.
In 1983, the state legalized pari-mutuel betting and race tracks opened for business. Then in 1992, charitable organizations were given permission to host bingo events and offer pull tabs.
In 2004, the state's electorate approved gaming compacts with the local native tribes and tribal casinos began to open up in the following years. At the same time the race tracks were permitted to install video poker machines and just a year later, the state lottery was established.
For some time, the Iowa Tribe of Oklahoma tried to set up and run an online poker venture. This ran into many roadblocks and the original site pokertribe.com was closed down. In 2018, a rebranded version called GreySnow Poker opened for business with a license from the Isle of Man. However, it is only allowed to serve players from outside of the state.
Will we ever see online poker legislation in Oklahoma?
It's really hard to say. The state has a thriving land-based industry and should they decide to pass online poker legislation, the state's lawmakers would need to ensure that the tribes have their slice of the pie.
The 2018 agreement to allow GreySnow Poker to open for operations does suggest that the legislature is somewhat open to the idea, but it's anyone's guess as to how it will be before we see an actual bill in the house.
What about land-based gambling?
Residents of the Sooner State have quite a few gambling options to choose from. They have the state lottery, pari-mutuel betting and video poker machines at the race tracks, charitable gaming, and, of course, the tribal casinos.
Oklahoma is home to dozens of tribes and they now run an estimated 60 casinos across the state. Even so, only about a quarter of these feature poker tables. The largest poker room in the state can be found at the WinStar World Casino which is run by the Chickasaw Tribe. This room has 55 tables with the usual spread of No Limit Hold'em, Limit Hold'em, and Pot Limit Omaha. The casino also hosts the annual River Poker Series with the Main Event winner taking home a cool $1million.
Final thoughts
Although the Iowa Tribe of Oklahoma runs an online poker website, there is no legislation in place for the game in the state. However, residents of the Sooner State can still play at one of the many offshore poker platforms that service the area. Not only that but they can do so safe in the knowledge that the state authorities have no interest in pursuing individual players for playing online poker.
That said, we'd just like to remind you that the information given or opinions expressed above do not constitute legal advice.
Frequently Asked Questions
Is there a state-licensed online poker website in Oklahoma?
No, there has been no legislation passed on online poker and so there are no state-licensed poker websites available. However, there are several offshore poker companies that allow Oklahomans to register and play in their poker rooms.
Can I legally play online poker in Oklahoma?
Yes, we'd say that it's technically legal as there are no mentions of the online game in the state's statutes. The state's laws are more geared towards punishing the operators of illegal gambling enterprises and not the players.
What's the minimum age for gambling in Oklahoma?
People as young as 16 can play in some charitable bingo halls although, generally speaking, the age limit is 18 as it is for pari-mutuel betting and the state lottery.
Casinos have a minimum age requirement of 21 if they serve alcohol. With all of this in mind, we assume that the online requirement would be 18 as it's purely gambling with no alcohol involved.
Can I open an online gambling business in Oklahoma?
No, absolutely not. While law enforcement might turn a blind eye to individuals who play or bet online, they will not do the same for those who run illegal games. If found guilty, you could find yourself facing felony charges or even federal charges that carry significant jail time and huge fines.
Do I need to pay taxes on my online poker winnings?
Yes, you do. The IRS and the Oklahoma Tax Commission both want their share of your winnings. If you fail to pay your tax you could face charges and even end up in jail. The best advice we can give is to speak with a local tax consultant who is familiar with state tax laws.
Is there a game called Oklahoma poker?
There are several poker variants known as Oklahoma, but the most common is a little like Pot Limit Omaha. In this game, the preflop dealing and betting are pretty much the same as regular Pot Limit Omaha. On the flop, each player must discard one of their four down cards. This continues until every player has just two down cards heading into the river which then proceeds as normal Omaha.
What about Oklahoma lowball poker?
This is based on five-card stud. When every player antes, they get one face down card and one card face up. Then there's a round of betting starting with the lowest card showing. Another face up card is dealt and another round of betting follows. This continues until everyone has five cards. At the showdown, the lowest hand wins with straights and flushes counting against you.