Play Legal Online Poker in the State of Massachusetts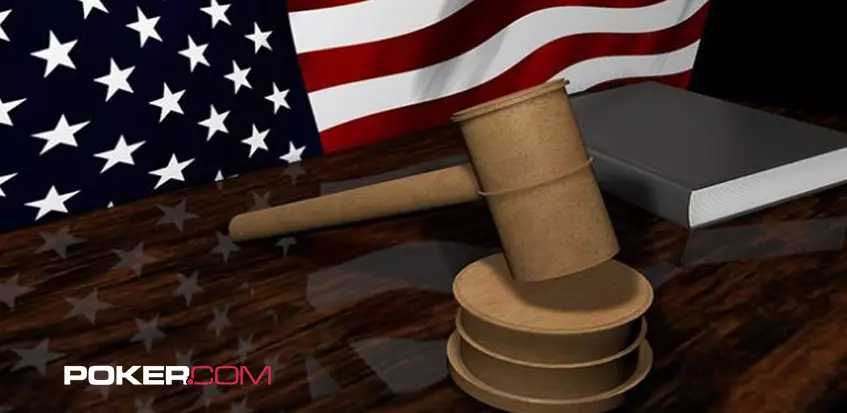 The Codfish State has a relatively new land-based casino industry, but residents are still unsure about the legality of online poker. Can they play online poker in Massachusetts and will they get into trouble if they do?
Making sense of the laws that govern gambling in the state of Massachusetts is quite tough considering that the relevant statutes are located in separate sections of the state code. But after reviewing the codes, we're quite certain that online poker is such a minor infraction of the law that it might as well be legal. In fact, depending on how one interprets the law, it could well be.
Given that there's so much legal language to work our way through, we've summarized the most important sections here.
Before we go any further, let's take a look at Chapter 4, Section 7 of the code which explains what illegal gambling is according to Massachusetts law.
"Illegal gaming," a banking or percentage game played with cards, dice, tiles or dominoes, or an electronic, electrical or mechanical device or machine for money, property, checks, credit or any representative of value, but excluding: (i) a lottery game conducted by the state lottery commission, under sections 24, 24A and 27 of chapter 10; (ii) a game conducted under chapter 23K; (iii) pari-mutuel wagering on horse races under chapters 128A and 128C and greyhound races under said chapter 128C; (iv) a game of bingo conducted under chapter 271; and (v) charitable gaming conducted under said chapter 271.
The most important thing to note here is the term 'banking or percentage game.' This usually means a game where there is a banker or house. Games such as blackjack, roulette, and keno would all fall into this category. However, poker shouldn't as the player is betting against other players and not the house. If this is the interpretation of the term according to Massachusetts law, then we can assume that poker is legal.
Even if we're wrong in that assumption, the penalties for unlawful betting are quite tame compared to some other states. For example, in Chapter 271 we see the following in section 2:
Whoever, in a public conveyance or public place, or in a private place upon which he is trespassing, plays at cards, dice or any other game for money or other property, or bets on the sides or hands of those playing, except as permitted under chapter 23K, shall forfeit not more than fifty dollars or be imprisoned for not more than three months; and whoever sets up or permits such a game shall be punished by a fine of not less than fifty nor more than one hundred dollars or by imprisonment for not less than three nor more than twelve months.
What this tells us is that if you are caught playing cards in public or a private property on which you are trespassing, you could get fined as much as $50 or face jail time of up to three months. In other words, if you're at home on your own property, there's no problem at all.
If we look at section 1 of Chapter 271 we see the following:
Whoever, on a prosecution commenced within eighteen months after the commission of the crime, is convicted of winning at one time or sitting, by gaming or betting on the sides or hands of those gaming, except as permitted under chapter 23K, money or goods to the value of five dollars or more, and of receiving the same or security therefor, shall forfeit double the value of such money or goods.
If you win more than $5 while gaming, you could, in theory, be forced to pay double the sum that you won as a fine.
There's another mention of this in Chapter 137 section 1 that suggests paying back your winnings to the loser rather than forfeiting the money.
Whoever, by playing at cards, dice or other game, or by betting on the sides or hands of those gaming, except for gaming conducted in licensed gaming establishments pursuant to chapter 23K, loses to a person so playing or betting money or goods, and pays or delivers the same or any part thereof to the winner, or whoever pays or delivers money or other thing of value to another person for or in consideration of a lottery, policy or pool ticket, certificate, check or slip, or for or in consideration of a chance of drawing or obtaining any money, prize or other thing of value in a lottery or policy game, pool or combination, or other bet, may recover such money or the value of such goods in contract; and if he does not within three months after such loss, payment or delivery, without covin or collusion, prosecute such action with effect, any other person may sue for and recover in tort treble the value thereof.
This is similar to a law in Illinois that states that you can sue for gambling losses. If you don't take action within three months, then a third party can sue on your behalf and reclaim three times the sum. It's a weird one and if any of your 'friends' ever try to do this to you after a game, we suggest that you never play with them again.
There's one part of the Massachusetts code that some feel may confirm that online poker is illegal. It's in Chapter 271, section 17A.
Whoever uses a telephone or, being the occupant in control of premises where a telephone is located or a subscriber for a telephone, knowingly permits another to use a telephone so located or for which he subscribes, as the case may be, for the purpose of accepting wagers or bets, or buying or selling of pools, or for placing all or any portion of a wager with another, upon the result of a trial or contest of skill, speed, or endurance of man, beast, bird, or machine, or upon the result of an athletic game or contest, or upon the lottery called the numbers game, or for the purpose of reporting the same to a headquarters or booking office, or who under a name other than his own or otherwise falsely or fictitiously procures telephone service for himself or another for such purposes, shall be punished by a fine of not more than two thousand dollars or by imprisonment for not more than one year.
The idea that this could refer to online poker is laughable. Perhaps it could be argued that this was the case back when we all had old dial-up internet, but even then it would have been a stretch. The language also suggests that this is more targeted towards people running an illegal gambling enterprise that accepts bets.
As you can see, there's nothing in Massachusetts law that clearly suggests that poker or online poker is illegal. With this in mind, we're sure that if you play online poker in Massachusetts, there's very little chance that you will get into any trouble at all.
However, those who run illegal games are a different story. They face severe consequences for breaking the law that includes jail time of up to 15 years and fines of up to $250,000.
Even with these strict penalties in place, there are still many offshore poker operators that welcome players from the Old Colony State. The state authorities seem unbothered by these companies and have more interest in locking up criminal gangs that run illegal games.
The history of gambling in Massachusetts
The first settlers in the area that we now call Massachusetts were the Puritans. As you can imagine, they took a harsh view of gambling and worked hard to limit its influence on their society. There are even suggestions that they had gambling restrictions in place as early as 1621.
Even with this tough stance on gambling, the local authorities were more than willing to use lotteries to fund public amenities. They once went so far as to hold a lottery to help fund the American Revolution. Unsurprisingly, their pious nature meant that they could only tolerate gambling for so long and lotteries were banned and then reinstated several times throughout the colonial period. In 1833, all lotteries were banned for good and did not appear again until the 20th century.
The fact that gambling was illegal did nothing to stop the industry from flourishing in underground gambling houses and saloons. This was particularly true in Boston. On Ann Street alone, there were said to be as many as 26 illegal gambling houses.
In 1932, during the Great Depression, charitable gambling was allowed and just two years later race track betting was permitted. Nothing of note happened in the gambling industry until 1971 when the state lottery was established.
Then, in 2011, the state approved the building of three commercial casinos. The first was Plainridge Park Casino in Plainville which opened in 2015. Encore Boston Harbor and MGM Springfield opened a few years later.
The Mashpee Wampanoag Tribe are preparing to build a tribal casino, but The Court of Appeals has ruled against them in a case relating to the allocation of lands.
Will we ever see online poker legislation in Massachusetts?
The state legalized daily fantasy sports back in 2016 before Senator Bruce Tarr introduced SD 618 in 2017. This bill, if passed, will allow land-based gaming operators to run online games. There has been no movement on it to date, but it certainly looks positive for online gaming.
It may not be for a few more years, but the state could easily follow the likes of New Jersey and Delaware and establish a regulated online poker and casino industry.
What about land-based gambling?
There are quite a few land-based gambling options available in the Codfish State. Charitable gambling is quite popular with bingo and casino nights being the most common form of gaming used.
Pari-mutuel betting is allowed at Plainridge Park where there are also slot machines and electronic table games.
The other two casinos in the state are the MGM Springfield and the Encore Boston Harbor which both have poker rooms. Encore is the bigger and more popular of the two with 74 tables.
Final thoughts
There's nothing stopping residents of the state from enjoying a few games of online poker. There has never been an arrest for playing the game online nor do any of the laws suggest that charges could be brought against an individual player.
As far as we can tell, you should have no worries playing online poker on any of the offshore poker platforms that offer services within the state.
That said, we'd just like to remind you that the information given or opinions expressed above do not constitute legal advice.
Frequently Asked Questions
Can I play online poker legally in Massachusetts?
Yes, there's nothing in the state's legal code that suggests that online poker is illegal. Although there are no state-regulated operators, there are several offshore poker companies that allow residents of the state to play in their poker rooms.
How old must I be to gamble in Massachusetts?
If you want to gamble at the tracks, play the lottery, or take part in charitable games, then you must be 18 or older. However, casinos require players to be 21 or older.
Offshore poker companies will allow you to register if you are 18, but we recommend that you follow the laws for land-based casinos.