Illinois Poker Laws & Regulations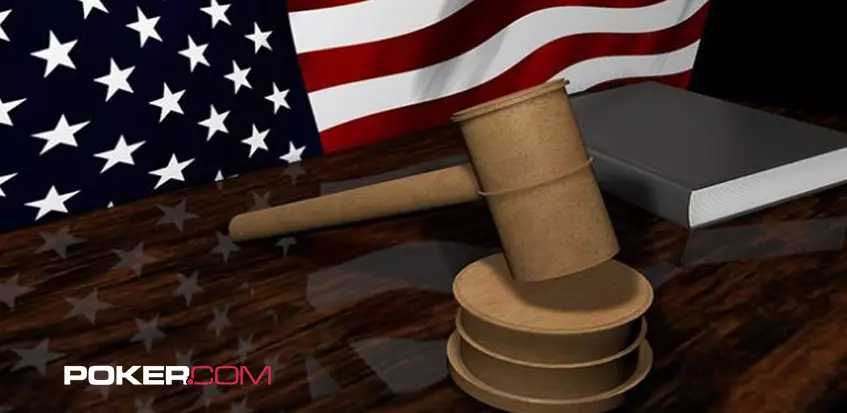 Is online or live poker legal in Illinois?
The Prairie state is well-known for its liberal attitude towards gambling, but despite the lack of a regulated industry, can residents still play online poker within the state?
Online poker laws in the state of Illinois
Illinois has some of the most specific laws regarding poker that go so far as to mention money gaming online (or over the internet as they call it). These codes can be found in 720 ILCS 5, Article 28 where in section 28-1we see the state's definition of gambling as follows:
(a) A person commits gambling when he or she:
(1) knowingly plays a game of chance or skill for money or other thing of value, unless excepted in subsection (b) of this Section;
There's really no need to go any further as it states quite clearly that all games played for  money are illegal. Games of chance or skill don't even come into it at all. If you play for money, you're breaking the law.
But we're not quite done, are we? The laws aren't clear on whether or not this only refers to live or physical gambling or if it includes online gambling.
They go on to explain.
(12) knowingly establishes, maintains, or operates an Internet site that permits a person to play a game of chance or skill for money or other thing of value by means of the Internet or to make a wager upon the result of any game, contest, political nomination, appointment, or election by means of the Internet. This item (12) does not apply to activities referenced in items (6) and (6.1) of subsection (b) of this Section.
This piece of the law clearly targets online poker or gambling providers, but it fails to mention anything about the player.
For those who are found guilty of breaking the law, the following penalties apply:
(c) Sentence.
Gambling is a Class A misdemeanor. A second or subsequent conviction under subsections (a)(3) through (a)(12), is a Class 4 felony.
A Class A misdemeanor in Illinois can result in a fine of up to $2,500 and/or up to one year in prison. If found guilty of breaking the law on two or more occasions, then perpetrators could find themselves facing charges on a Class 4 felony. This carries with it a fine of up to $25,000 and jail time of one to three years.
The difficult thing to understand here is whether or not people playing online poker are breaking the law. However, with the only prosecutions within the state coming as a result of live poker games and no person ever being arrested for playing online poker, we doubt that the authorities care too much about what people get up to on their home computers.
Interestingly, the state also has a law that allows people who lose money from gambling to recoup their losses from the people they lost to. It seems a little unfair to us, but it's there in black and white in code 720 ILCS 5/28-8. Lose the game, sue the winner. It's not right, is it?
Believe it or not, if the loser fails to sue within six months, a third-party can start legal action against the winner to recover triple the amount lost. Bizarre isn't the word for it, but someone actually tried to do this to sue PokerStars. Thankfully, the court ruled that the poker provider is not a winner but a provider and so is not subject to the law.
The history of gambling in Illinois
We have to go all the way back to around 600 A.D. to find the first traces of gambling activity in the region we now call Illinois. The ruins of the ancient city of Cahokia indicate that the people of the time played games and gambled as a pastime.
One of the games believed to have been popular with the inhabitants of the region is called Chunkey. This involved rolling a disc along the ground and then trying to throw a spear as close to the disc as possible. People wagered on the outcome choosing their favorite spear throwers. Even though Cahokia was left to ruin in the 1300s, the game continued in popularity with local tribes such as the Cherokee, Chickasaw, and Creek tribes playing it on their lands.
The first European settlers failed to fully explore the region and even when Illinois had become a state in 1820, there were still only about 50,000 hardy souls living in the Prairie State. But just ten years later, Chicago began to take shape. Close to the Great Lakes and the Mississippi River, the city was a perfect transportation hub. Locally-owned steamboats became hugely popular gaming establishments and the local gambling industry was born.
After the Civil War, there were fewer steamboats on the river as the railroad came to the city. Chicago remained an important city and despite some very strict laws on gambling, the underground scene flourished.
This was when the first major crime bosses began to appear in the city. The first to make his name was Michael Cassius McDonald who moved to the city from New York. He made deals with politicians and policemen so that his illegal gambling dens would be left alone. He made a successful career out of bribing those in power and remained the kingpin until his death in 1907.
A few decades later, the soon to be notorious Al Capone put his mark on the city. Capone mainly worked in bootlegging illegal alcohol during the prohibition era, but he also maintained a keen interest in gambling. He even went so far as to establish a base of operations in Miami where the Florida gambling scene was thriving.
There's little doubt that the games at these gambling dens were rigged, but no one was brave or stupid enough to accuse Capone or any of the other gangsters of cheating. The authorities thought that Capone's empire was coming to an end in 1932 when he went to jail for tax evasion. It had no effect at all as he continued to run his illegal empire from his cell with his subordinates still on the outside to help.
From a legal perspective, state legislated gambling came into place during 1927 when lawmakers legalized pari-mutuel betting on horses. They were one of the first states to do so yet it wasn't until 1971 that they allowed charitable bingo and 1974 before they launched a state lottery.
Then in 1990, the riverboat casinos were back. The state saw a great opportunity to make some tax revenue and give the local tourism industry a shot in the arm and so passed legislation bringing steamboats back into operation.
There were some restrictions on gaming that stipulated that the boats must be moving at all times. These were lifted just a few years later and now riverboat casinos can remain in dock at all times.
In 2009, the authorities legalized 'video gaming' which allowed for bars and restaurants to install video terminals so customers could play keno, slots, and other games of chance.
The most recent development in the state came in 2019 with the passing of SB690 which allows for the expansion of the gambling industry to include bricks and mortar casinos and online sports betting.
Will we ever see online poker legislation in Illinois?
With such a liberal attitude towards gambling, it seems highly likely that Illinois will move to establish a regulated poker industry in the not too distant future. The need for tax dollars, a large population, and the success of the land-based industry suggests that online poker could be on the way.
In 2017, this seemed to be the case when the State Senate passed HB0479. It stalled in the house but has since been put forward for discussion again. And with online sports betting now legalized, it seems merely a matter of time before online poker takes the same route as passes through the house.
What about land-based gambling?
There are plenty of gambling options available in Illinois. There are the horse tracks with pari-mutuel betting, charitable bingo and raffles, and even the state lottery. And since 2019, the casinos and horse tracks are now allowed to offer online sports betting at terminals on-site.
There are about 10 riverboat casinos that rarely go out on the river at all. In fact, most are permanently moored and have hotels attached to them. As for poker, the Grand Victoria in Elgin has the biggest poker room with 13 tables where players can enjoy low-stakes NL Hold'em. There are also charitable poker tournaments that tend to move around from place to place due to the restrictions placed on charitable events.
Final thoughts
In a state that has such an open gambling industry, there's very little for an online poker player to worry about. Although there are no state-regulated poker platforms, there are plenty of offshore poker providers that service the state. You can rest assured that if you play poker online in Illinois, it's unlikely that you'll get yourself into any legal trouble.
That said, we'd just like to remind you that the information given or opinions expressed above do not constitute legal advice.
Illinois Poker Frequently Asked Questions
No there isn't, but there's every chance that there will be in the not too distant future. While none of the bills that have made it to the senate have yet been passed, there seems to be enough interest in the establishment of an industry that it's simply a matter of time before it happens.
There are no laws that state that you cannot play online poker in Illinois. That means that you can play the game without any fear of punishment from state authorities.
No, you cannot. The laws that are in place are there to stop illegal games and those who want to profit from the running of a game of poker without the proper state licensing. Those that do so will certainly face the full force of the law. Even so, this doesn't stop offshore poker platforms from providing services to the state.
If you want to play charitable bingo, purchase a lottery ticket, or bet on the races, you must be 18 or older.
If you prefer casino games, then you must be 21 or older. We can assume that this higher age limit also applies to online poker. While offshore platforms will often allow players who are 18 or older to open an account, bear in mind that you may encounter difficulties when trying to withdraw your winnings.
You bet! The IRS classifies online poker winnings as a taxable income. So if you win anything at all while playing online, you need to declare it and pay taxes on the winnings. Not a very pleasant thought. For more information, check out the IRS page on gambling income.