Poker laws in the state of Virginia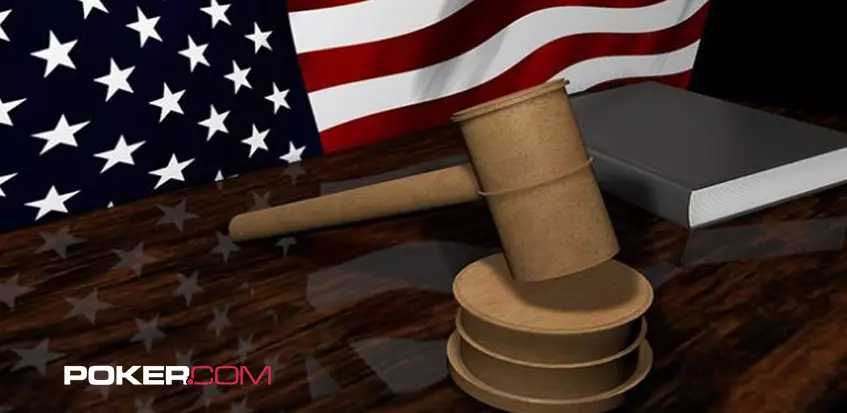 While live gambling options may be quite limited in the Mother of States, what about the online industry?
We're asking the question — is online poker legal in Virginia?
Online poker laws in the state of Virginia
The state of Virginia takes a pretty hard line against most forms of gambling and this if reflected in the state legal code. To understand more about how these laws may affect online poker, we're going to take a look at Title 18.2, Crimes and Offenses Generally, Chapter 8, Crimes Involving Morals and Decency.
In the definitions section 18.2-325 we find the following:
"Illegal gambling" means the making, placing or receipt of any bet or wager in the Commonwealth of money or other thing of value, made in exchange for a chance to win a prize, stake or other consideration or thing of value, dependent upon the result of any game, contest or any other event the outcome of which is uncertain or a matter of chance, whether such game, contest or event occurs or is to occur inside or outside the limits of the Commonwealth.
This seems to cover pretty much all forms of gambling including poker, but there are exemptions for games of skill in Section 18.2-333:
Nothing in this article shall be construed to prevent any contest of speed or skill between men, animals, fowl or vehicles, where participants may receive prizes or different percentages of a purse, stake or premium dependent upon whether they win or lose or dependent upon their position or score at the end of such contest.
As many other states have done with their legal codes, Virginia has opened up the whole skill vs. chance debate on poker. The stipulations about percentages also seems to have poker tournaments in mind, and there have been a few court cases that we can refer to on the matter.
A 2010 state crackdown saw several poker halls closed down with the authorities claiming that poker was illegal. One hall owner who had yet to be shut down went to court looking for a legal ruling on whether or not the game was a game of chance or skill. The court ruled against him and he then took his case to the Supreme Court. The case was thrown out as the judge felt it was inappropriate to make a ruling as no charges had been brought against the claimant's poker hall.
Then, in 2012, a restaurant owner was charged with felony gambling offenses for allowing poker on his premises. He argued that the game was legal in Vermont as it was a game of skill, but there was no ruling on the legality of poker as he accepted a plea deal.
These cases raised hopes as did the legal opinion of Federal Judge Jack Weinstein who, in a 2011 New York State case, declared that poker was a game of skill. However, there's no indication as to whether or not the state's judges would agree with Weinstein.
If we head back to the state codes we find the penalties for illegal gambling in section 18.2-326:
Except as otherwise provided in this article, any person who illegally gambles or engages in interstate gambling as defined in § 18.2-325 shall be guilty of a Class 3 misdemeanor. If an association or pool of persons illegally gamble, each person therein shall be guilty of illegal gambling.
A Class 3 misdemeanor results in a fine of up to $500 with no possibility of jail. So even if the authorities decided that online poker was illegal and you were charged, this is the worst punishment that you could receive.
This is highly unlikely to ever happen as the laws in place are used to target those who run illegal games for profit and not the individual players. In fact, there has never been one arrest for playing online poker in Virginia.
Section 18.2-326 tells us that anyone who gambles on horse races without going through the proper state-licensed bookmakers will be charged with a Class 1 misdemeanor. This can result in a fine of up to $2,500 and/or jail time of as much as 1 year.
Under section 18.2-234, we see that social home games are okay once no one is operating the game for profit and once the property is not usually used for gambling:
Nothing in this article shall be construed to make it illegal to participate in a game of chance conducted in a private residence, provided such private residence is not commonly used for such games of chance and there is no operator as defined in subsection 4 of § 18.2-325.
On an interesting note, Virginia has a specific law in Section 18.2-327 that deals with cheating:
If any person while gambling cheats or by fraudulent means wins or acquires for himself or another money or any other valuable thing, he shall be fined not less than five nor more than ten times the value of such winnings. This penalty shall be in addition to any other penalty imposed under this article.
Anyone who runs or oversees unlawful real-money gambling will be found guilty of a felony and could be fined as much as $20,000 and face jail time of as many as 10 years.
All of the above suggests that Virginians are free to play online poker on an offshore poker platform once they do so in the privacy of their own home.
The history of gambling in Virginia
The area we now call Virginia was home to the first permanent English colony, Jamestown, which was established in 1607. There are records of gambling activity during this time and the colony's laws also mention wagering and games of chance.
As the area welcomed more settlers and grew in prosperity, horse racing became hugely popular. Of course, the sport was mostly reserved for the wealthy elite, but common folk liked to wager on the outcomes of the races. Many of these races were between plantation owners who would challenge one another. The races were always helped publicly to provide as many witnesses as possible and the rules were laid out quite clearly beforehand. Some races even resulted in lawsuits.
Another early form of wagering in Virginia was the lottery. The first on record was in 1612 when a lottery was established to raise funds for the Jamestown settlement, but this one was actually held in England. However, it wasn't long before the settlers started their own lotteries and there were several major lotteries held to help fund public construction projects.
There were even private lotteries like the one to build a road through Allegheny Mountains. This was supported by none other than George Washington himself. The lottery failed but the tickets are now valuable collector's items. Another notable name involved in a lottery was Thomas Jefferson who petitioned the legislature to allow him to set up a lottery to dispose of his property and pay off his debts. He was allowed to do so but made very little money and so he passed on his debts to his heirs.
The Virginia State Constitution of 1851 imposed a ban on all lotteries and in 1897 a provision was made to remove race track betting from the state. The Prohibition Era was quiet enough in Virginia and aside from some bootlegging, very little illegal activity took place within state lines. However, things were different on the Potomac River. Riverboats doubled as casinos and speakeasies but since most of the river was under the jurisdiction of Maryland, the Virginian authorities turned a blind eye to the activities.
The state allowed certain types of charitable gaming in 1973 and by 1987 the Virginia Lottery was established. A year later, the state once again allowed pari-mutuel betting on horse races and in 2016, daily fantasy sports were allowed.
The latest development in the state saw a sports betting bill passed into law in 2020 with operations set to start up by the end of the year. The bill will also allow five economically challenged cities to build commercial casino resorts.
Will we ever see online poker legislation in Virginia?
As we just mentioned, the state has just passed a bill that will not only legalize sports betting but also allow for the construction of five commercial casinos within the state. This along with the 2016 legalization of daily fantasy sports suggests that lawmakers in the Mother of States are quite open to the possibility of further expansion.
However, as there have been no rumors of an online poker bill, it's anyone's guess as to how long it will take for the topic to come up for debate.
What about land-based gambling?
Right now, there are limited gambling options available in the state. There's the state lottery, charitable gaming events, daily fantasy sports, and off-track pari-mutuel horse race wagering.
However, this is all about to change over the coming years. The sports betting industry is on track to take its first bets by the end of 2020 while there are also plans to construct five commercial casinos in the state.
Final thoughts
While online poker has yet to be regulated by the state, we can find nothing in the state's legal code to suggest that it's illegal. In fact, there are several offshore poker companies that service the state and in our opinion, Virginians can play online poker without fear of getting into any trouble with the authorities.
That said, we'd just like to remind you that the information given or opinions expressed above do not constitute legal advice.