One Year On: Reflections on Playing In My First WSOP Bracelet Event – With Robbie Strazynski
World Series Of Poker (WSOP) time is here once again. Or rather, the TIME is here, but there's sadly no WSOP going on this summer.
While the world simmers, waiting for the dangers of the coronavirus pandemic to pass, the poker world waits (im)patiently for live action to resume full force, for marquee events and tournament series to return, and for World Series of Poker officials to announce new fall dates for our biggest annual festival. This rare "summer off" gives us all a chance to reflect on summers past and to take a few moments to relive cherished poker memories. Perhaps poignantly, it's the one-year anniversary of my having played in a WSOP bracelet event for the first time.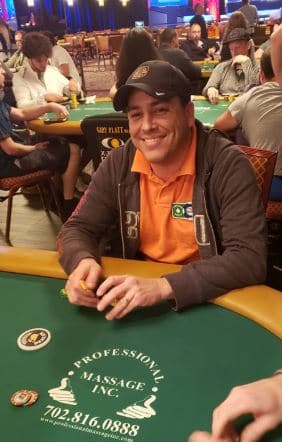 In the run-up to the event, I shared my thoughts on what it was like to finally compete for a bracelet after 16 years of being on the outside looking in. But I've never written about the experiences I had during the event itself, until now.
On June 3, 2019 I woke up with a huge smile on my face. It's difficult to describe the excitement I felt driving to the Rio, preparing to surrender my media badge so that I could take my seat at the table.
When a media member plays in a bracelet event, they must participate in the official WSOP media credential surrendering ceremony.

It's game time folks. 😀

$1500 Dealer's Choice, Table 438 in the Amazon Room.https://t.co/QdGOqtZmyE pic.twitter.com/Brdh2ozbk9

— Robbie Strazynski (@cardplayerlife) June 3, 2019
My story seemed to really resonate within the poker community, as the above-linked article was widely shared across social media, being read by a couple thousand people in the 24 hours since publication on my website, Cardplayer Lifestyle.
Making my way towards the Purple zone of the Amazon Room I got an unexpected pep talk from a couple of my poker media buddies, Lance Bradley and Remko Rinkema. They each briefly shared their own "first times," kiddingly teased me about seeing me soon ("not TOO soon," I gamely replied), smiled, and wished me a sincere good luck and that I enjoy the experience.
I had selected the $1,500 Dealer's Choice event, figuring that I had a good deal of experience playing all 20 of the event's optional poker variants in over a decade and a half of home game play. I was pumped and ready to enjoy mixed game combat a lot more than just "boring old Hold'em." Plus, mixed game fields are typically a LOT smaller than fields for Hold'em events at the WSOP, so at least statistically speaking I had a better shot at success.
What I didn't realize was that a record field of 470 runners would show up, and that half of them would be past bracelet winners. Oh, the naiveté…
While I felt confident in my own game, I freely admit to being just a tad intimidated as I looked around the table. I didn't recognize two players, but the other three were all highly accomplished Aussie poker legends, Gary Benson in seat 1, Jeff Lisandro in seat 2, and James Obst on my direct left in seat 5. And this wasn't even considered to be one of the "tough" tables in the tournament! Sigh.
But then play began, and it was just the same game of poker I've always played. However many bracelets all these guys had and however many millions they'd cumulatively earned in their distinguished careers, they'd put on their pants and brushed their teeth the same way I did in the morning. Fear gone, I just took in the moment and played my game.
Minutes into the event, I got a tap on the shoulder from another poker media buddy, Chad Holloway, letting me know that he'd given the heads up to a couple of the event's live reporters to keep an eye out for me and any interesting hands I'd get involved in. Entirely surreal.
I quickly learned that one of the keys to playing Dealer's Choice isn't picking your own strongest game to play, but rather trying to ascertain your opponents' weakest games and selecting those. Great time to learn that tidbit while playing in a WSOP bracelet for the first time against a murderers' row of opponents whose strong and weak games I had no clue about, eh? Live and learn, as they say.
Note to self, Robbie: If you ever get the chance to play in a WSOP bracelet event again, choose the $1,500 H.O.R.S.E. instead. You're grossly outclassed in big bet games (why did so many players have to pick PLO and PLO8?!). In limit games you're likely not to bleed off your stack quite as quickly. J
As we approached the first break, I got a message from Poker Hall of Famer Linda Johnson asking where in the room I was and if I was having a good time. She wanted to wish me good luck in person and capture the moment. She even shared it on her Facebook page! So incredibly flattering.

I play in perhaps two or three live poker tournaments per year, and as the hours wore on the difference between cash game and tournament play truly sunk in. There was very little to no trapping, no fancy "play making"; just an emphasis on trying to consistently build a stack and survive the ever-increasing blind levels. I unfortunately couldn't pick up too many playable hands, and even when I did I unfortunately wasn't able to capitalize.
During an orbit of badeucy, for instance, I managed to get dealt a pat 23467 with a 2346 badugi. I handled all the betting correctly, trying to maximize the amount of chips I'd scoop, and yet somehow Mr. Obst on my left managed to snag a nut 23457 after his third draw. I was left shaking my head and somehow being "thankful" that he didn't also catch a badugi!
The second break came and – as I had discovered the half-life of my apparently radioactive chip stack – it was time for a confidence booster. I found Eli Elezra, who had also entered the tournament, and he was kind enough to spend a few minutes with me walking outside. He listened to me share a couple Stud and Stud 8 hand histories and offered some helpful tips. As he had the largest percentage of my action, Eli had a vested interest in my success, but his main words of encouragement were clearly from the heart and rooted in our genuine friendship: "The money doesn't matter, Robbie. Play your best and just have a good time! I'll see you on the next break, buddy."
And make the next break I did, albeit with even fewer chips. By the time break #4 rolled around I was on life support, but still in the game. The unyielding Obst was still resolutely on my left, capturing many of my chips, but new faces I didn't recognize had replaced those of the eliminated Lisandro and Benson across the felt. Hey, how about that! The supermen were human after all!
I don't remember my bustout hand, but I do remember that as disappointed as I was to not have made the money or even Day 2, I was just as incredibly proud to have battled with the best for nine hours and have outlasted about half the field.
As you may have noticed, I didn't fill this recounting with loads of hand breakdowns. Quite frankly, aside from that one aforementioned badeucy hand, I don't actually remember any specific hands anymore. I do, however, remember that there was a common theme to the hundreds of good luck wishes I received: "have fun!"
And I did.
That's why recreational players like me play the game of poker, to have fun. Just getting to play on the grandest stage of them all is already living the dream.
So the next day, on June 4, I woke up with a smile once again and drove to the Rio… to retrieve my media badge and get back to work.
Well…

Can't say I have any regrets. I don't feel it was money poorly invested, but clearly, today wasn't my day.

Many lessons learned; mainly that James Obst is a very nice guy, and as terrific a player as advertised.

Until next time… and I won't be waiting 16 more years. pic.twitter.com/dxdB0ULSUk

— Robbie Strazynski (@cardplayerlife) June 4, 2019
Post-script: A couple days later, one more thing happened that just added the cherry on top of the ice cream sundae of my first WSOP experience as a player. It doesn't matter how early you bust when poker's all-time bracelet leader makes you feel like the biggest winner in the game.
That beyond surreal moment when @phil_hellmuth sees you in the Rio hallways and comes up to you to say he "noticed you played in your first bracelet event… that was really cool; I'm happy for you."

Such an incredibly touching gesture, sir. I will never forget it. 🙏#classact

— Robbie Strazynski (@cardplayerlife) June 7, 2019