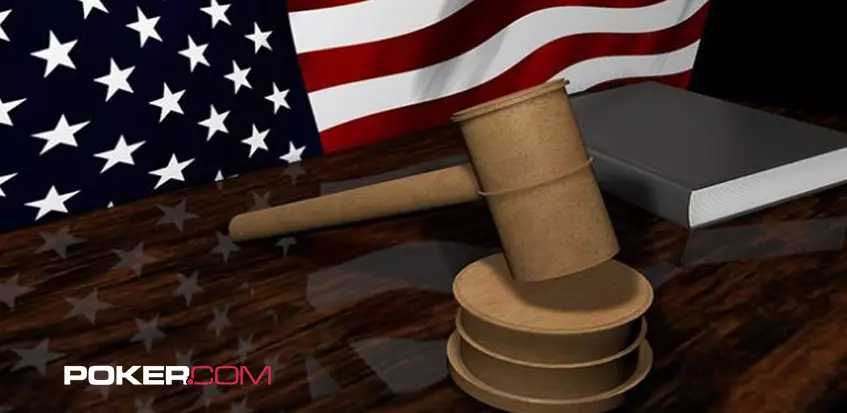 It's no secret that the Beehive State takes a hard stance on gambling in general. But what about the online industry? Can Utahns gamble online in the privacy of their own home? Is online poker legal in Utah?
Online poker laws in the state of Utah
Well, this will be quite straightforward as Utah legislators have gone to great lengths to make it absolutely clear that they do not want anyone gambling online or offline.
The part of the legal code that deals with gambling can be found in Title 76, Chapter 10, Part 11. In the first section we find the following definition of gambling:
(2) (a) "Gambling" means risking anything of value for a return or risking anything of value upon the outcome of a contest, game, gaming scheme, or gaming device when the return or outcome:
(i) is based upon an element of chance; and
(ii) is in accord with an agreement or understanding that someone will receive something of value in the event of a certain outcome.
The wording is broad enough that there's no doubt that poker is included. In fact, it also includes any casino games, sports betting, and race track betting.
Next, we're taking a look at section 1102:
(1) A person is guilty of gambling if the person:
(a) participates in gambling, including any Internet or online gambling;
(b) knowingly permits any gambling to be played, conducted, or dealt upon or in any real or personal property owned, rented, or under the control of the actor, whether in whole or in part; or
(c) knowingly allows the use of any video gaming device that is:
(i) in any business establishment or public place; and
(ii) accessible for use by any person within the establishment or public place.
Well, that's pretty clear too. The fact that they mention 'internet or online gaming' means that we can assume that they are specifically talking about online poker and casino games.
The penalties for breaking this law are as follows:
(2) Gambling is a class B misdemeanor, except that any person who is convicted two or more times under this section is guilty of a class A misdemeanor.
There are much harsher penalties for those who run illegal gaming enterprises. The state police have been known to break up illegal games that are run for profit, but they always target the people running the game and not necessarily the players. Often these underground games are connected to other crimes such as money laundering or drug dealing, and the gambling offenses are the lesser crimes.
Reports in local newspapers even go so far as to suggest that the police are uninterested in breaking up social home games as they have bigger fish to fry.
This suggests that although the game is illegal in Utah, once you play at home and don't break any other laws, the police will leave you to your own devices.
The history of gambling in Utah
Interestingly, in a state that has outlawed gambling, historians have found some of the oldest records of gambling on the continent. Dice crafted from animal bones were found in caves that were once home to the native Promontory culture. This means that gambling took place in the area as far back as the 13th century.
Unfortunately, this was quite possibly the golden age of gambling in the Beehive State. The first settlers to arrive in the region were members of the Church of Jesus Christ of Latter-day Saints who were also known as the Mormons. They arrived in 1847 and the territory was annexed into the United States following the Mexican-American War.
Although the native tribes and local fur trappers likely took part in games of chance prior to the arrival of the Mormons, there are very few records of this sparsely populated area that provide any evidence.
Brigham Young and his band of settlers set up the State of Deseret in 1849, but it wasn't recognized by any government including that of the United States. In the two years of its existence, the state passed anti-gambling laws and completely eradicated games of chance from the region. These laws were so tough that any property where gambling took place became forfeit to the state.
When the territory became Utah, these laws were carried over and remained in operation. This meant that unlike many other states, Utah never went through a Wild West phase although there was a minor spike in gambling and vice activity during the silver rush of the 1860s. However, once the mining was controlled by corporations, all gambling activity was once again eradicated.
In 1896, Utah became a state and since then has maintained its hard stance on gambling. The majority of anti-gambling laws remain in place to this day. The one time that the state experimented with gambling was a complete disaster. In 1925, pari-mutuel wagering was introduced, but there was so much opposition to it that all operations shut down just two years later in 1927.
Will we ever see online poker legislation in Utah?
Take a look at this from the section 76-10-1102(4) of the state legal code:
If any federal law is enacted that authorizes Internet gambling in the states and that federal law provides that individual states may opt out of Internet gambling, this state shall opt out of Internet gambling in the manner provided by federal law and within the time frame provided by that law.
That means that Utah will automatically opt out of any federal bill that permits online gambling.
It's safe to assume that Utah won't be discussing online poker legislation any time in the near future.
What about land-based gambling?
Right now, about 60% of the state's residents are Mormons and although they may be a little more open-minded than their ancestors, they take a dim view of gambling.
That means that there are no casinos, no card rooms, no bingo halls, no race tracks, and no charitable gaming events. The Beehive State doesn't even have a state lottery.
Of course, some savvy businesspeople have tried to find loopholes that allow them to offer gaming opportunities to their customers. These include restaurants that provide free bingo games once patrons buy a meal. The restaurant owner makes the money back in slightly overpriced meals. But the state authorities have placed restrictions on these businesses by making them charge the going rate for snacks and meals.
Believe it or not, there is one way to play poker in Utah. The Wasatch Poker Tour offers prizes to players, but there are no buy-ins or entry fees and the house doesn't take a rake. The hope is that they'll make enough money from the sale of food and drink to cover all the costs of a tournament.
Final thoughts
So, the state of Utah has made it pretty clear that they do not want anyone playing poker or gambling online. But history tells us that the police have no interest in targeting individuals who play the game at home. So if you keep it quiet, there should be no reason why you can't play on one of the offshore poker platforms that services the Beehive State.
That said, we'd just like to remind you that the information given or opinions expressed above do not constitute legal advice.