Poker laws in the state of Wyoming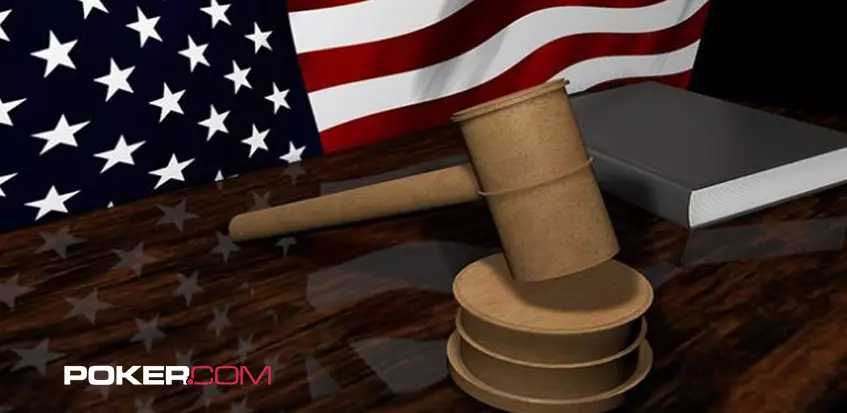 Is online poker legal in Wyoming?
The Cowboy State once had a thriving gambling industry that was all but eradicated in the early 1900s. But what about the present day industry? Can residents of Wyoming play online poker without breaking any laws? 
Online poker laws in the state of Wyoming
The word poker doesn't appear anywhere in Wyoming's state legal code so we've had to sift our way through the general gambling laws to see if we could find anything that can help us determine the legality of online poker. 
These laws are contained in Title 6 – Crimes and Offenses – Chapter 7 Offenses Against Public Policy. 
The first thing we found is this definition in Section 6-7-101(iii) which reads as follows: 
"Gambling" means risking any property for gain contingent in whole or in part upon lot, chance, the operation of a gambling device or the happening or outcome of an event, including a sporting event, over which the person taking a risk has no control, but does not include any of the following:
There is then a list of activities that are exempt from the laws as they are not considered gambling. These include charitable bingo games and bona fide business transactions among others.
Unfortunately, poker is not listed and as the definition states that gambling is any bet that depends in the slightest on chance, we can assume it is indeed considered gambling. 
The legal code also has this to say on professional gambling:
"Professional gambling" means: (A) Aiding or inducing another to engage in gambling, with the intent to derive a profit therefrom; or (B) Participating in gambling and having, other than by virtue of skill or luck, a lesser chance of losing or a greater chance of winning than one (1) or more of the other participants.
So what they're saying here is that professional gambling is when you convince someone to play in the hopes of profiting or even cheating. That's ridiculous to say the least! 
Well, let's take a look at the penalties for gambling which are found in Section 6-7-102
(a) A person who engages in gambling commits a misdemeanor punishable by imprisonment for not more than six (6) months, a fine of not more than seven hundred fifty dollars ($750.00), or both. (b) A person who engages in professional gambling commits a felony punishable by imprisonment for not more than three (3) years, a fine of not more than three thousand dollars ($3,000.00), or both.
That's pretty straightforward and while these laws and penalties do exist, they are rarely put into practice when it comes to individual players. These are actually in place as a deterrent for illegal gaming operators. 
The last time the state tried to shut down any poker activity was in 2004 when authorities cracked down on barroom poker tournaments. That attempt failed miserably, but even so, it was the bar owners that the state was trying to prosecute and not the players. 
The fact is that if the state authorities won't even try too hard to shut down live poker games, they certainly won't be knocking on your door to ask if you're playing online poker on your computer. 
The history of gambling in Wyoming
The days of the Wild West saw Wyoming earn a reputation as a hotspot for poker. Many of the most famous and infamous names of the day spent some time in Buffalo as the Occidental Saloon played host to some legendary games. Some of these games were said to run for days on end. We're not even sure if that's possible, but it sounds epic. 
When Wyoming became a state in 1901, it passed the McGill Act which was an attempt to clean up the state and rid it of its gambling reputation. This bill prohibited all forms of gambling and brought an end to the once lively poker scene. 
Although the gambling industry went underground (or perhaps because it did) very few records exist of how the scene evolved throughout the 20th century. What we do know, however, is that the McGill Act stayed in place right up until 1967 when pari-mutuel wagering was introduced at racing tracks. 
Soon after charitable gaming was allowed under strict conditions and then, in the 1980s the Northern Arapaho Tribe attempted to establish a casino on their lands. The state tried every trick in the book to block construction and eventually the tribe went to the courts. The courts ruled in the Tribe's favor and they now run the Wind River Casino in Riverton. 
The state lottery came into existence in 2014 while the most recent developments in the industry saw a bill to legalize sports betting fail to gain enough support in the house. 
Will we ever see online poker legislation in Wyoming?
The recent failure of the sports betting bill doesn't bode well for the online poker industry. It's unlikely that the house would entertain online poker legislation so soon after rejecting the establishment of another gambling industry. Add to that the fact that the state has no land-based commercial casinos, and the outlook for a regulated poker industry is pretty bleak. 
No, we don't expect any movement on this any time in the near future. 
What about land-based gambling?
The Cowboy State has three tribal casinos but no commercial casinos. The casinos are the Wind River Casino in Riverton, the Little Wind Casino in Ethete, and the Shoshone Rose in Lander. Of the three tribal casinos, only the Wind River has a poker room. 
The state also has pari-mutuel wagering at the tracks, charitable gaming, and a state lottery. 
Final thoughts 
There may be no regulated online poker industry in Wyoming, but that shouldn't stop residents from playing online poker at one of the many offshore poker platforms that service the state. The fact that the authorities have never arrested anyone for playing the game means that there's very little chance that playing online poker will result in any legal action. 
That said, we'd just like to remind you that the information given or opinions expressed above do not constitute legal advice.