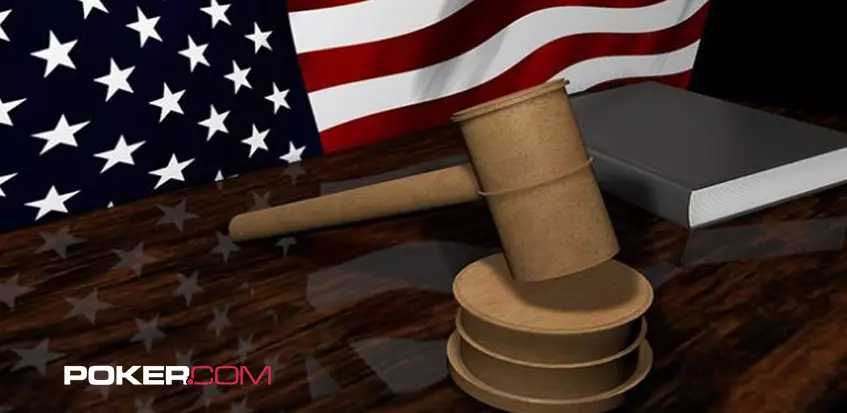 Although there are quite a few offline gambling options available for residents of the Gopher State, what about the online industry? Is it legal tp play online poker at home in Minnesota?
Online poker laws in the state of Minnesota
The Minnesota Statutes dealing with gambling are easy enough to find, but they can be a little confusing as the wording is open to interpretation.
The definitions for the relevant codes that deal with real-money wagering can be found in Statute 609.75 whereas the main law relating to gambling is in section 609.755. The main law reads as follows:
Whoever does any of the following is guilty of a misdemeanor:
(1) makes a bet;
(2) sells or transfers a chance to participate in a lottery;
(3) disseminates information about a lottery, except a lottery conducted by an adjoining state, with intent to encourage participation therein;
(4) permits a structure or location owned or occupied by the actor or under the actor's control to be used as a gambling place; or
(5) except where authorized by statute, possesses a gambling device.
Clause (5) does not prohibit possession of a gambling device in a person's dwelling for amusement purposes in a manner that does not afford players an opportunity to obtain anything of value.
Looking at this, we can see how poker may be included depending on how the state defines the word 'bet'. If we go back to our definitions we see the following:
Subd. 2.Bet. A bet is a bargain whereby the parties mutually agree to a gain or loss by one to the other of specified money, property or benefit dependent upon chance although the chance is accompanied by some element of skill.
So even if any chance is accompanied by skill, it's still considered a bet. That would seem to suggest that poker is included here. But then we find the following things that are exempt.
(3) offers of purses, prizes or premiums to the actual contestants in any bona fide contest for the determination of skill, speed, strength, endurance, or quality or to the bona fide owners of animals or other property entered in such a contest;
Is poker a 'contest for the determination of skill'? We've had legal opinions on this in the past, most notably by Federal Judge Jack B. Weinstein. In a New York State case he opined that poker was a game of skill.
Of course, there's no guarantee that Minnesotan judges would see it the same way. Yet history tells us that the authorities have no interest in targeting individual players. In fact, there are no recorded arrests nor prosecutions for playing online poker in the state of Minnesota.
Things are a little different for those who run illegal gambling enterprises. They can face a slew of charges including conducting a lottery, bookmaking, maintaining a gambling place,  and participating in the income of a gambling place. These crimes are gross misdemeanors or, in some cases, felonies.
The state does have a history of going after offshore gambling websites. In 2009, the state requested that ISPs block specific web domains. However, the Interactive Media Entertainment and Gaming Association disagreed and fought the order. Under intense public scrutiny, the state decided to withdraw their request and now offshore poker platforms can operate freely within the state.
Minnesota has a specific law that governs home poker games. This states that they are allowed but under the following restrictions:
Subd. 3.Social skill game. Sections 609.755 and 609.76 do not prohibit tournaments or contests that satisfy all of the following requirements:
(1) the tournament or contest consists of the card games of chance commonly known as cribbage, skat, sheepshead, bridge, euchre, pinochle, gin, 500, smear, Texas hold'em, or whist;
(2) the tournament or contest does not provide any direct financial benefit to the promoter or organizer;
(3) the value of all prizes awarded for each tournament or contest does not exceed $200; and
(4) for a tournament or contest involving Texas hold'em:
(i) no person under 18 years of age may participate;
(ii) the payment of an entry fee or other consideration for participating is prohibited;
(iii) the value of all prizes awarded to an individual winner of a tournament or contest at a single location may not exceed $200 each day; and
(iv) the organizer or promoter must ensure that reasonable accommodations are made for players with disabilities. Accommodations to the table and the cards shall include the announcement of the cards visible to the entire table and the use of Braille cards for players who are blind.
It's odd that they have chosen to mention people with disabilities in the law. It suggests that perhaps they have some experience with people having difficulties attending home games? We can only guess.
The law also appears to suggest that only Texas Hold'em is allowed. Perhaps the person writing the law was unaware that there are other variations of the game. Again, we can only guess.
As with many other states, there are no specific mentions of online poker and so we can assume that means that residents of the state are free to play once they do so in the privacy of their own homes.
The history of gambling in Minnesota
Believe it or not, Minnesota took a pretty hardline approach to gambling even in the days before it became a state. The original territorial legislature banned wagering in 1851 while the state constitution of 1858 placed a ban on lotteries. At the time the word lottery was synonymous with gambling which meant that there was a blanket ban on all forms of wagering.
As you may know, the Mississippi River originates in the north of the state and so there were some riverboats casinos that operated on the river. These were nothing on the scale of those found in states further south and, in truth, they were few and far between. Throughout the entire 1800s, Minnesotans were limited to a few illegal gambling houses and not much else.
But then came the Prohibition Era. The arrival of Police Chief John O'Connor cleared the way for the illegal gambling industry to flourish in St. Paul. He created the infamous layover agreement which allowed criminals an amnesty to stay in the city. They wouldn't be bothered by local authorities once they handed over a portion of their criminal proceeds and kept the peace within the city limits.
Incredibly, this system stayed in place for nearly forty years! The city was a haven for criminal gangs and bootleggers with some crime bosses relocating to the city permanently. The city was well-run and maintained, but the underground gambling scene was rampant with John Dillinger, Al Capone, and Bonnie and Clyde said to be frequent guests of the most popular establishments. Eventually, the FBI came into town and the amnesty ended in the mid 1930s.
In 1945, the state allowed charitable gambling under strict guidelines. At the same time, the resorts around the lakes had introduced a new form of gambling that was proving to be extremely popular — slot machines. The police often turned a blind eye to the resort's gambling activities until reformist governor Luther Youngdahl came into office. He targeted the resorts by creating a law that allowed the state to revoke liquor licenses from any establishment with a gaming machine.
In 1963, the state decreed that private social gaming was allowed and then in the 1970s, additional forms of charitable gambling were introduced.
During the 1980s, Minnesota took its first major steps into real-money gambling with the introduction of pari-mutuel horse betting in 1982. Then in 1988, a state lottery was established after a referendum.
The first tribal compacts were signed in 1989 and ten years later live card rooms were allowed in both the tribal casinos and at the race track.
Will we ever see online poker legislation in Minnesota?
Although the North Star State does have a solid land-based gambling industry, there have been no moves towards creating a state-regulated online industry.
When the state lottery introduced online ticket sales, there was a suggestion that the house could take a look at internet gambling, but this was shut down by the legislature. In fact, they even went so far as to demand that the lottery stop online sales.
All of this suggests that it will be some time before the topic of online gambling comes up again at state level.
What about land-based gambling?
The only thing missing from the Gopher State is commercial casinos, but the tribal casinos and racinos combined more than make up for that. Residents can also take part in charitable gambling, play the state lottery, or enjoy pari-mutuel betting at the horse track.
With the introduction of card rooms in 1999, tribal casinos and racinos are the equal to any commercial casino. They have a full range of table games and poker is quite popular. The largest poker room in the state is at Canterbury Park in Shakopee which has 32 tables. Players can play Texas Hold'em, Omaha hi-lo, and Seven-Card Stud.
Final thoughts
While there's no signs that the state will discuss online poker any time soon, residents of Minnesota are still free to play the game at one of the many offshore platforms that service the state.
That said, we'd just like to remind you that the information given or opinions expressed above do not constitute legal advice.