World Series of Poker Circuit
GGPoker, the largest poker network in the world has partnered with WSOP to offer a historic lineup of 595 online WSOP circuit (WSOPC) events online between May 3rd and May 31st, 2020, totaling a new world record of $100 million in online tournament guarantees for the online series.
Eighteen of these events will be WSOP circuit ring eligible events, where for extra bragging rights each event winner receives a WSOP circuit gold ring to show off to their friends (slightly less prestigious than the WSOP bracelet award).
Updated 8th June 2020: WSOP.com and GGPoker are scheduled to host the Summer online World Series of Poker, which will have 85 bracelet events.
GG WSOP Circuit Online Series Schedule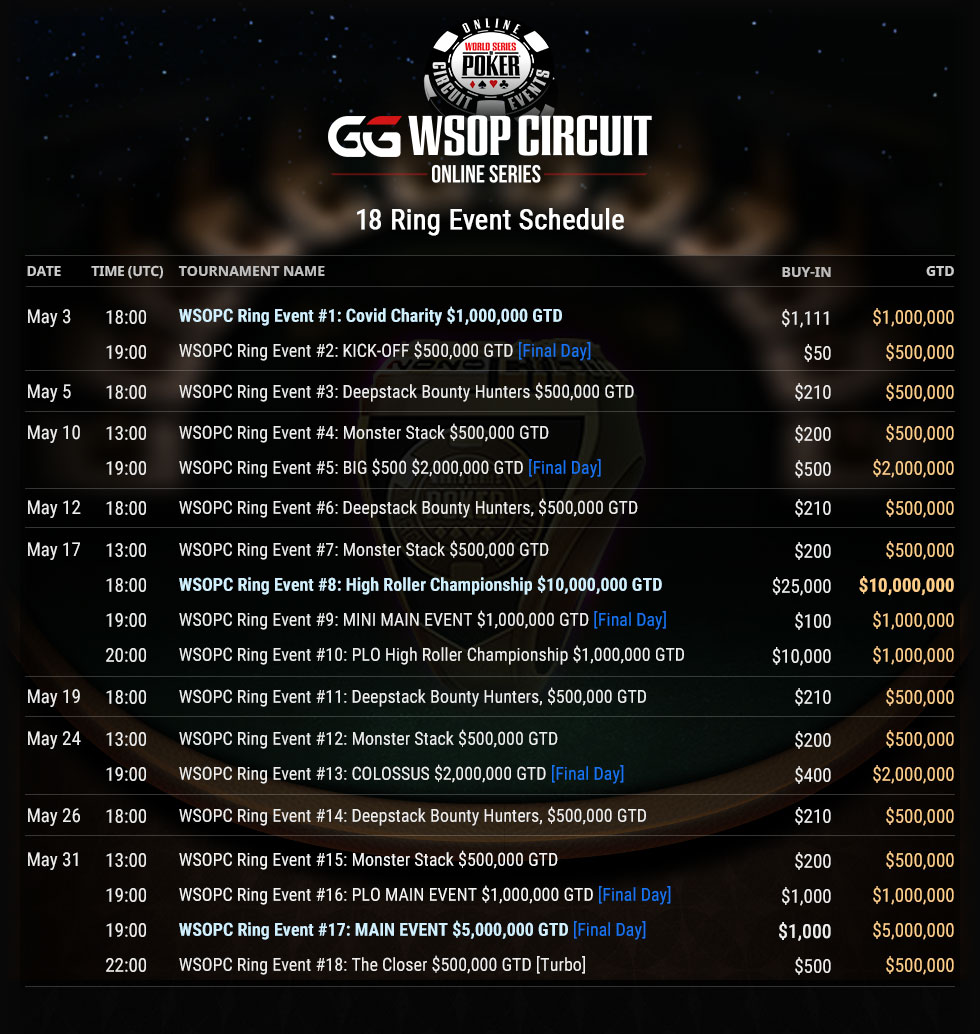 Immediately following the GG series will be the WSOP Season Finale Online Circuit Event series to be played between June 3rd and June 14th, 2020.  Originally, these events were scheduled to be played in land based casinos but due to the pandemic everything was moved online.  Players can play this series if they are physically based in Nevada or New Jersey.    Each winner of the 12 events, including the overall series champion, will receive entries to the Global Casino Championship, played at WSOP.com on Sept 13th, 2020 to wrap up the annual circuit events.
2020 WSOP Season Finale Online Circuit Series Schedule
| Date | Online Circuit Event | Buy In | Guarantee | Re-Entry | Time |
| --- | --- | --- | --- | --- | --- |
| Wednesday, June 3 | Online Finale Circuit Kick-Off | $215 | $100,000 | 2x | 4 p.m. |
| Thursday, June 4 | Online Finale No-Limit Hold'em | $320 | $100,000 | 2x | 4 p.m. |
| Friday, June 5 | Online Finale NLH Turbo Deepstack | $250 | $100,000 | 2x | 4 p.m. |
| Saturday, June 6 | Online Finale Circuit Big 500 | $500 | $150,000 | 3x | 2 p.m. |
| Sunday, June 7 | Online Finale Circuit Monster Stack | $525 | $200,000 | 3x | 2 p.m. |
| Monday, June 8 | Online Circuit Freezeout | $320 | $100,000 | N/A | 4 p.m. |
| Tuesday, June 9 | Online Finale Circuit High Roller 6-Max | $1,000 | $150,000 | 2x | 4 p.m. |
| Wednesday, June 10 | Online Circuit No-Limit Hold'em | $215 | $100,000 | 2x | 4 p.m. |
| Thursday, June 11 | Online Circuit No-Limit Hold'em | $320 | $100,000 | 2x | 4 p.m. |
| Friday, June 12 | Online Circuit NLH Monster Stack | $320 | $100,000 | 3x | 4 p.m. |
| Saturday, June 13 | Online Finale Circuit Double Stack | $320 | $150,000 | 2x | 2 p.m. |
| Sunday, June 14 | Online Finale Circuit Main Event | $525 | $300,000 | 3x | 2 p.m. |