WSOP Online suffers some technical issues – events postponed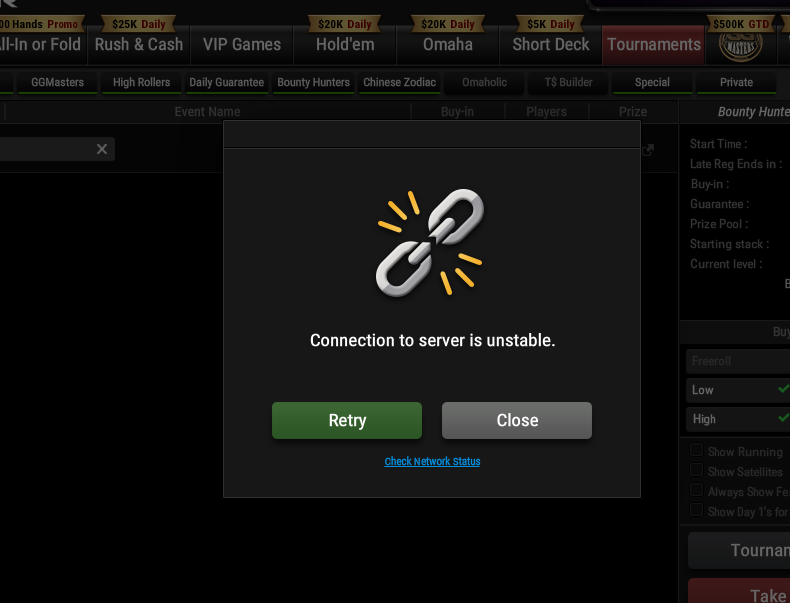 The 2020 World Series of Poker moved online this year – with over 80 bracelet events hosted on WSOP.com and the GGPoker Network.  It sounded like a magical idea, but moving the series online brings with it a new set of considerations and possible problems.
Many poker players were skeptical about the move online, citing concerns about game integrity (who is really playing on that account? are they using assistive tools?) , and the fact that some events would be unavailable to players in Europe, or the US.
WSOP Disconnection Issues Tilt DNegs
Last week GGPoker ambassador Daniel Negreanu vented his frustration at constant disconnects from a WSOP event on WSOP.com while live streaming- before giving up playing the tournament altogether due to a repeatedly unresponsive poker client.  Timing out or suffering network / connection issues with 1 pair of aces is bad enough, but getting disconnected with a set of aces in a WSOP event (in Negreanu's case) can put a poker player on crazy tilt!
GGPoker goes TITSUP on WSOP Launch Day
After suffering an outage due to the Cloudflare DNS System outage on Thursday during flights on the first WSOP event on GGPoker, poker players outside the U.S were ready to grind to win bracelets on Sunday – with the last flights of GGPoker's "the Opener" WSOP event running, as well as a $1,111 bracelet event. Unfortunately server issues kicked players from their tables and disrupted the game.
After trying to restart the tournament unsuccessfully, the GGNetwork eventually had to pause the Opener and the $1,111 charity bracelet event- and issued the following message:
Uhhh what GGPoker? lol what a hot mess #wsop2020 pic.twitter.com/HBxMlWc1mg

— elle (@ElleSriracha) July 19, 2020
GGPoker promised to give each of the 3500+ players remaining in the "Opener" event an additional $100 in tournament cash (T$) for free.
UPDATE on compensation-

Event #32- for the 3684 remaining players, we will be rewarding each player with the buy-in T$100

Event #33- since this was for Charity, GGPoker will be doubling the current $177,378 collected for charity.

— GGPoker – HOME OF WSOP 2020 ONLINE BRACELET SERIES (@GGPokerOfficial) July 19, 2020
GGNetwork skin Natural8 explained that servers were overloaded, despite the network apparently doubling their user capacity in anticipation of WSOP.
Updates to today's server issues. pic.twitter.com/4JGaJ6B5oN

— N8 Poker | Casino | Sports (@natural8) July 20, 2020
GGNetwork reports a bug (multi-threading timing issue) caused by a high server load, as well as a Distributed Denial of Service (DDOS) attack later in the evening which contributed to downtime and user frustration: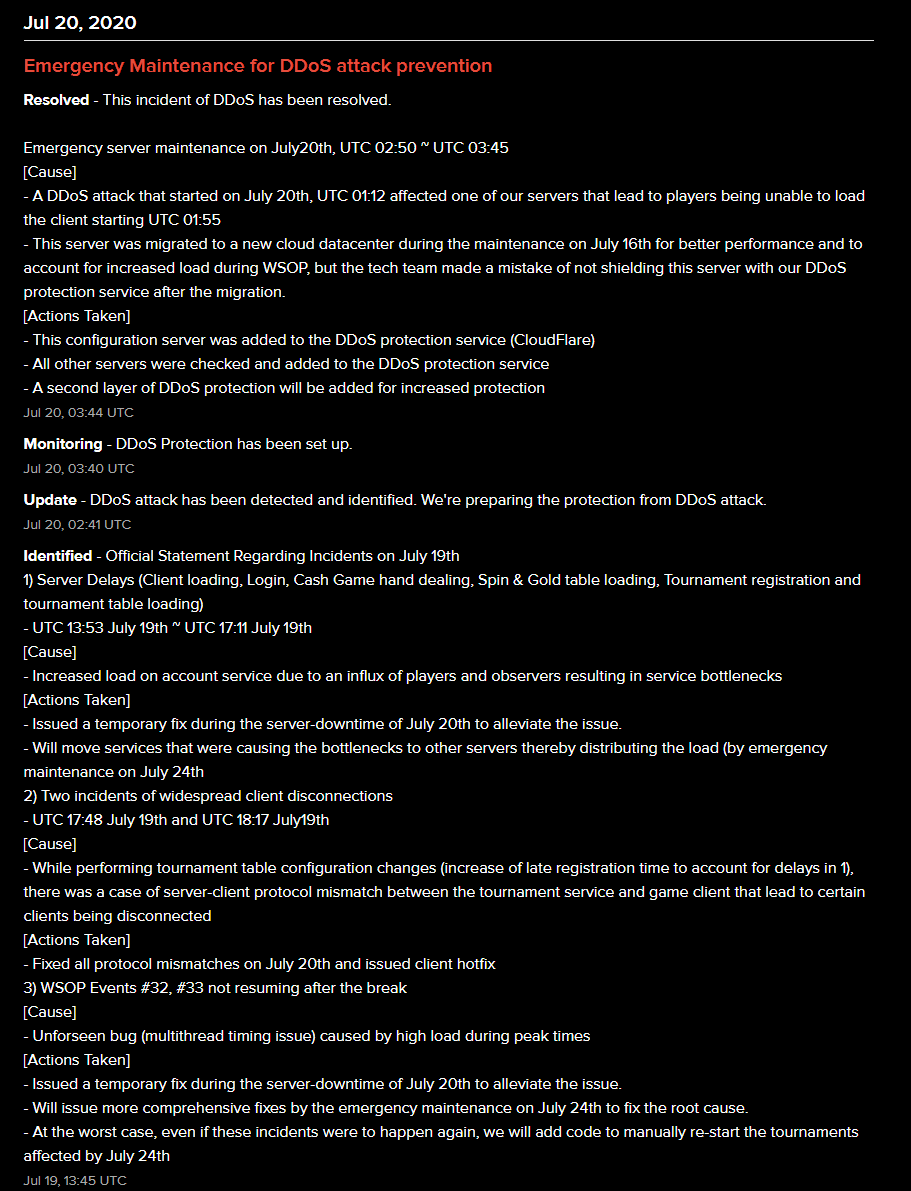 Both paused tournaments will resume next week.