Venetian Announces First Vegas Live MTT Series Since Covid
The live poker scene has been pretty much frozen since the Coronavirus pandemic has taken hold of the world, and many live-poker players moved to the virtual tables online, resulting in levels of poker traffic not seen in the industry in over five years.
Some Casinos in Las Vegas are now open, or partially open for business – and The Venetian Resort announced this week that it plans to run a thirty-two event tournament series (dubbed the "DeepStack Showdown") from Sept. 7th -27th.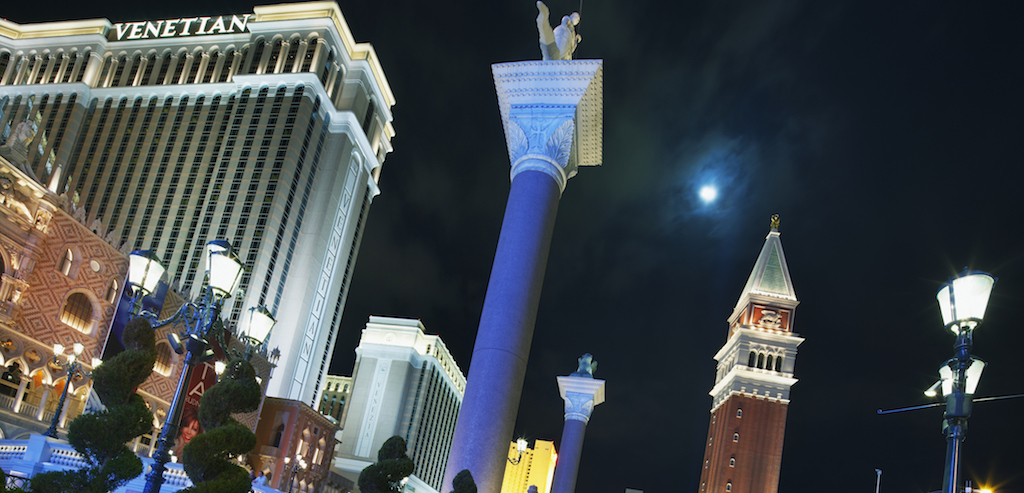 Venetian DeepStack Showdown 2020 – Points of Note:
The series will have a total prize-pool guarantee of $400,000
All play will be EIGHT HANDED
Players must still wear PPE (masks) and plexiglass dividers will be in place between players.
Venetian Tournament Director Tommy La Rosa promised a safe environment for players. The resort claims to have in place 800 initiatives "to enhance safety and minimize risk for guests and employees".
"we are frequently wiping down the tables, chairs, plexiglass dividers, hard surfaces, and sanitizing the chips and cards. We continue to make changes that enhance our protocols to insure compliance and accountability"
2020 Venetian DeepStack Showdown – Tournament Schedule
Date
Time
Event #
Event Name
Monday, September 7, 2020
11:10 AM
1
$250 NLH SuperStack $10K GTD (1Day)
Monday, September 7, 2020
6:10 PM
2
$125 NLH Bounty $2K GTD (1Day)
Tuesday, September 8, 2020
11:10 AM
3
$340 NLH DoubleStack $50K GTD Day 1A (2Day)
Tuesday, September 8, 2020
6:10 PM
4
$200 NLH Bounty $4K GTD (1Day)
Wednesday, September 9, 2020
11:10 AM
3
$340 NLH DoubleStack $50K GTD Day 1B (2Day)
Wednesday, September 9, 2020
6:10 PM
5
$125 NLH MonsterStack $2K GTD (1Day)
Thursday, September 10, 2020
11:00 AM
3
$340 NLH DoubleStack Day 2 Restart
Thursday, September 10, 2020
12:10 PM
6
$250 NLH SuperStack $10K GTD (1Day)
Thursday, September 10, 2020
6:10 PM
7
$125 NLH Bounty $3K GTD (1Day)
Friday, September 11, 2020
11:10 AM
8
$400 NLH MonsterStack $50K GTD Day 1A (2Day)
Friday, September 11, 2020
4:10 PM
9
$300 Pot Limit Omaha $3K GTD (1Day)
Saturday, September 12, 2020
11:10 AM
8
$400 NLH MonsterStack $50K GTD Day 1B (2Day)
Sunday, September 13, 2020
11:00 AM
8
$400 NLH MonsterStack Day 2 Restart
Sunday, September 13, 2020
12:10 PM
10
$300 NLH MonsterStack $7K GTD (1Day)
Freeze Out – One Entry Only
Sunday, September 13, 2020
6:10 PM
11
$125 NLH MonsterStack $2K GTD (1Day)
Monday, September 14, 2020
11:10 AM
12
$250 NLH SuperStack $10K GTD (1Day)
Monday, September 14, 2020
6:10 PM
13
$125 NLH Bounty $2K GTD (1Day)
Tuesday, September 15, 2020
11:10 AM
14
$340 NLH DoubleStack $50K GTD Day 1A (2Day)
Tuesday, September 15, 2020
6:10 PM
15
$200 NLH Bounty $4K GTD (1Day)
Wednesday, September 16, 2020
11:10 AM
14
$340 NLH DoubleStack $50K GTD Day 1B (2Day)
Wednesday, September 16, 2020
6:10 PM
16
$125 NLH MonsterStack $2K GTD (1Day)
Thursday, September 17, 2020
11:00 AM
14
$340 NLH DoubleStack Day 2 Restart
Thursday, September 17, 2020
12:10 PM
17
$250 NLH SuperStack $10K GTD (1Day)
Thursday, September 17, 2020
6:10 PM
18
$125 NLH Bounty $3K GTD (1Day)
Friday, September 18, 2020
11:10 AM
19
$400 NLH UltimateStack $50K GTD Day 1A (2Day)
Friday, September 18, 2020
4:10 PM
20
$300 Pot Limit Omaha 8/B $3K GTD (1Day)
Saturday, September 19, 2020
11:10 AM
19
$400 NLH UltimateStack $50K GTD Day 1B (2Day)
Sunday, September 20, 2020
11:00 AM
19
$400 NLH UltimateStack Day 2 Restart
Sunday, September 20, 2020
12:10 PM
21
$300 NLH MonsterStack $7K GTD (1Day)
Freeze Out – One Entry Only
Sunday, September 20, 2020
6:10 PM
22
$125 NLH MonsterStack $2K GTD (1Day)
Monday, September 21, 2020
11:10 AM
23
$250 NLH SuperStack $10K GTD (1Day)
Monday, September 21, 2020
6:10 PM
24
$125 NLH Bounty $2K GTD (1Day)
Tuesday, September 22, 2020
11:10 AM
25
$250 NLH SuperStack $10K GTD (1Day)
Tuesday, September 22, 2020
6:10 PM
26
$200 NLH Bounty $4K GTD (1Day)
Wednesday, September 23, 2020
11:10 AM
27
$400 NLH MonsterStack $100K GTD Day 1A (2Day)
Wednesday, September 23, 2020
6:10 PM
28
$125 NLH MonsterStack $2K GTD (1Day)
Thursday, September 24, 2020
11:10 AM
27
$400 NLH MonsterStack $100K GTD Day 1B (2Day)
Thursday, September 24, 2020
6:10 PM
28
$125 NLH Bounty $3K GTD (1Day)
Friday, September 25, 2020
11:10 AM
27
$400 NLH MonsterStack $100K GTD Day 1C (2Day)
Friday, September 25, 2020
4:10 PM
30
$300 Pot Limit Omaha Bounty $3K GTD (1Day)
Saturday, September 26, 2020
11:10 AM
27
$400 NLH MonsterStack $100K GTD Day 1D (2Day)
Sunday, September 27, 2020
11:00 AM
27
$400 NLH MonsterStack Day 2 Restart
Sunday, September 27, 2020
12:10 PM
31
$300 NLH MonsterStack $7K GTD (1Day)
Freeze Out – One Entry Only
Sunday, September 27, 2020
6:10 PM
32
$125 NLH MonsterStack $2K GTD (1Day)