Poker Stars Founder Pleads Guilty to Illegal Gambling, Fine and No Jail Expected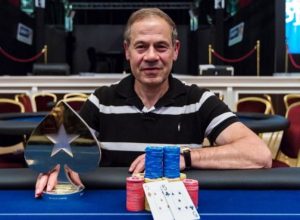 Isai Scheinberg pled guilty to a single count of conducting an Illegal Gambling Business on March 25, 2020.  Other charges including bank fraud and violation of the 2006  federal UIEGA bill were dropped.  Sentencing will be conducted at a later date by Judge Lewis A. Kaplan.
Mr. Scheinberg was one of eleven defendants in an indictment unsealed April 15, 2011, a day online poker players refer to as Black Friday.  Mr. Scheinberg previous to today's ruling, had been the last of the defendants to resist to a settlement with the Department of Justice.  Scott Tom, co-founder of Absolute Poker, and also listed in the indictment, settled with US authorities in 2017, receiving merely a misdemeanor charge.  Tom's step-brother, Brent Buckley (one of the eleven acccused), was not so lucky having been charged of misleading banks and serving 14 months in prison.
We believe a more likely scenario is that Mr. Scheinberg could receive a similar fate as his employee Paul Tate.  Tate handled payments for Poker Stars, was included in the 2011 indictment, and pled guilty in 2016 to the same charges as Scheinberg, operating an illegal gambling business.  Tate paid a fine and was spared any jail time.  We suspect Scheinberg's fate will be the same, only a much bigger payment will be required.
Legal representatives for both sides had the following to say:
Manhattan U.S. Attorney Geoffrey S. Berman said:  "Ten years ago, this Office charged 11 defendants who operated, or provided fraudulent payment processing services to, three of the largest online poker companies then operating in the United States – PokerStars, Full Tilt Poker, and Absolute Poker – with operating illegal gambling businesses and other crimes.  As Isai Scheinberg's guilty plea today shows, the passage of time will not undermine this Office's commitment to holding accountable individuals who violate U.S. law."
"Mr. Scheinberg is pleased to put this matter behind him and that all charges other than violating the 1971 Gambling Act have been dropped. Notably, all Poker Stars players were paid back immediately and Mr. Scheinberg played an important role in ensuring that all of the players from other sites were repaid as well," said Scheinberg's representative.