Poker Stack App Review: – Track your money like a pro
PokerStack is THE app you need to have as a live poker player. Our review walks through some of the key features and benefits of this 5 star app.
Poker bankroll management (BRM) is like sex as a teenager. Yes, everybody is talking about it but very few people are actually doing it. Yet, ask any professional poker player, and they will tell you that bankroll management is the number priority when playing poker.
There are a lot of mobile apps designed to help you manage your bankroll but, unfortunately, they tend to be complicated, clunky or plain simple ugly. Until now.
Enter Poker Stack, a brand-new app for managing your poker bankroll. It has been available for iOS since early 2020 and I was told the Android version is, at the time of writing, on its way.
It has a modern design (inspired by portfolio apps) and is completely free to use (more on this later).
In fact, even Apple agrees with us as they featured Poker Stack over 44 times already in the Finance category of the iTunes App Store.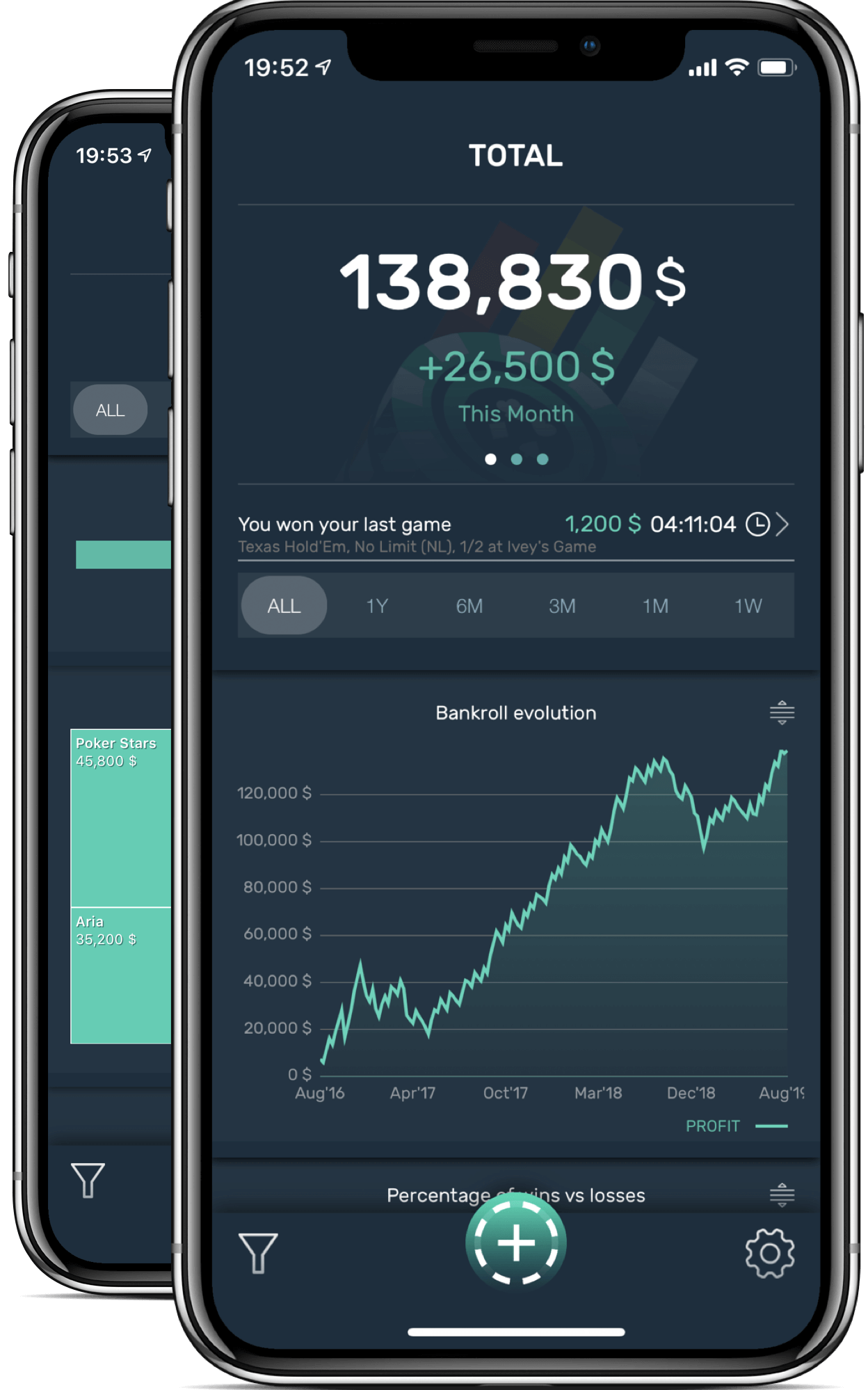 One poker bankroll app to rule them all
Poker Stack allows you to track any type of poker game (PLO, Hold'em, etc…). You can also use it to track other casino games like Blackjack or Roulette if you want.
This makes it the perfect companion for any serious casino goer or a great support to the casual players who just want to know how much money they win or lose at poker. You can differentiate between cash games and tournaments, blinds, limits, and location. Everything else is calculated automatically.
Did you know you are most likely to win when you play $10/20 Omaha Hi-Lo in Aria? Now you do. This is the type of information that makes Poker Stack such a great add-on to your game.
Using Poker Stack is extremely simple and this is one of their major unique selling points. The professional looking user interface has been built to minimize as much as possible data entry and allow you to focus on your game instead. The only thing you have to do is to record all your buy-ins when they happen and of course your cash out (if any).
The interface is divided into 3 main screens:
The home screen with your overall total, monthly total and dozens of slick and insightful animated graphs
The History screen which shows you all your past games
The Clock screen to record your games as they happen
Home screen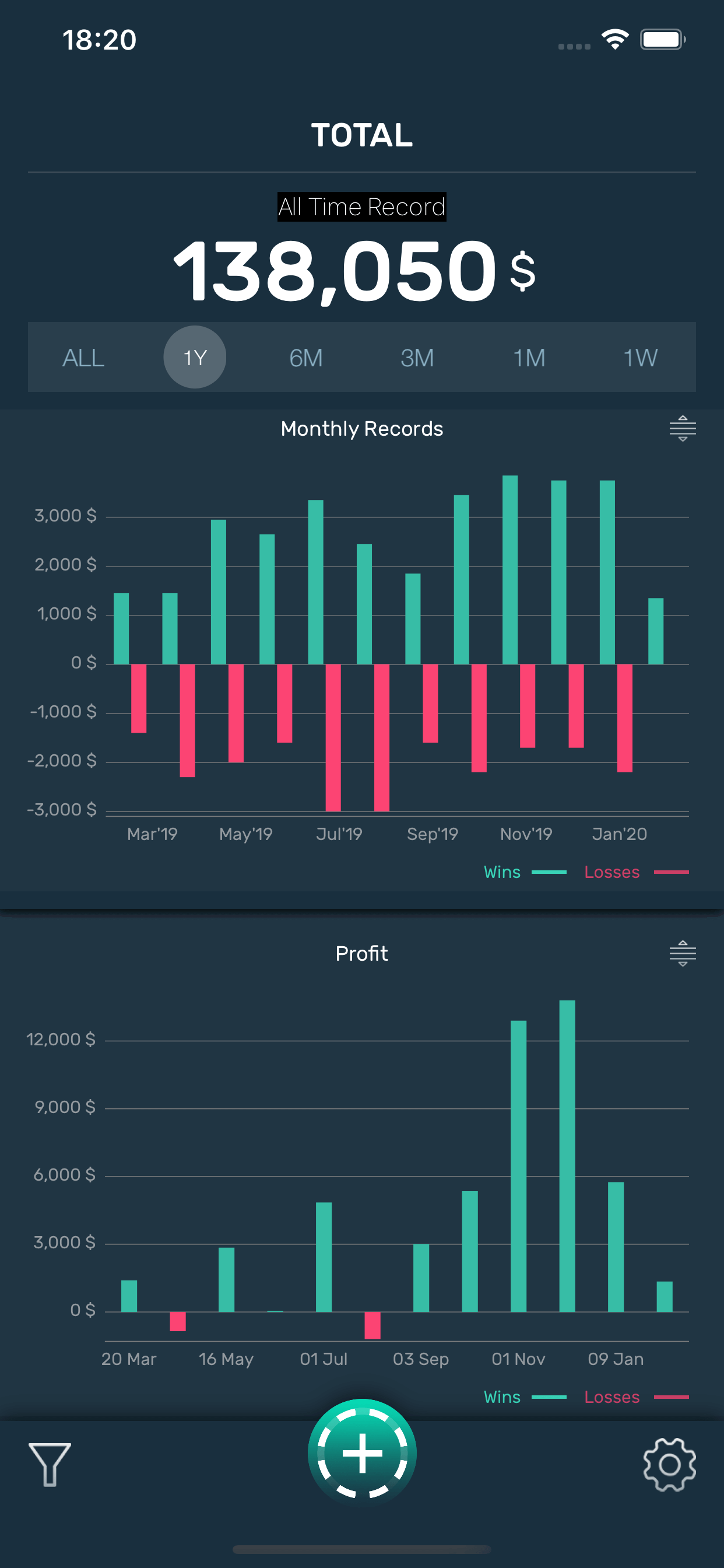 History screen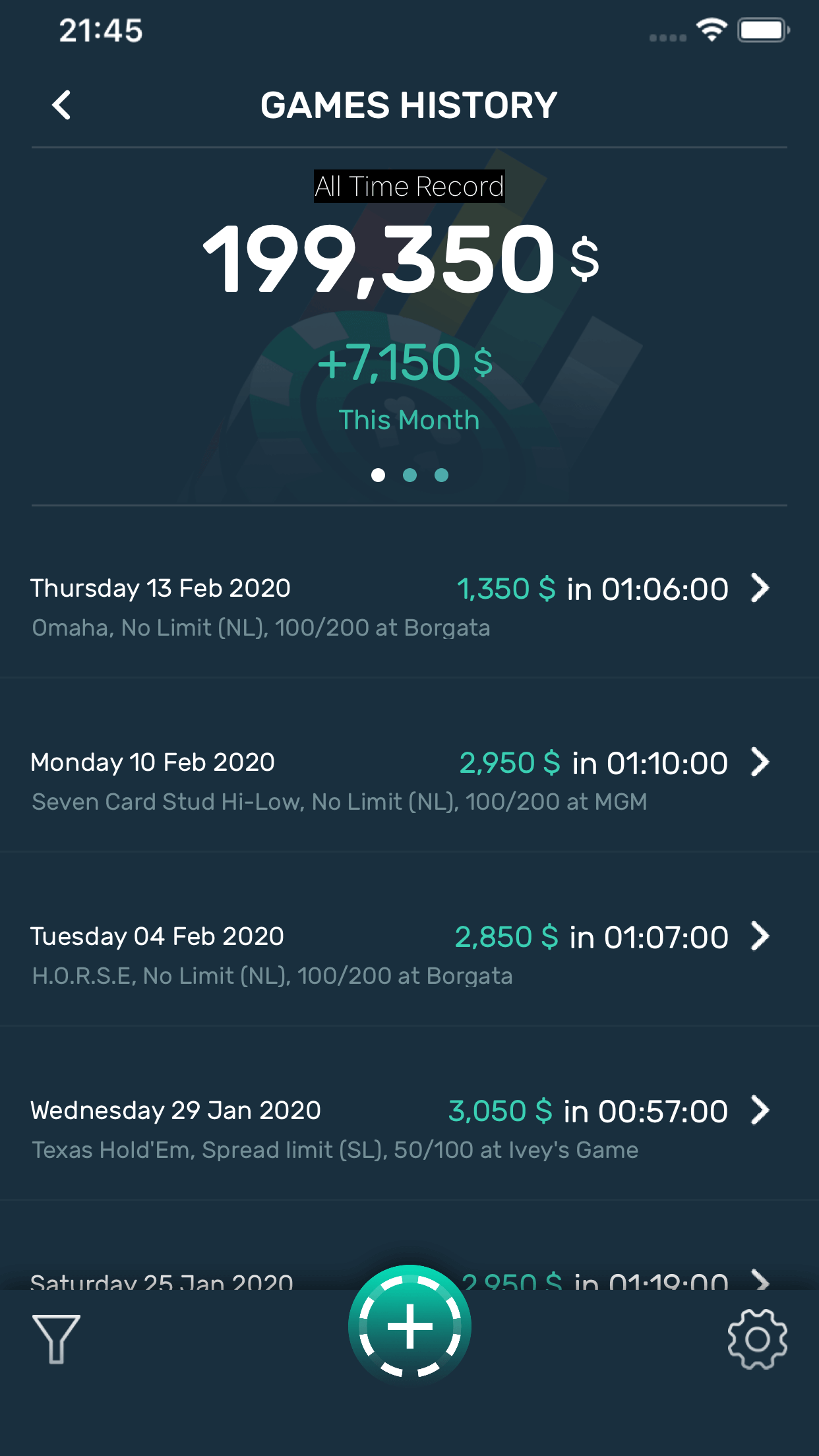 Clock screen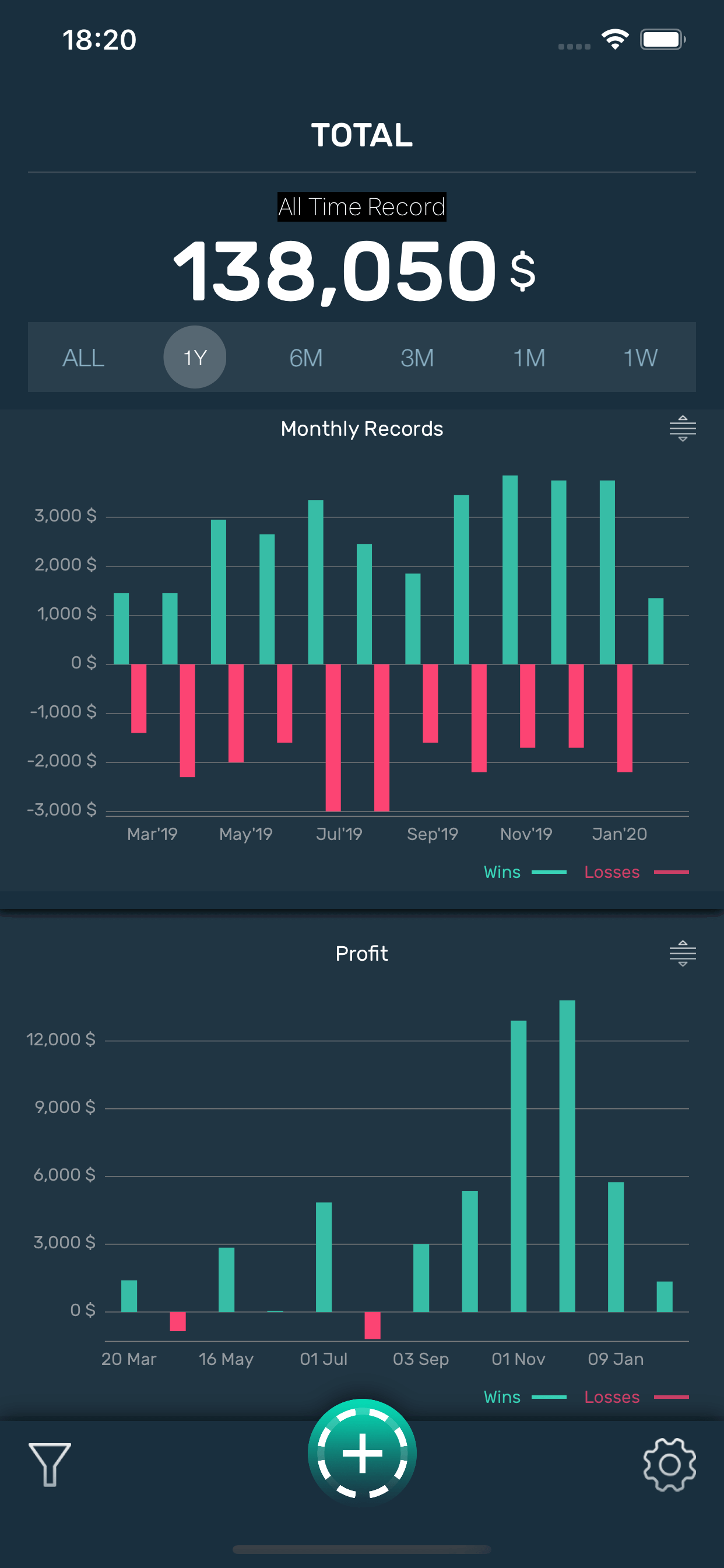 You can filter the view to visualize your performance for only this week, this month, the last 3 months, the last 6 months, the last year or all time.
A lot of small but useful details have been included by the developer. For example, Poker Stack is a smart app that is location aware. This means it will remember what type of games you play and where and by default, when you will start a new game, it will present to you all the fields already filled up. For example, let's say you always play No Limit Texas Hold'Em $5/10 in a home game at your friend's place and always have a first buy-in of $200. In that case, recording a new game will take only one tap! Compare that with all the other apps and you will see why Poker Stack is a breath of fresh air for poker players.
If you have used an app to track your money playing poker before, you are probably guilty, from time to time, of forgetting to record a game, too busy being excited about being at the poker table. This is unlikely to happen with Poker Stack. Since the app is location aware, once you have recorded a game at a location, it will recognize if you are back to that same location and ask you if you are playing. If you are, then as mentioned before, you can record the game in just one tap.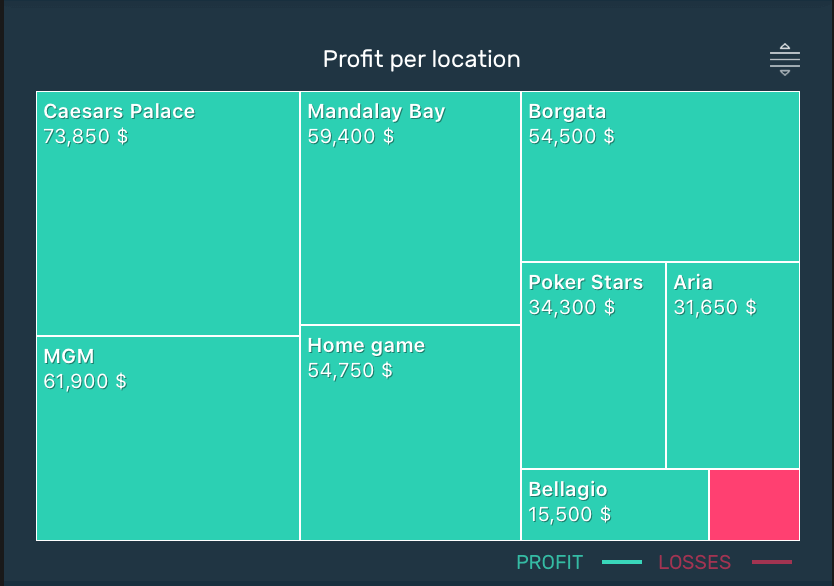 Likewise, if you leave the area without entering your cash-out, it will ask you if you left the game to make sure you record your winning or losses.
Another unique feature of the app is its ability, if you want, to record your stack size (hence the name Poker Stack) during a game.
I find this extremely useful as it helps you not lose track of your buy-ins and it is also extremely rewarding at the end of the game to see how you did during the session. To do this, just setup a timely reminder in the app (by default it is set to 15 minutes) and it will ask you every 15 minutes to enter your stack size. This forces you to always know roughly how many chips you have in front of you. Very useful and the animated graphs are fun to watch.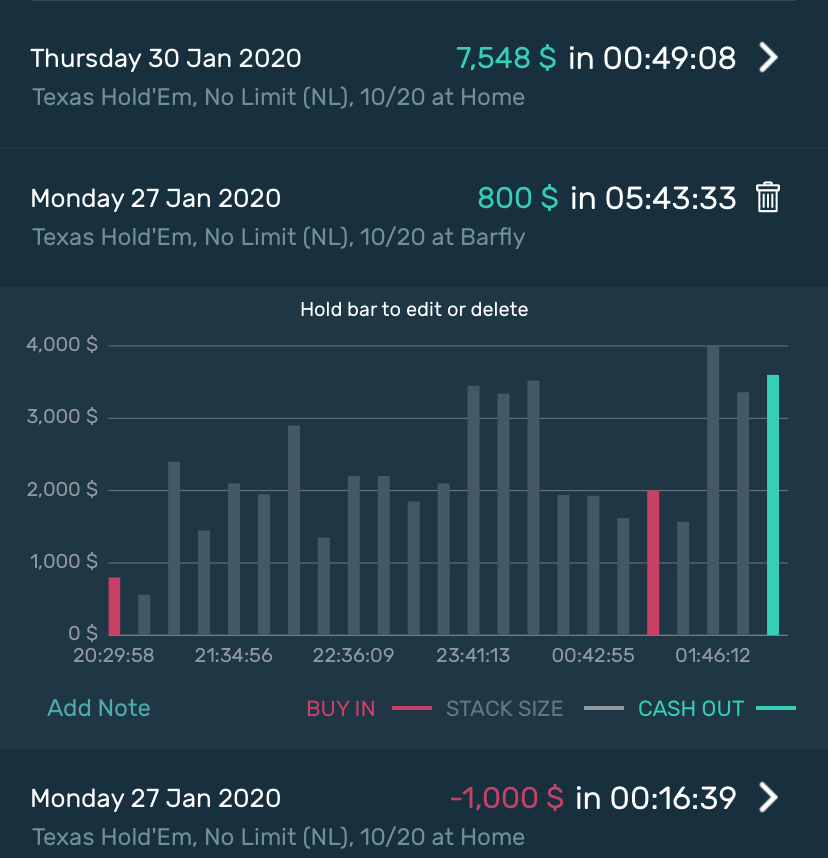 Visualize your buy-in (red), your stack size (grey) and your cash-out (green) overtime for each game you play.
Finally, if you are the type who likes to record information about your game, know that you can attach comments to each game you record allowing you take notes about the game, other players, bad beats and so on.
Free vs Pro
There are 2 versions of the app: Free and Pro.
The Free version has no time limits, so you can use it forever without paying anything. It has all the features of the Pro version but you only have access to the basic stats and graphs. These are your overall total (I.e. your bankroll), your monthly progress and the evolution of your bankroll over time. Other apps ask you to pay just for this information or if they are free, they tend to be terrible to use. This is really not the case with Poker Stack.
The Pro version on the other hand allows you to access all the statistics. There are more than 40 different graphs. From Win Rate, Hourly Profit, Profit per Location, most profitable type of games etc… All these separated between cash and tournament if you want.
You can subscribe to the Pro version for $75 per year or buy individual graphs once for all. To help you decide, the Pro version come with a free 2 months trial. It allows you to fully experience all the Pro features for free. If, at the end of the trial, you decide to keep the Pro version, you will receive a 50% discount for life ($38 per year) so it is definitely worth trying the Pro version IMO.
The more you use Poker Stack, the more information you will get about your game and since it is such a pleasure to use it, there is really no excuses to not track your bankroll.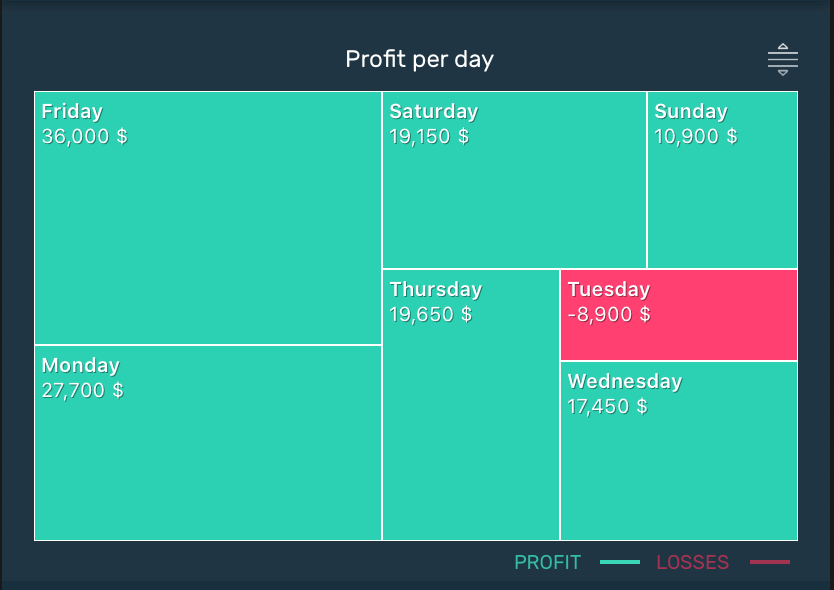 Poker.com Rating: 10/10
Free Download: To find out more about Poker Stack and download it for free, visit the official app website: PokerStack.app.